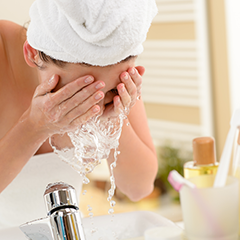 Wrinkles are not the only sign of aging that visibly add years to our face; sagging skin, age spots, and dull skin tone also reveal the passage of time. And when we rush through our routines, skipping the steps necessary for caring for our skin, we can end up with unhealthy-looking skin.
Maintaining a cleaning regimen that removes makeup and dirt from skin can help keep the look of healthy skin long past youth. This year, renew your efforts to care for your skin's natural beauty and keep it looking timeless with this simple cleanse!
Skin Care Boost
Essential oils can be great for gently cleansing the skin, whatever your skin type!
Cleanse Recipe:
1. Start with a good cleansing base oil and pour ¼ cup into a clean glass bowl. We suggest:
CLEANSING BASE OILS
All Skin Types
For Oily Skin
For Dry or Maturing Skin
Olive
Jojoba
Avocado
Sunflower
Sweet Almond
Apricot Kernel
Tamanu
Grapeseed
Argan
2. Add 1–3 drops of one or more of the essential oils listed below:
Instructions:
Open pores by rinsing your face with warm water.
With upward rotations, massage oil mixture all over face for 1–2 minutes.
Leave mixture on face for 1 minute.
Saturate a clean washcloth with warm water.
Place towel on face and leave for 15–30 seconds.
Slowly and gently wipe off oil.
Repeat steps 5–7 until your face feels clean.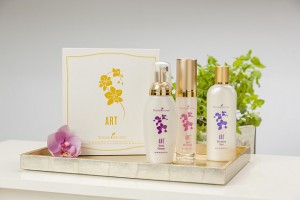 Your skin will love an oil cleanse anywhere from twice a day to once a week, depending on how your skin responds.
If your skin still needs a little extra care—maybe a toner, moisturizer, or serum—we recommend any of the products from our ART® line. This skin care line is a great way to maintain your natural beauty.
Which essential oils  will you be using on your skin this year? Let us know in the comments!
—Gloria Russo, Young Living International and Portfolio Brand Manager, Personal Care