It's no secret—we seriously love Eucalyptus oil. In fact, we have three different Eucalyptus oils: Eucalyptus Radiata, Eucalyptus Globulus, and Eucalyptus Blue. Whether we're steam distilling leaves from evergreen trees found in sunny Australia or on our farm in Guayaquil, Ecuador, we can't get enough of this light, bright, refreshing essential oil.
And guess what?
3 oils = 3 times (or more!) the uses and benefits
Who says math isn't fun?
Grab a cold beverage and your cutest stuffed koala—it's time to triple-down on all things Eucalyptus essential oil!
Eucalyptus Radiata
Where it's from: Australia
How it smells: citrusy, clean, and fresh—a fruit orchard after a spring shower
How it's made: extracted from the steamed-distilled leaves of the Eucalyptus radiata, or "narrow-leaved peppermint," tree
Will it blend? Yes! Find it in Thieves® and Raven™ essential oil blends and Ortho Ease® Massage Oil.
Eucalyptus Globulus
Where it's from: Australia
How it smells: bold, rich, and earthy—a summer day spent working in the garden
How it's made: extracted from the steam-distilled leaves of the large, aromatic eucalyptus trees of the Myrtaceae family
Will it blend? Yes! Find it in R.C.™ essential oil blend and Ortho Sport® Massage Oil.
Eucalyptus Blue
Where it's from: Ecuador
How it smells: herbaceous, woody, and invigorating—an autumn hike in the mountains
How it's made: extracted from the steam-distilled leaves of Eucalyptus bicostata trees grown on Young Living's Finca Botanica Farm and Distillery
Will it blend? Yes! Find it in Breathe Again™ Roll-On.
How to use Eucalyptus essential oil
Now that we've covered Eucalyptus 101: The Basics, it's time we moved to the advanced class, Eucalyptus 201: The Benefits. This is when things get interesting, because you can literally use this oil from head to toe. Get ready to take more notes than you did in that high school AP class!
YL tip: Although there are three unique Eucalyptus oils, you can use them interchangeably. Pick a favorite and stick with it or mix and match depending on your mood.
Head
Treat those tresses.

Massage a few drops of Eucalyptus Radiata into your scalp and let the rejuvenating scent refresh your locks and your outlook.
Tackle your to-do list. Gently rub a drop or two of Eucalyptus Globulus behind your ears and let the uplifting aroma power you through those projects.
Soak up all the spa vibes. Add 4–6 drops of Eucalyptus Blue to a warm, damp washcloth and hang out of direct contact with the water before hopping in the shower.
Shoulders
Prep for your practice. Before settling into that shoulder stand, combine 8–10 drops of Eucalyptus Radiata with 4 cups water, 1 tablespoon vegetable glycerin, and 1 tablespoon witch hazel in a glass a spray bottle. Spray down your yoga mat a few minutes before you begin your practice.

Tend to tired muscles.

Add a few drops of Eucalyptus Globulus to our Relaxation™ Massage Oil for a calming yet invigorating massage.

Enjoy a little R&R (rejuvenation and refreshment).

Wet a few washcloths, add a few drops of Eucalyptus Blue, and store in the fridge. Place on shoulders for a refreshing post-workout cooldown.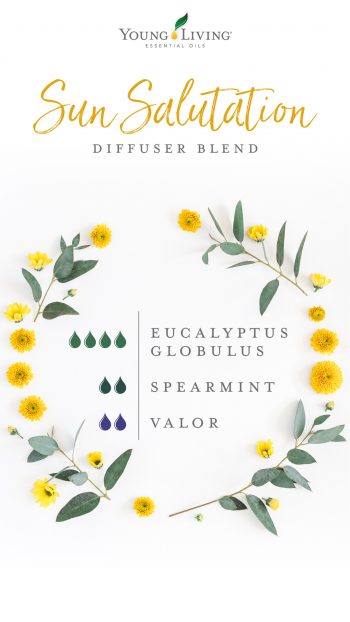 Knees
Say hello to smoother skin. Discover more radiant-looking legs with a Eucalyptus-infused homemade exfoliating soap.
Recharge as you rehydrate. Add a few drops of Eucalyptus Globulus or Eucalyptus Blue to your favorite unscented lotion to help hydrate dull, dry skin.

Slow your roll.

Make a soothing roll-on to combine with targeted massage for tired joints and muscles.
Footloose and Fancy Free diffuser blend
Finding you need a little more pep in your step? Pair Eucalyptus Radiata with the exhilarating aromas of Citronella, Blue Cypress, and Pine.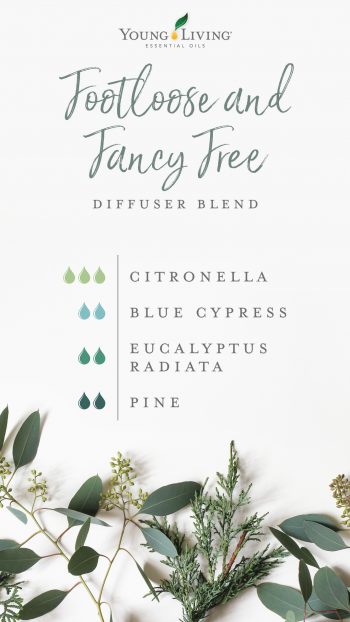 Toes
Bid farewell to funky-smelling shoes. Deodorize smelly footwear with a few squirts of DIY shoe odor eliminator spray.

Indulge in a pre-pedi treatment.

Combine a few simple ingredients and your favorite Eucalyptus oil to create a DIY foot soak.

Say, "Nighty-night!"

Rub a little Eucalyptus Radiata on the bottoms of your feet and inhale the comforting aroma as you drift off to dreamland.
Need to go back to the Eucalyptus basics? Try this "all about Eucalyptus" refresher. Then learn how to win your workout with the help of Eucalyptus and other fitness-friendly oils!
What are your favorite Eucalyptus oil benefits?
Tell us in the comments!