It's no secret: The scent of an essential oil can create waves of nostalgia or help you tap into emotions, and when some essential oils are taken internally, they can even improve overall health and wellness! With so many essential oils available, how do you choose which ones to add to your collection? While we'd love having every essential oil within arm's reach, there are some you must-have!
See why these oils made our top 10 line up!
---
1. Lavender Essential Oil
People swoon over Lavender Essential Oil—and for good reason. Our top-selling oil is a standout in many Young Living products, including Lavender Bath & Shower Gel, Lavender Hand & Body Lotion, and Lavender Shampoo. While this oil plays a supporting role in many YL favorites, it also shines as a solo artist with its soft, welcoming aroma.
How to use Lavender Essential Oil:
Tailor your signature scent.

A fresh floral aroma adds a feminine touch to unscented lotion. Capture a field in full bloom when you pair Lavender with Geranium Essential Oil in your personal perfume.

Create a refreshing room spray.

Mix 1 cup of distilled water and 10 drops of Lavender in a glass spray bottle. Spritz the air, blankets, and carpets for a sweet springtime scent.

Soothe the irritations.

Soaked up too much sun? Boost your skin's moisture by mixing Lavender oil with aloe vera gel.
---
2. Thieves® Essential Oil Blend



Add a little spice while you keep everything nice—and clean—with the must-have Thieves Essential Oil Blend. This powerhouse transforms many Young Living products, including cleaners,  and hand purifiers! All ages crave the scent of this Essential Oil blend because of its familiar aroma; so when you're planning your next cleaning extravaganza, make it a family affair.
How to use Thieves Essential Oil Blend:
Refresh musty towels.

Transform your sun-soaked beach towel into a cozy and clean one by adding 5 drops of Thieves to a load of laundry and detergent.
Take Thieves on the go! Invite the rich cinnamon scent to any occasion with Thieves Roll-On!

Enjoy a breath of fresh air.

Diffuse Thieves Essential Oil Blend for a warm, clean aroma.
---
3. Peppermint Essential Oil 
Anytime is the right time to get peppy with Peppermint Essential Oil. Include this must-have oil in your collection for its fresh, uplifting features. It's especially handy when midday slumps show up! Simply pop the bottle lid and breathe in the crisp, minty scent.
How to use Peppermint Essential Oil:
Soak in Epsom salts.

Mix 3 drops of Peppermint, 4 drops of Eucalyptus Blue, and 1 cup of Epsom salt and add them to the tub for an invigorating, luxurious bath.

Tackle head tension.

Dilute Peppermint with a few drops of carrier oil and apply to your neck, temples, and jawline for some relief.

Freshen your hair oil.

Add 2 drops of Peppermint to a small amount of hair oil and give your scalp a stimulating 2-minute massage.
---
4. Lemon Essential Oil
Finding the sunny side in every situation is easy when you have Lemon Essential Oil because it brightens everything it touches. Its cheery citrus vibes coupled with versatile uses makes this must-have oil worthy to be in our top 10!
How to use Lemon Essential Oil:

Get rid of gunk.

Lemon Essential Oil erases sticky residue from stickers and gum when applied directly.

Up the ante on your nighttime skin care routine.

Add a drop of Lemon to your night cream* for a bright complexion.

Spruce up your trash can.

Tired of stale smells? Put a few drops of Lemon on a cotton ball and stash it in your garbage can when empty.
*Because citrus oil can cause photosensitivity, avoid applying Lemon to exposed skin before spending time outside.
---
5. Purification® Essential Oil Blend
Let's clear the air—literally—with Purification. Take out offending odors with this blend that features Citronella oil, Lemongrass, Rosemary, Tea Tree, and other lovely oils. This synergized blend of herbaceous, sweet, clean, and refreshing scents can be used everywhere!
How to use Purification Essential Oil Blend:
Cuddle in fresh linens.

Add a few drops to your washing machine before doing a load of laundry for a clean aroma.

Dispose of bad kitchen odors.

After running your garbage disposal, add 3-4 drops of Purification for a sweet, fresh scent.

Freshen your bathroom space.

Put 2 drops of Purification inside the cardboard of the toilet paper roll for a gentle, pleasant aroma.
---
6. R.C.™ Essential Oil Blend
Recruit R.C. Essential Oil Blend as your next  must-have fitness buddy! It can be found in many gym bags because of its feel good features. It includes chilly, earthy oils such as Northern Lights Black Spruce, Cypress, Eucalyptus Globulus, and Eucalyptus Radiata.
How to use R.C. Essential Oil Blend:
Create a chest rub. Add 2 drops of R.C. and a dime-sized amount of coconut oil and gently massage on your chest and take deep breaths.
Break a cool sweat. Invigorate your workout session by diffusing this brisk oil.

Soothe sore muscles.

Add a few drops of R.C. to V-6™ Vegetable Oil Complex and treat your body to a much-needed massage after a vigorous workout.
---
7. Cedarwood Essential Oil
Is a comfy night by the fireplace sipping hot cocoa or herbal tea your idea of a pleasant time? If yes, then you'll go crazy for Cedarwood! This deliciously sweet and woodsy aroma makes for a cozy companion during a night in! Loved by members, you can find Cedarwood Essential Oil canoodling with other oils in many blends, including Joy!
How to use Cedarwood Essential Oil:
Sweeten your skin care. Add Cedarwood to your body lotion for a sweet, woodsy aroma and a boost of moisture.

Shine your luscious locks.

Mix 3 drops in your conditioner every day and finger brush through your silky hair.

Dream with a comforting aroma.

Put a drop or two on a tissue and place it inside your pillowcase for warm-scented slumber.
---
8. Peace & Calming Essential Oil Blend
Start or end your day with Peace & Calming Essential Oil Blend. This must-have blend features Ylang Ylang, Orange, Tangerine, Patchouli, and Blue Tansy. We love this oil so much, we even have a Peace & Calming II!
How to use Peace & Calming Essential Oil Blend:
Diffuse the chaos.

Use it in your Car Vent Diffuser to help you chill out during commutes and carpools.

Keep calm around.

Wear it as a personal fragrance on your neck and wrists.

Treat your feet.

Add ¼ cup of Epsom salt and 2 drops of Peace & Calming to hot water for a soothing foot soak before bed.
---
9. Stress Away™ Essential Oil Blend
When tense moments surface, you'll want Stress Away nearby. This must-have was created by Young Living Founder D. Gary Young and is the only YL blend to feature Vanilla. Stress Away also includes Lime, Copaiba, Cedarwood, and Lavender, making it a top oil to use every day.
How to use Stress Away Essential Oil Blend: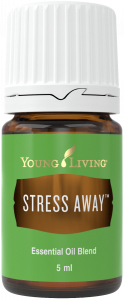 Take a load off.

Massage it into your feet with the help of V-6 Vegetable Oil Complex after a tiring day.

Scrub away the stress.

Get crafty with your salt scrub by adding 10-15 drops of Stress Away to 1 cup of sea salt and ½ cup of coconut oil.

Slip away for some R&R.

Place a Stress Away Relaxing Bath Bomb in your tub for a restorative soak.
---
10. Frankincense Essential Oil



Our top 10 oils wouldn't be complete without Frankincense. This mentor of all oils is known for its long history and was often used in spiritual and religious traditions. Its distinctive mix of balsamic and woodsy scents can round out your essential oil collection of citrus and floral aromas.
How to use Frankincense Essential Oil:
Om with oil.

Savor the quiet moment by rubbing a drop on your chest before your daily yoga or meditation.

Make your own face mask.

Moisturize dry skin with a mask made of 1 tablespoon honey, 1 tablespoon coconut oil, and 3 drops Frankincense.
---
Don't be a stranger to YLHK Family!
Facebook: https://www.facebook.com/YoungLivingHongKong/
Instagram: https://www.instagram.com/younglivinghongkong/
Subscribe A Drop of Inspiration (creative, inspirational EO Tips):eepurl.com/dn5Lmr
This post is also available in: Chinese (Traditional)