A diffuser like no other!
There's nothing like walking into a room and being greeted by the familiar scent of your favourite essential oils coming from your diffuser. From our classic Aria™ Ultrasonic Diffuser, our smaller Ember and Lucia Diffusers, or our kid-friendly Sprout the Puppy Diffuser, there's a Young Living diffuser that fits the vibe of any room in your home. If you're looking to bring an air of luxury to your space, look no further than our brand-new Duet™ Diffuser. This high-end product goes beyond a simple swirl of scent to create opulent aromas with our first-ever dual-atomising technology.
What's an atomising diffuser?
An atomising diffuser, also known as a nebulising diffuser, is designed for enhanced aromatherapy and a more intensive essential oil experience. Atomising diffusers do not use water to disperse essential oils. Instead, the essential oil bottle is attached directly to the machine and high-speed air carries the oil through a tube. The atomising technology transforms the essential oil into a vapour of millions of microparticles, dispersing them into the air and releasing the powerful plant constituents. The use of undiluted essential oils makes atomising diffusers perfect for targeted aromatherapy.
The Duet Diffuser's atomising technology breaks essential oils into millions of microparticles and unlocks the full potential of aromatherapy. Its dual-pump design allows you to diffuse two essential oils—a duet—at the same time, creating subtle, nuanced blends that take you through your day from morning to night.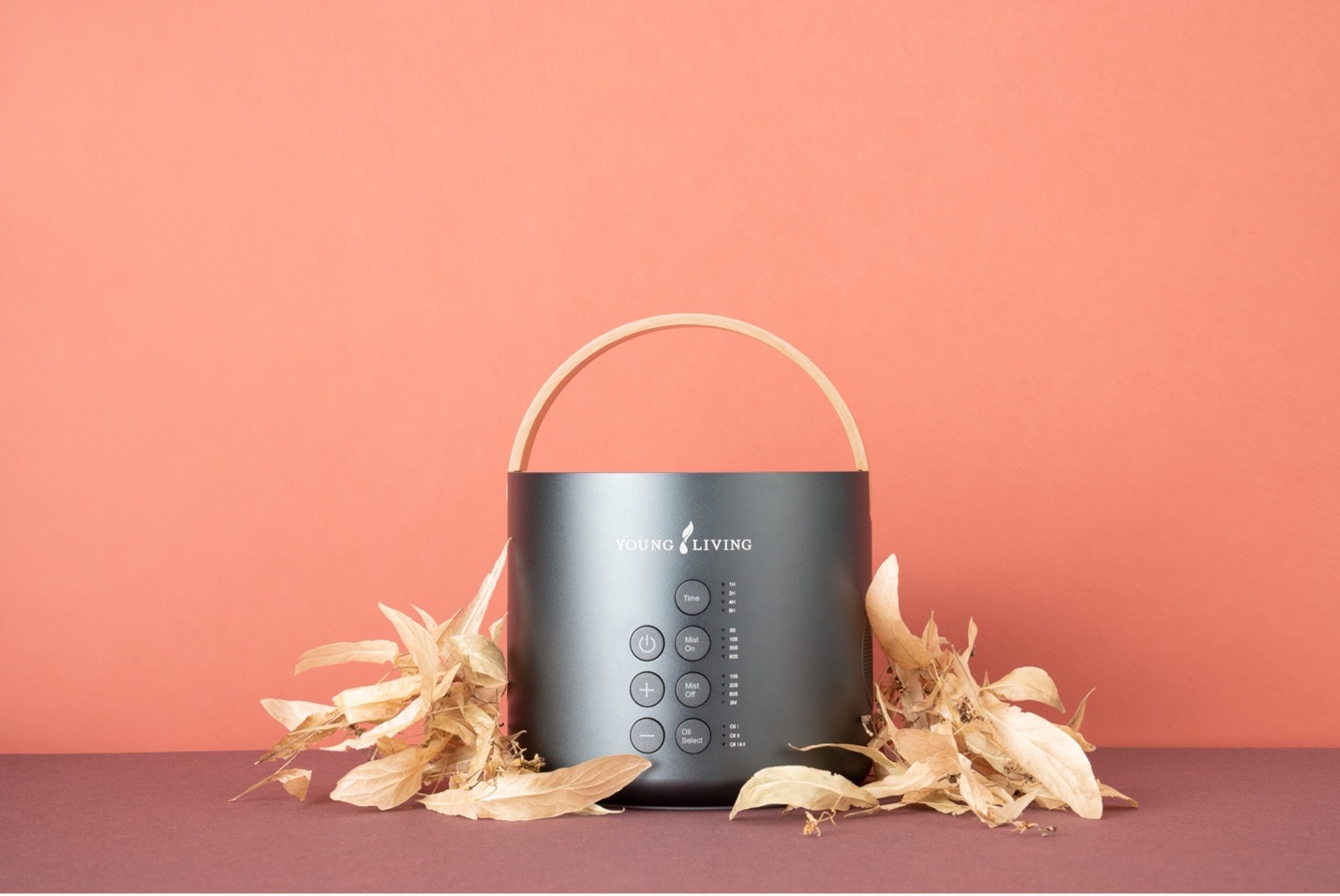 Features of the Duet Diffuser
Here are a few key features that make the Duet Diffuser stand out:
Water-free, atomising essential oil dispersion.
Intermittent run-time settings and automatic shutoff.
Dual-pump misting for custom mix-and-match essential oil blends.
Bluetooth speaker with adjustable volume and next/previous buttons.
Compatible with 5 ml, 10 ml, or 15 ml essential oil bottles.
Why the Duet Diffuser?
From the moment you wake up until the moment you fall asleep, your mind and body are processing thousands of sensory signals. From the noise of busy traffic racing by your house to the tiny pings of email notifications, there's a lot competing for your attention.
Keep calm and put the power back in your hands with the Duet Diffuser. With its innovative, waterless oil-diffusing technology and convenient carrying handle, the Duet Diffuser can go just about anywhere—simply plug it in and start diffusing! Plus, with a built-in Bluetooth speaker and dual-pump atomising diffusion, the Duet Diffuser lets you control sensory overload no matter where life takes you.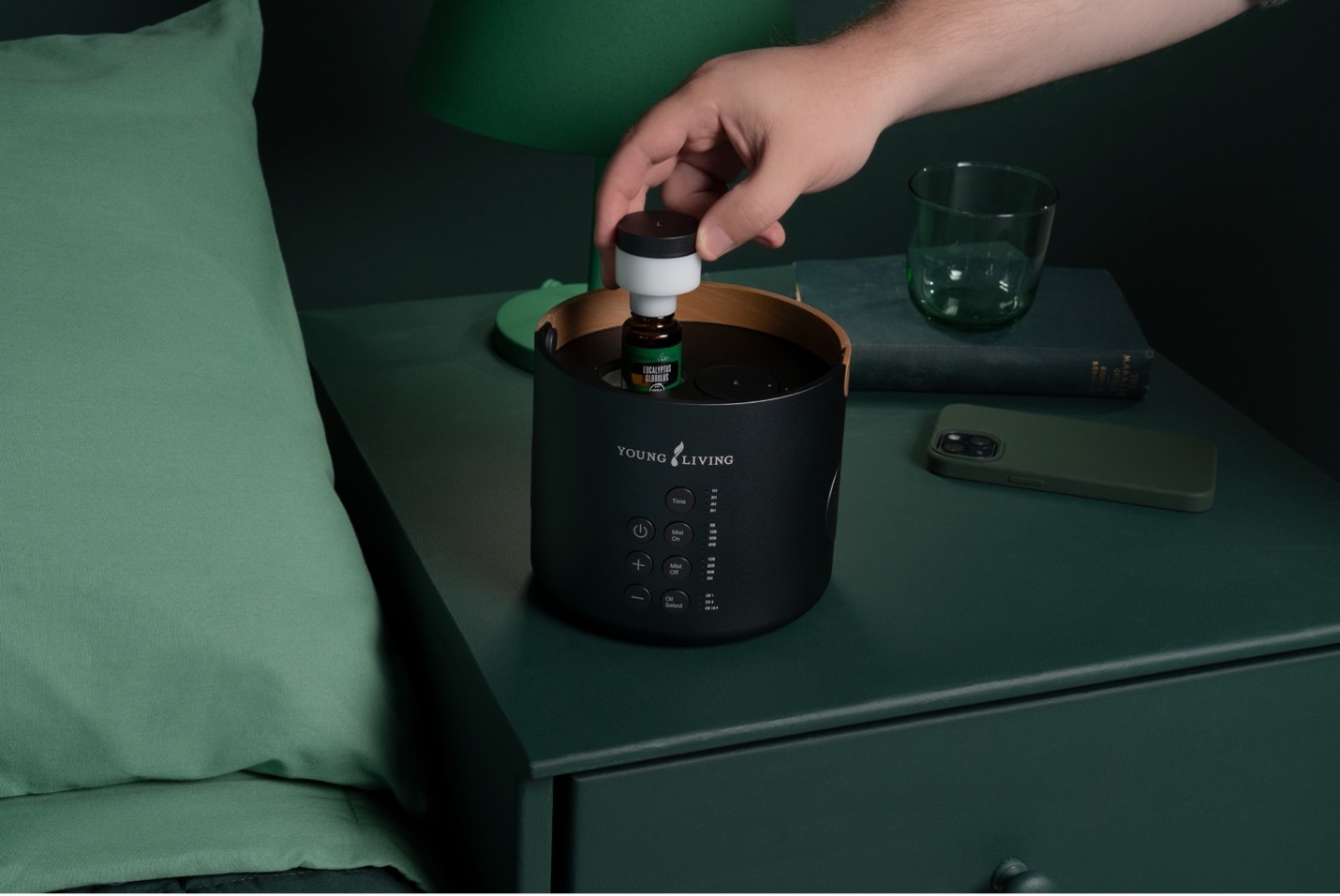 Here are our top blends:
Rise and shine: Little rays of sunshine are dancing through your window, the birds are quietly singing, and your alarm has about 30 seconds left before it goes off. It's the stillness before the storm, and with your new Duet Diffuser, you can wake up on the right side of the bed with a gentle combination of Citrus Fresh™ essential oil blend and Peppermint. Screw the bottles into place right before bed, so in the morning all you have to do is press a button for these bright and cheery aromas to fill your room as you slowly rise from a deep slumber.
Sweat it out: Did you know that essential oils can heighten your workout routine? Connect a bottle of R.C.™ essential oil blend and a bottle of Peppermint to your Duet Diffuser to fuse these grounding scents and aid in deeper breathing as you get those muscles working. Plus, you can sync your favourite workout playlist to your Duet Diffuser to create a medley of sweet scents and melodies to help you get the most out of your fitness plan.
Pamper yourself: With the Duet Diffuser bringing a luxury look to your home, you can elevate a simple spa day by blending your most grounding essential oils. Twist on a bottle of Lavender and Cedarwood as you do your skin care routine, paint your nails, or draw a bath and let these calming aromas synchronise with one another to fill your room with serene scents.
Re-energise after an afternoon slump: Skip the coffee and go for the Duet Diffuser for a mid-day pick-me-up! When you start feeling sluggish and an afternoon nap is calling your name, connect a bottle of Inspiration™ essential oil blend and Tea Tree to your Duet Diffuser. These fresh, grounding aromas can awaken your imagination and give you the spark to power through the rest of the day.
Enjoy a dinner party: You love entertaining guests, and a good home-cooked meal is how you show others you love them. Before your guests arrive, connect a bottle of Lime and Stress Away to your Duet Diffuser to create a grounding, home-like aroma to greet your guests as they walk in the door.
Wind-down at night: After a long day of taking care of everyone else, it's time to give yourself a little attention. Connect a bottle of Dream Catcher™ essential oil blend and Bergamot to your Duet Diffuser to create a gentle stream of essential oils to quietly lull you into a state of peace and calm. Turn off the lights, crawl into bed, and sync your favourite night-time playlist to your diffuser before drifting off.
Which one are you going to try?