Get into the spooky spirit and decorate your diffuser for Halloween! Whether you're looking to brew your very own Halloween potions or hoping to conjure up a spellbinding seasonal scent with essential oils, these spooky diffuser decorations are sure to leave your home looking wickedly wonderful.
Not sure where to start? Don't worry, we've got 5 boo-rillant ideas for you!
1. Spooky Spider
Get creative and dress your Aria up as a spooky spider for Halloween!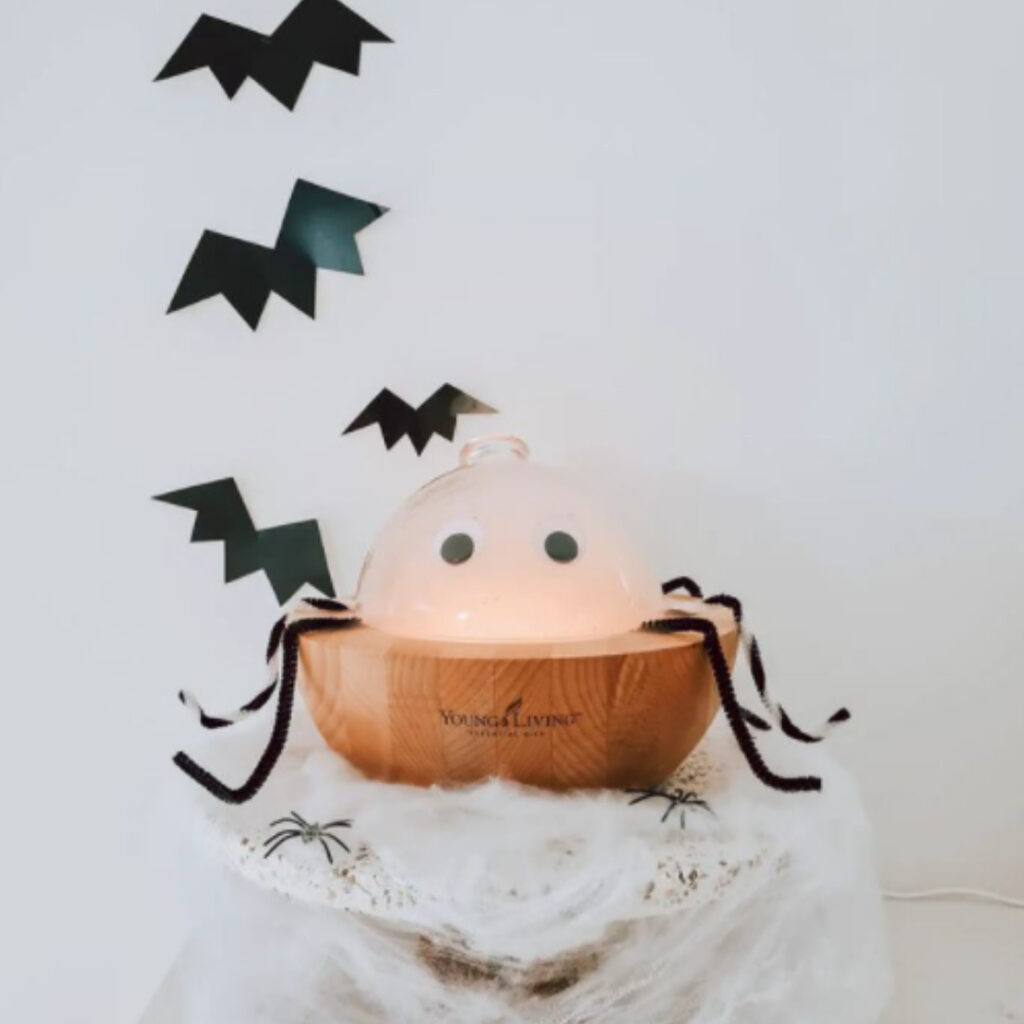 You'll need:
Instructions:
Cut 3 chenille sticks in half and shape into legs then tucked under the Aria dome glass.
Stick 2 google eyes in the center of the Aria glass dome.
Cut the black paper plate in the shape of bats and place on your desired spot.
Add web for extra ambiance! You can create your own at home by pulling apart cotton balls.
2. Wicked Wedding
Take your Lantern diffuser to the next level this Halloween with a wicked wedding!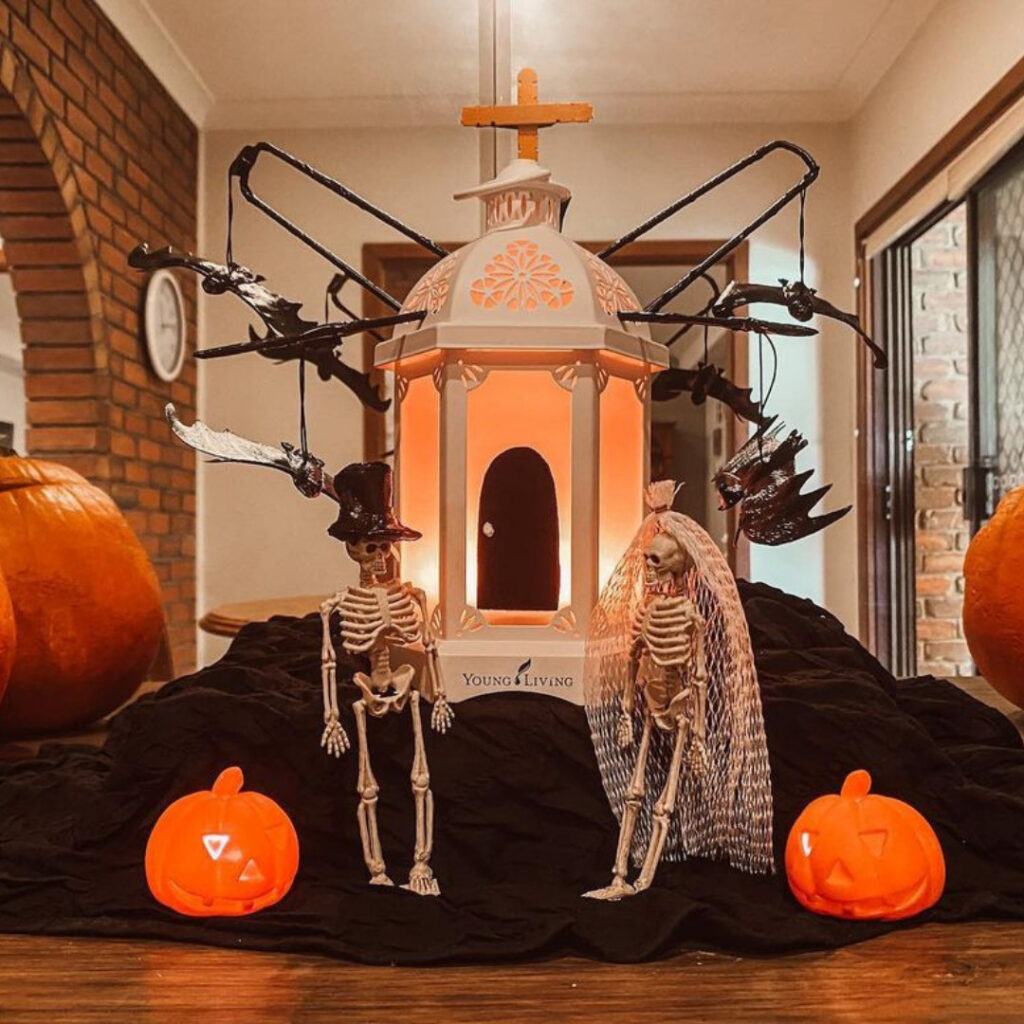 You'll need:
Instructions:
Taped the old tent pegs with the electrical tape.
Stick the hanging bats to the pegs and place the pegs in the holes at the top of your Lantern Diffuser.
Cut the adhesive black paper in the shape of a door and stick it inside the Lantern Diffuser cover.
Create a top hat for the groom with cardboard and tape it with adhesive paper.
Used the old vegetable netting for the veil and taped it to the brides head.
Take two popsicle sticks and form a cross then tape them together and stick them to the top of the diffuser.
Use the Styrofoam to sit the diffuser on and cover with the old black shirt.
3. Oily Potions
To slay the spooky season, brew your delightful diffuser blends in your very own creepy cauldron!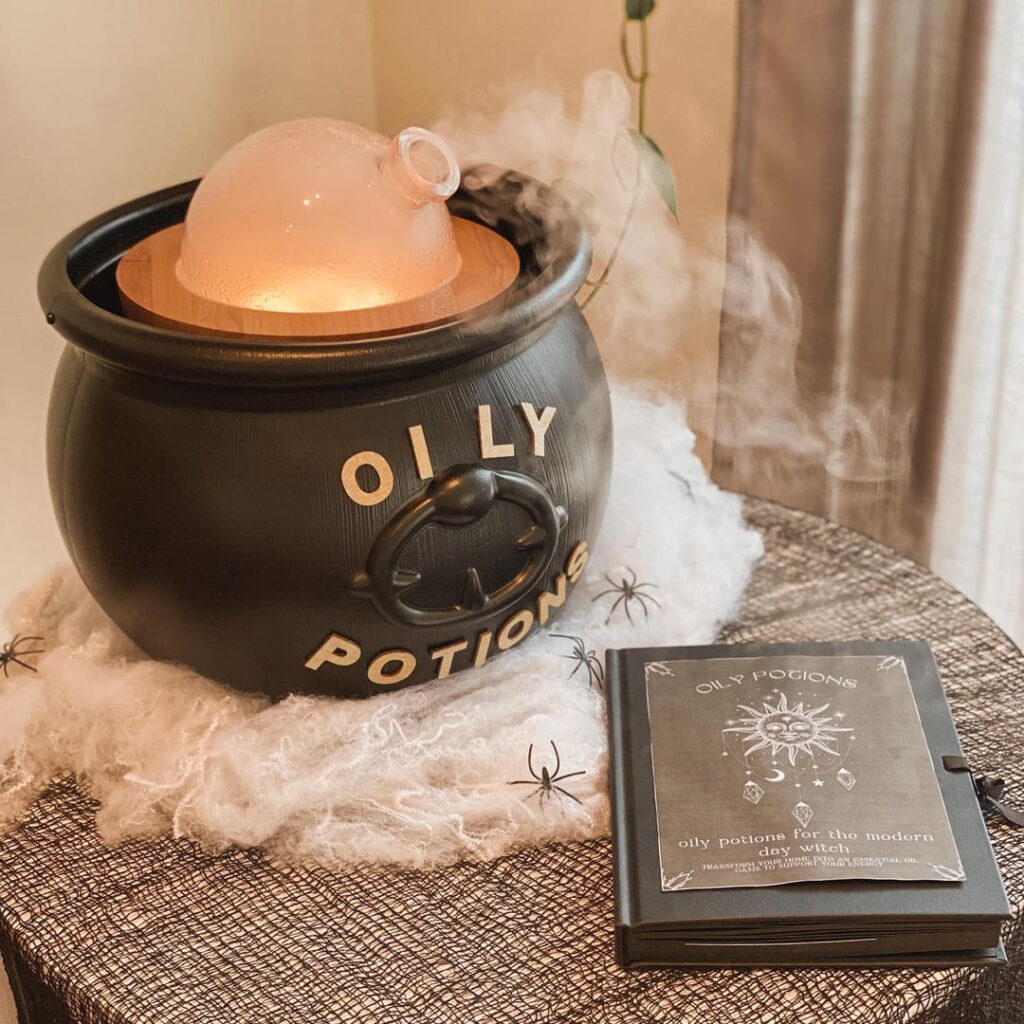 You'll need:
Instructions:
Colour your timber letters with your gold paint pen & use a hot glue gun to secure them onto your caldron. If you don't have timber letters, simply cut the words Oily Potions out of paper and glue them to your caldron.
Draw or print a design to pop on your black notebook to create your potions book.
Added some cobwebs & spiders for a bit of fun & finished it off with a black textured tablecloth.
Place your Aria Diffuser in your caldron then pop on your favourite Halloween-inspired blend! If you can't purchase a decorative caldron, simply use a black bowl.
4. Mummy Madness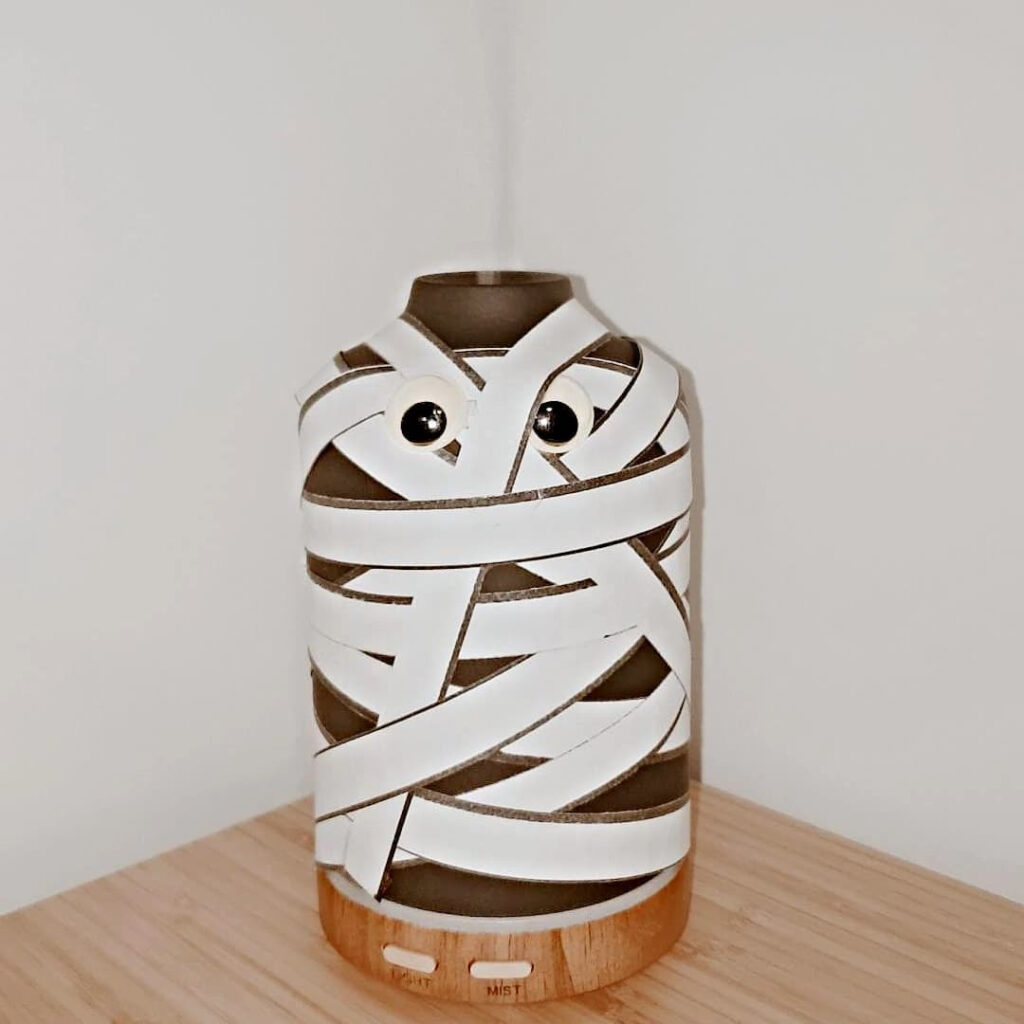 Mummify your Ember Diffuser this Halloween fit for a Pharaoh! This one is quick and easy to make, so get your kids involved.
You'll need:
Instructions:
Cut your white paper into 1 cm strips width.
Wrap paper strips around the Ember Diffuser and sticky tape into place.
Stick on googly eyes and you're ready to go!
5. Gruesome Graveyard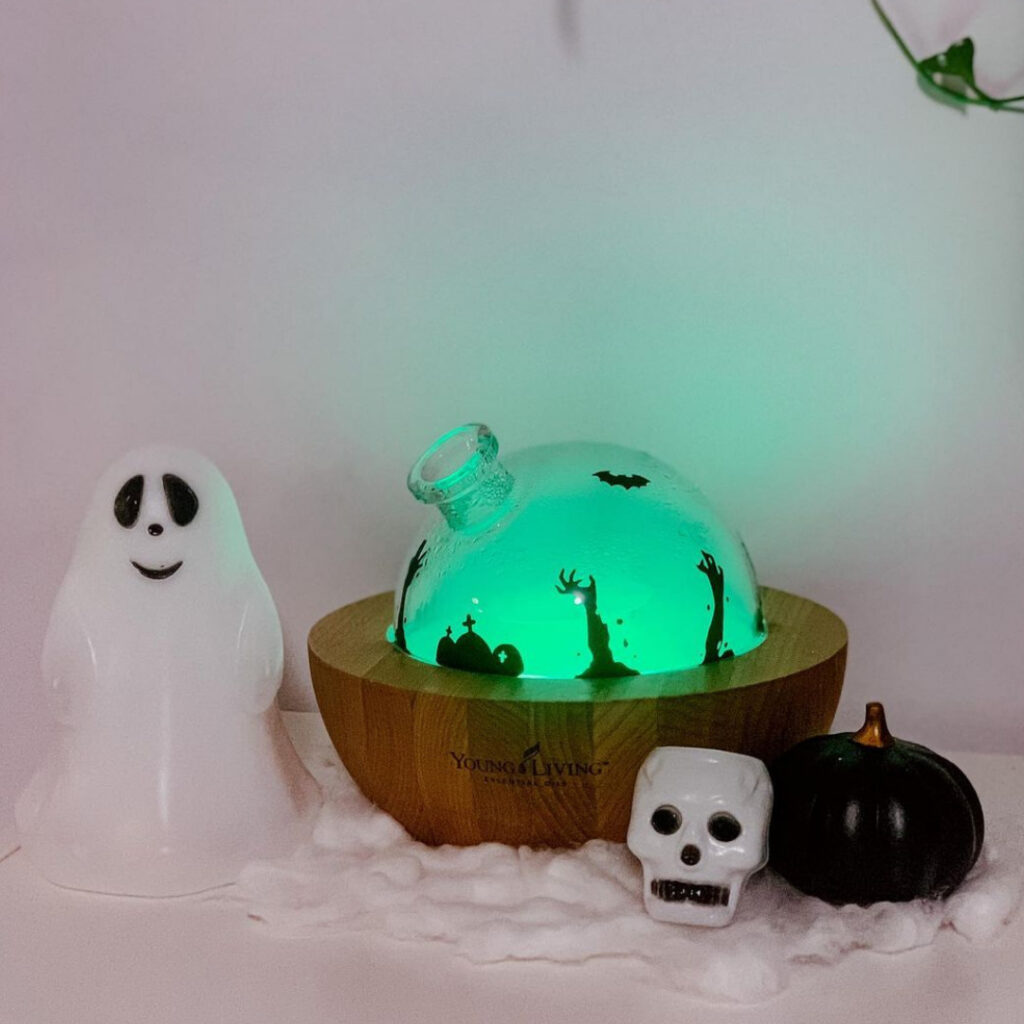 Turn your living room into a gruesome graveyard this Halloween with a little help from your Aria Diffuser!
You'll need:
Instructions:
Find hands, graves and bats silhouettes online and print the pictures you'd like to use.
Cut out the pictures then stick them to your Aria glass dome.
Pull apart cotton balls to create your spider web and place them around the Aria Diffuser.
Add any additional decorations you might have around the house!
We hope these ideas help you get into the spooky spirit! Be sure to check out the hashtag #YLSpookyDiffuser to see more creative Halloween DIY creations!
We'd like to say a special thank you to everyone who entered the #YLSpookyDiffuser competition. We were blown away by all the creative entries we received.
Treat not Trick?
Looking for the perfect comfort treat to get in the spooky spirit? Check out this Pumpkin Spiced Cake Bites recipe.