Jump to recipe
This Asian Chicken is quick and easy, healthy weeknight dinner and it's also great served chilled with salad for lunch the next day! The marinade has Orange Oil and Black Pepper Essential Oil and they really enhance the Asian flavours!

Total Time
1 hour, 5 minutes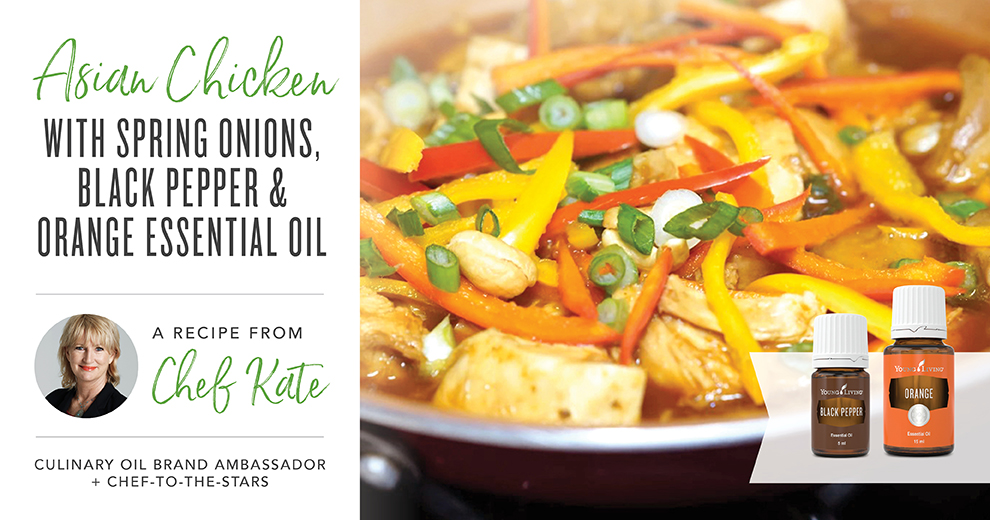 Ingredients
¾ kilo boneless, skinless chicken breast (cut in bite size pieces)
1 cup gluten-free flour
1 tsp sea salt
1 tbsp coconut oil (for cooking the chicken)
1 cup (approx. 1 small) sliced capsicum (assorted colours)
½ cup cashew pieces or almonds (or more, if desired)
3 spring onions, sliced (reserve half for serving)
2 – 3 tbsp sesame seeds (optional, for serving)
Steamed broccoli and rice (optional, for serving)
Marinade/Sauce Ingredients
1 cup orange juice
½ cup apple cider vinegar
½ cup honey
¼ cup tamari, gluten-free tamari or soy sauce
1 clove garlic, minced
1 small piece (1.5cm) of ginger, peeled and minced (optional)
¼ tsp sea salt
½ tsp arrowroot mixed with approx. 3 tbsp water (reserve for sauce)
2-4 Drops Black Pepper Essential Oil (to taste)
6 Drops Orange Oil
Notes
You don't have to marinade the chicken pieces before cooking, however taking the time to do this step really helps to infuse the flavours.
Instructions
Prepare the marinade first by combining all the marinade ingredients except the arrowroot in a medium glass or stainless bowl. Whisk or stir together well. Reserve approx. half the marinade the chicken and the other half reserve to make the sauce. Pour the reserved marinade into a medium sauce pan and set aside.
Place the chicken pieces into the marinade bowl and refrigerate between 35 minutes or overnight for maximum flavour. When ready to cook the chicken strain off the marinade and discard.
Place the flour and sea salt in a large heavy-duty plastic bag or large plastic or glass container with a lid.
Add some of the chicken pieces and shake well to coat the chicken and repeat until all the chicken is well coated.
In the meantime, add the arrowroot mixed with water (stir again to combine if it has separated), to the reserved marinade and heat on medium while stirring until the sauce thickens a little and set aside until ready to use.
If the sauce gets a little too thick stir in a little water and if it is too thin mix a little more arrowroot into a little water and stir into the sauce and continue cooking while stirring for a couple of minutes until it thickens. Check for seasoning and add a little more black pepper oil and orange oil if desired.
Heat the coconut oil in a large frying pan on medium high heat and gently add approx. half the chicken pieces (do not over crowd) and cook until golden brown. Place the cooked chicken pieces on a large plate lined with kitchen paper to drain the oil. Cook the rest of the chicken and add to the plate to drain then put all the chicken back in the pan and heat on medium.
Pour on the rest of the sauce and gently stir to coat all the chicken pieces and add the capsicum, cashews and spring onion. Cook for 2 – 3 minutes until the capsicum softens. Place the chicken on a platter or in a bowl and top with sliced spring onions and serve immediately. Serve with rice or quinoa and steamed broccoli.
View other Chef Kate Recipes here!</a
© 2023 COPYRIGHT (C) 2018 - ALL RIGHTS RESERVED - YOUNG LIVING