Everyone is falling in love with Thieves Household Cleaner with its strength and versatility. This powerful, ultra-concentrated, plant-based solution is a helpful and naturally derived chore companion — helping you clean everything from wood floors to shower doors. And the best part? It doesn't have any of the harsh chemicals you've removed from your lifestyle. It's perfect to use around everyone in your whole family. Let's see our 7 DIY cleaners you can make at home: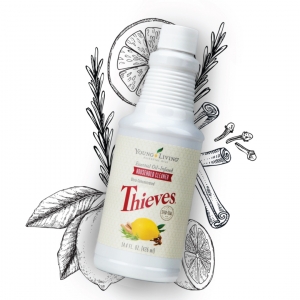 Tips for using Thieves Household Cleaner
Thieves Household Cleaner is safe to use at a 15:1 dilution or higher for most non-porous surfaces. One capful of this cleaner is equal to approximately ½ tablespoon, so ½ cup of water mixed with one capful of cleaner yields a 15:1 dilution. For best results, mix only the amount of cleaner that you will need to use right away. Before using, do a small spot test in an inconspicuous location, especially on wood, plastic, fabric, and granite. Do not use this product on soft plastics or vinyl.
---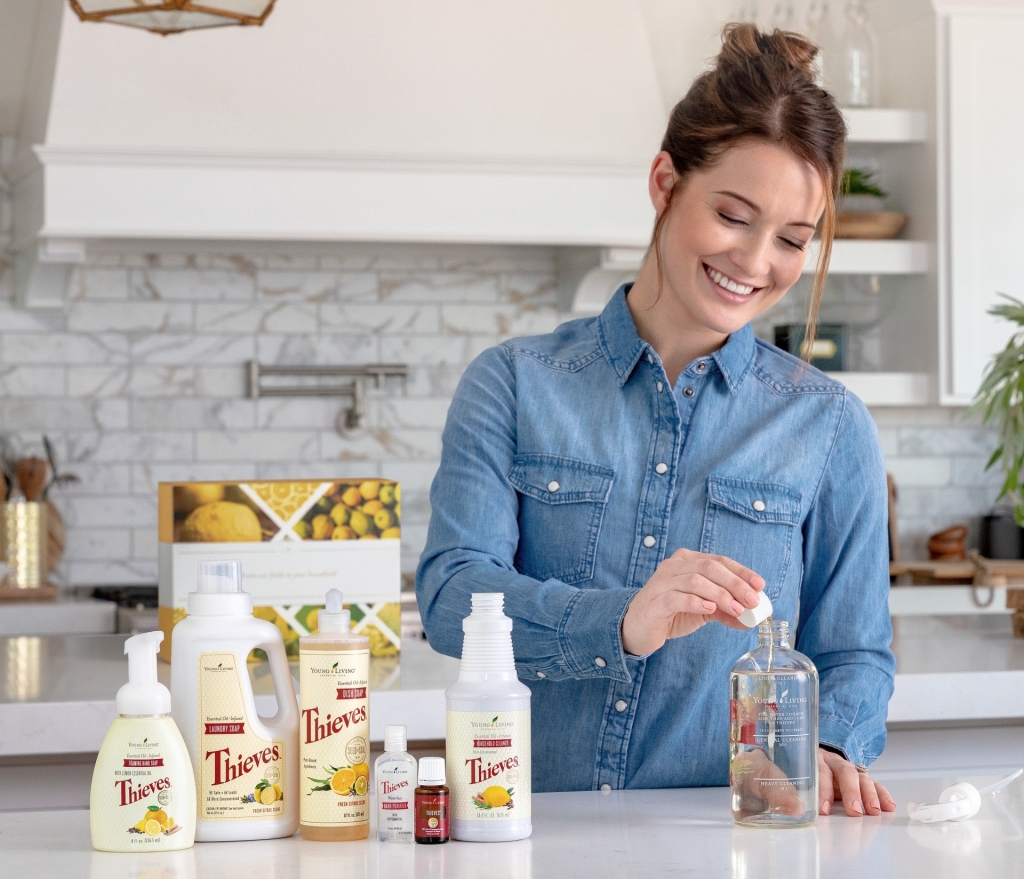 1. Kitchen cleaners
Make your microwave sparkle!
In a microwave-safe bowl, mix the following:
Wipe down the microwave using a damp rag — the heat and steam from the solution in the bowl should make removing grime easy.
---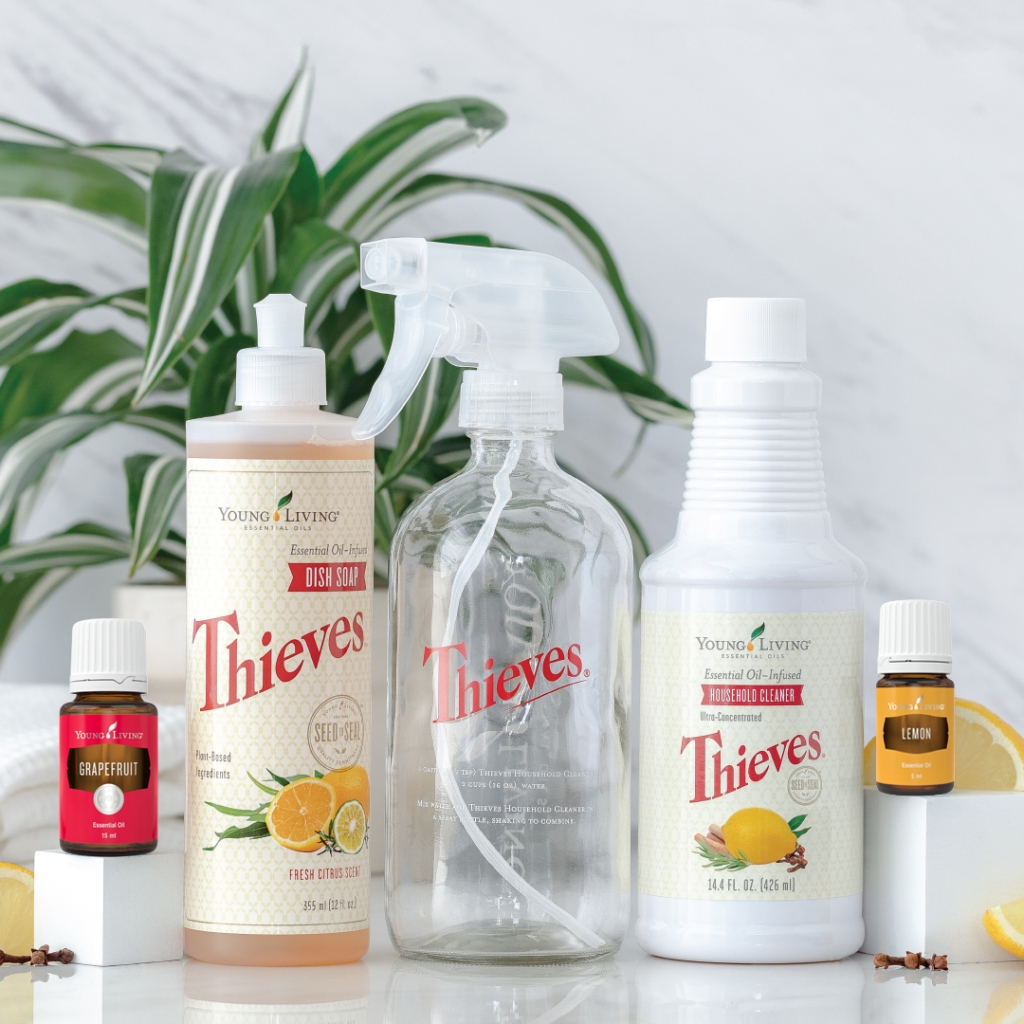 2. Shower door deep-clean
Keep your shower doors free from residue!
In a spray bottle, mix the following:
Spray liberally onto the surface and scrub with a sponge to remove spots. Rinse well and dry.
---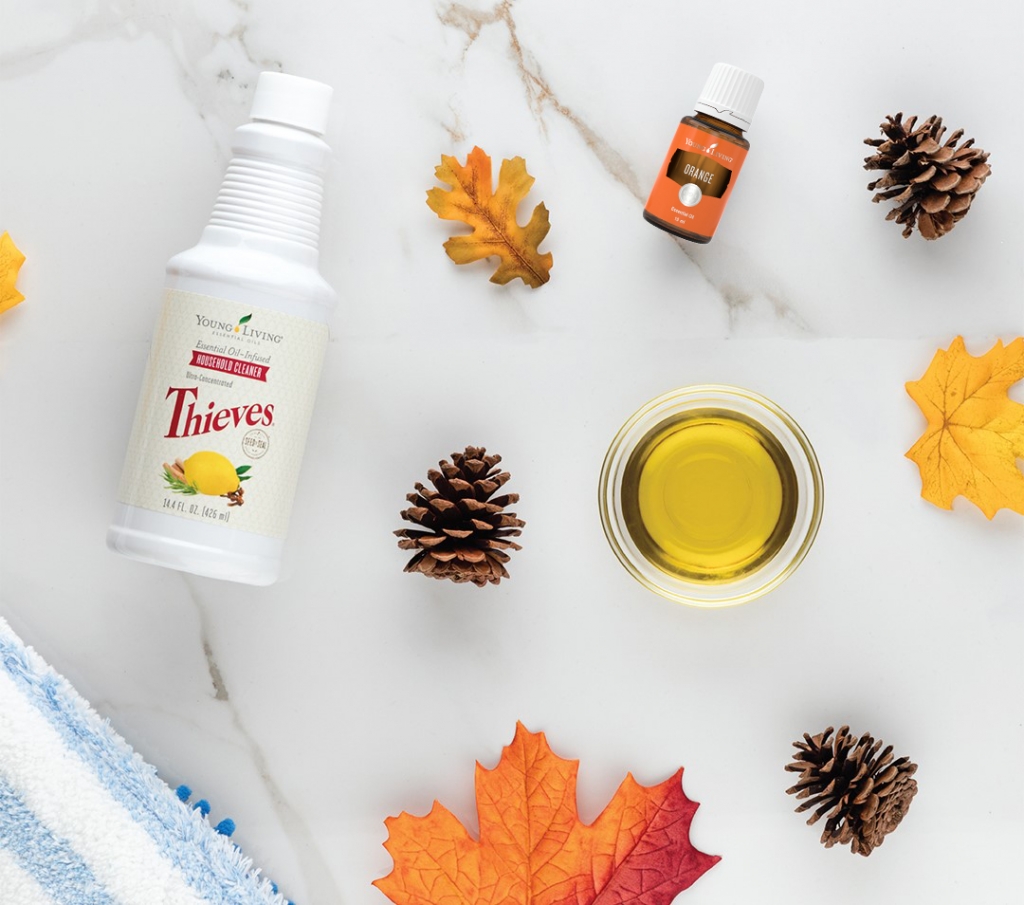 3. Wood floor cleaner
Shine and polish hardwood.
In a bucket, mix the following:
Mop your wood floors!
---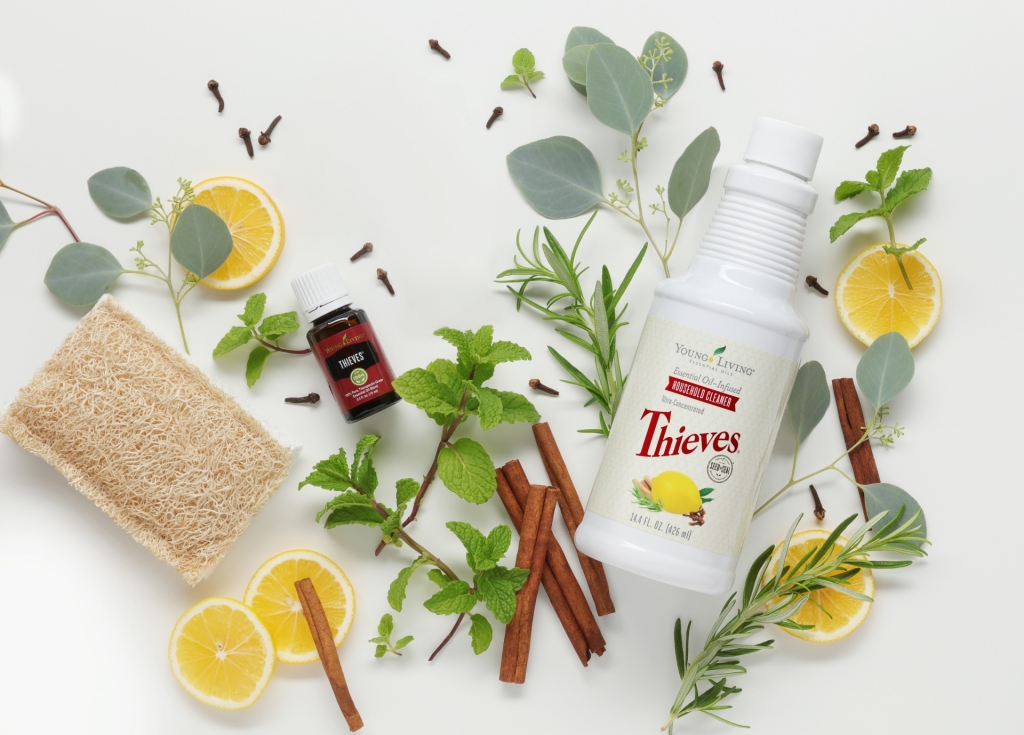 4. Carpet spot cleaner
Remove spills and spots.
In a spray bottle or bowl, mix the following:
Mix well, apply to the spot, and blot with a clean cloth. Repeat until stain is gone.
---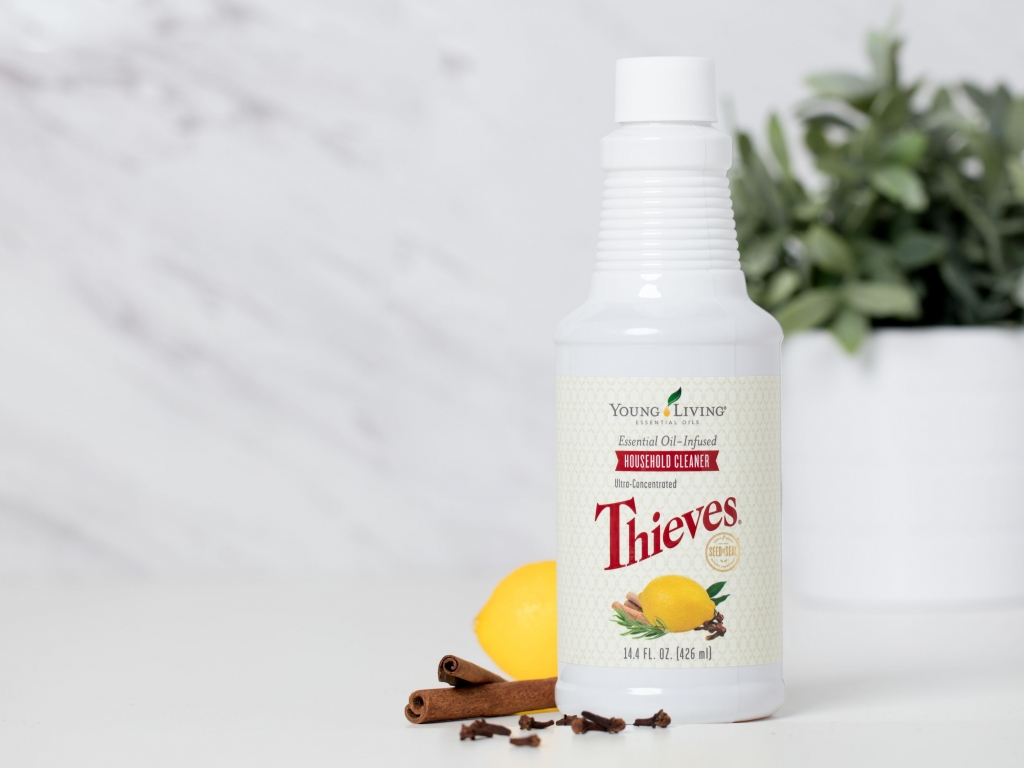 5. Wall art remover
Remove crayon murals from the walls.
Apply a splash of Thieves Household Cleaner and 3 drops of Lemon Essential Oil to a damp rag. Wipe drawings off the walls. Repeat until the art is gone.
---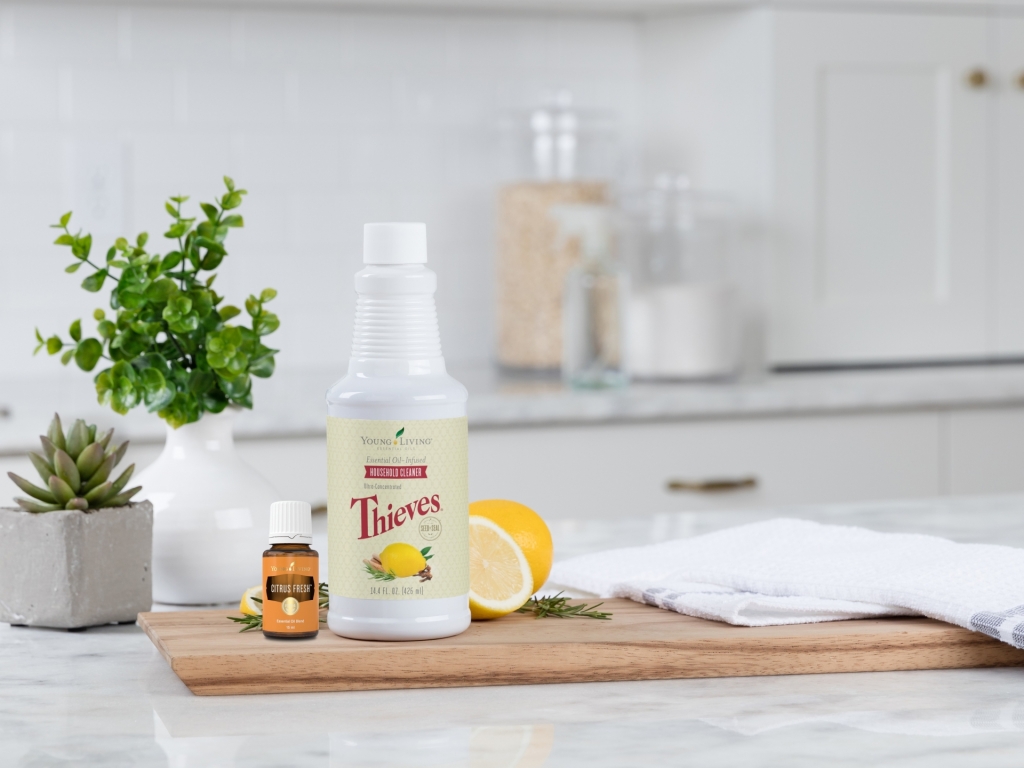 6. Glass cleaners
Clean mirrors, windows, windshields, and car windows!
In a spray bottle, mix the following:
Spray onto glass and wipe away streaks with a soft cloth.
---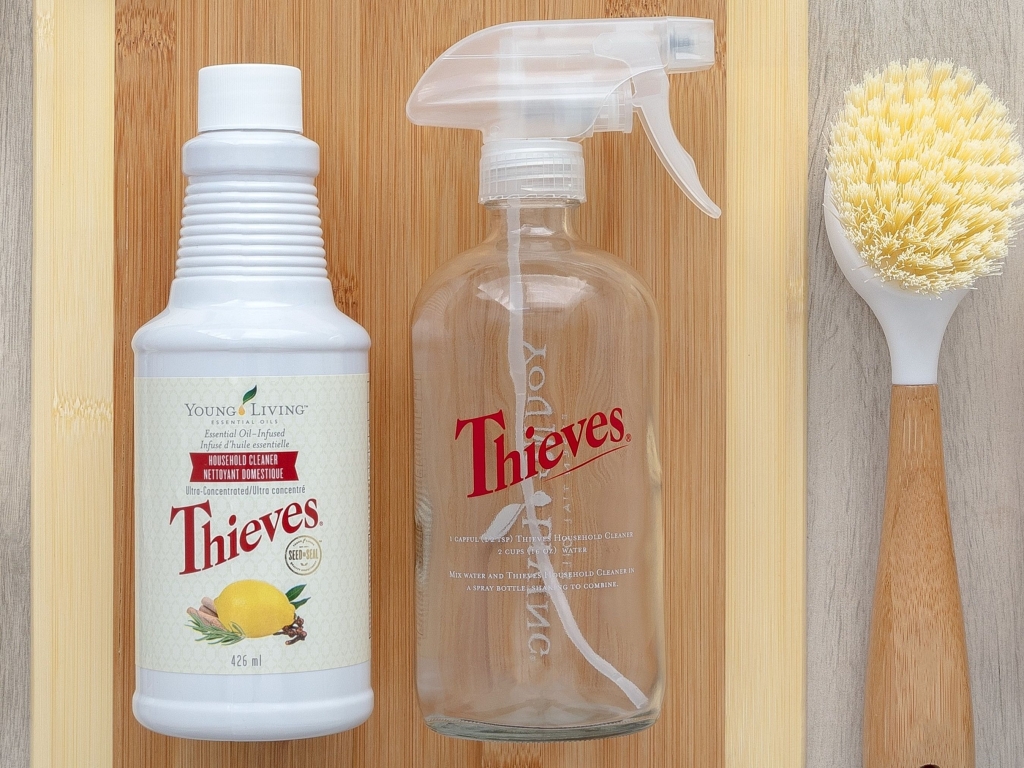 7. Car interior spray
Get a spotless interior!
In a spray bottle, mix the following:
Spray dash, cupholders, console, interior handles, and more! Then wipe with a damp cloth.
YL tip: Get into hard-to-reach places (e.g., air vents, cupholders) with cotton swabs.