If you're like most of us at Young Living, Peppermint essential oil is already one of your favorites. Whether you're looking for a burst of fresh fragrance, an energizing early-morning diffuser blend, or a cooling addition to a foot rub at the end of the day, a few drops of this oil will always seem to do the trick. Just in case you need a few more reasons to love this shivery sweetheart, here are 20 uses to try!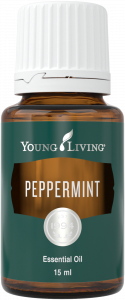 1. Chill out after a long day. Dilute 1 drop of Peppermint with 4 drops of V-6™ or another carrier oil; then rub on the temples, forehead, and back of the neck. Be careful to avoid your eyes! You'll feel a soothing, cooling sensation, courtesy of the constituents menthol and menthyl acetate.
YL tip: Can you put Peppermint oil directly on the skin?
Peppermint is a "hot" oil, which means it creates a warming sensation on the skin when it's applied undiluted. We recommend starting out using this oil diluted 1:4 with a carrier oil. If you want to use it undiluted, do a patch test of 1 drop to see how it feels on your skin. If you experience a reaction to the oil, dilute the oil with a 1:4 ratio of carrier oil and try another patch test.
2. Soothe sun-kissed skin. Cool skin after a day in the sun by adding a few drops each of Peppermint and Lavender to aloe vera gel.
3. Freshen carpets. Make a carpet powder with 1 cup of baking soda and 20-30 drops of essential oil. We love the purifying scent of Kunzea with Peppermint's bright aroma.
4. Add Cool Azul™ to your cool-down. Peppermint is a main ingredient in the Cool Azul line of products! Massage tired muscles with Cool Azul Sports Gel after a tough workout.
5. Find your focus. Fill your office or study space with energizing aromas by diffusing this blend when it's time to buckle down on a project.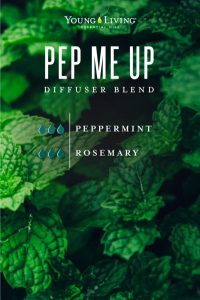 PEP ME UP DIFFUSER BLEND
3 drops of Peppermint
3 drops of Rosemary
6. Refresh while you rehydrate. Add a few drops of Peppermint Vitality™ to your water bottle for an extra refreshing zing. We recommend 1-2 drops for every 16 ounces of water.
YL tip: Can you drink Peppermint oil in your water?
Peppermint Vitality™ is labeled for internal use, so it is a great addition to your daily water intake.
7. Sweeten your breath. Put a drop of Peppermint Vitality™ on your tongue to freshen your breath and get rid of any trace of those garlic-flavored kale chips you ate with lunch!
8. Find balance. Diffuse this grounding blend whenever your mind needs clarity, such as during moments of spiritual study or meditation.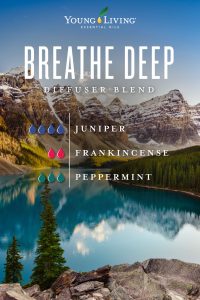 BREATHE DEEP DIFFUSER BLEND
4 drops of Juniper
2 drops of Frankincense
3 drops of Peppermint
9. Stimulate your scalp. Add 3 drops of Peppermint to your shampoo in the morning and massage into your scalp for 2 minutes for a brisk way to start the day.
10. Remix your favorite recipes. Use Peppermint Vitality™ to add a refreshing twist to a pitcher of lemonade.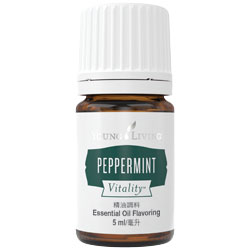 11. Soak in the sweet aroma. Add 5 drops of Peppermint directly to bathwater and enjoy an invigorating soak.
12. Support digestion. Add a drop or two of Peppermint Vitality™ to a mug of hot tea to help with gastrointestinal discomfort. It can support normal digestion and reduce feelings of discomfort after large meals.*
13. Take it on the go. Pack Deep Relief™ Roll-On in your purse for some simple self-care on the go. Our pal Peppermint is the main ingredient and contributes to the cooling sensation!
14. Create a cooling chest rub. Mix a drop of Peppermint with a small amount of V-6 and rub it onto your chest for a cooling sensation and fresh fragrance.
15. Cool off on a hot day. When the temperature's climbing and you feel like melted ice cream on a hot sidewalk, add two drops of Peppermint to a cold, damp washcloth. It's perfect for the back of your neck, your forehead, or your chest.
16. Refresh musty rooms. Invite a fresh aroma into your home with a breezy diffuser blend.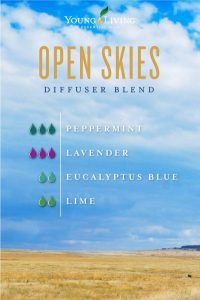 OPEN SKIES DIFFUSER BLEND
3 drops of Peppermint
3 drops of Lavender
2 drops of Eucalyptus Blue
2 drops of Lime
17. Turn sweets into something special. Infuse your baked goods with drop of Peppermint Vitality™!
18. Freshen funky workout gear. Smelly gym bag or stinky shoes? Mix 2 ounces of water and 6 drops of Peppermint in a spray bottle to freshen it up! Add Purification® or Lemon for an extra boost of freshness.
19. Shake up your morning shower. Put 2 drops of Peppermint and 2 drops of Eucalyptus Radiata on a washcloth and put it on the shower floor just out of the direct stream of water. The steam will surround you with an invigorating aroma!
20. Breathe in the aroma straight from the bottle. Whatever less-than-amazing smells you're faced with, just open your trusty bottle of Peppermint and take a deep breath. The chilly aroma will chase away almost any unpleasant scent.
---
Tell us in the comments which of these uses for Peppermint oil you're going to try first! (Because if you love this oil like we do, we know you're going to try them all!)
*These statements have not been evaluated by the Food and Drug Administration. Young Living products are not intended to diagnose, treat, cure, or prevent any disease.