Looking to take the go-to dishes in your cooking arsenal from can-do to can't live without? Elevate your basic cooking ingredients with our Vitality Oils!
We've got recipes to help turn standard ingredients like olive oil and vinegar into superstar bases that'll make your dishes a home run! Simply add Vitality essential oils, herbs, and spices to olive oil and vinegar and get mixing.
Lemon herb olive oil
Rosemary, Basil, and Lemon — oh, yes! This trio adds the right amount of tart, fresh flavors to enhance your favorite dishes.
Ingredients
How to make lemon herb olive oil
1. Pour the olive oil into a pot or saucepan. Keep on low heat until it starts to bubble.
2. Mix in the herbs.
3. Let it simmer until the oil is fragrant. Be sure not to let the herbs brown.
4. Turn off the heat and let the mixture cool.
5. Add drops of Vitality oil into the mixture. Remember, less is more. Start with fewer drops, then add more to taste if desired.
6. Funnel the mixture into bottles.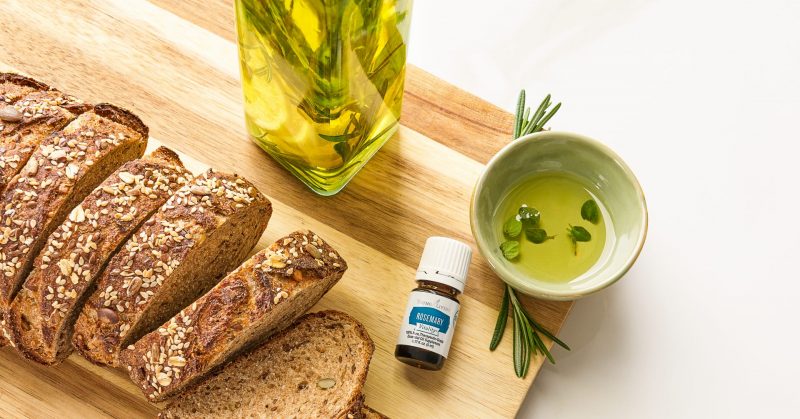 ---
Citrus vinegar
Vinegar is a tangy topping that can pair well with desserts or entrees. Sweeten your vinegar with citrus favorites that'll up the ante on your favorite dishes.
YL tip: Substitute balsamic vinegar to satisfy your sweet tooth.
Ingredients
How to make Citrus vinegar
1. Slice fruit and put in a 16-ounce bottle or jar.
2. Pour vinegar into a saucepan and bring to a simmer on the stove.
3. Add vinegar to your bottle or jar over the fruit. Let stand at room temperature for 8 hours.
4. Add Vitality oils.
5. Shake well before using because oil and vinegar don't mix.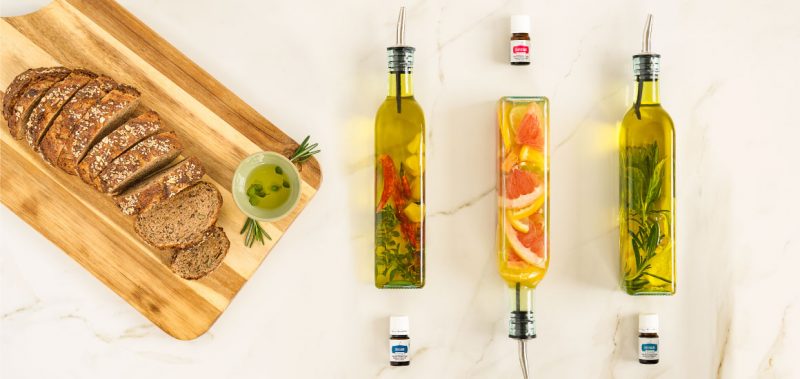 How to use Vitality-infused oil
Oil and vinegar are starting points for many dishes, but their uses are endless. Here's how to use these flavor-bursting recipes:
Drizzle over salad on their own or use as a base for homemade salad dressing.
Marinate meats, tofu, or veggies.
Pour onto a small plate and use as a dip for bread as an appetizer for parties.
Pour over warm brie and serve with crackers.
Trickle over flatbread pizzas.
Swap bland oil and vinegar in your go-to sauces like Pad Thai or pasta.
Tips for infusing olive oil at home
Wash and thoroughly dry all herbs to keep fresh.
Place in a glass jar with a tightly sealed lid and store in the refrigerator.
For an intense fusion of flavor, prepare a few days in advance and let the ingredients marinate in the refrigerator before use.
Use dried herbs instead of fresh ones for a longer-lasting oil.
When using Vitality oils, start with a small dose and add more drops for a more intense flavor.
Swap to satisfy
Want to tailor your olive oil and vinegar to your taste buds' liking? These recipes are easily customizable with your favorite flavor combinations. Simply swap out the herbs, fruit, and oils to create endless flavor options. Here are some Vitality oils you can use:
FAQ
Q: How long do infused oils last?
A: Use within two weeks. If you refrigerate your infused olive oils, they should stay good for up to a month. If the additives start showing signs of wilting/spoiling, discard the rest of the oil.
Q: Why is my infused olive oil cloudy?
A: When refrigerated, olive oil starts to solidify, which makes it appear opaque. It will look clearer at room temperature. If its cloudy at room temperature, that is a sign that the herbs are starting to spoil.
---
How will you use these new flavor-popping recipes?
Tell us in the comments!
---
Don't be a stranger to YLHK family!
Facebook: https://www.facebook.com/YoungLivingHongKong/
Instagram: https://www.instagram.com/younglivinghongkong/
Subscribe A Drop of Inspiration (creative, inspirational EO Tips): eepurl.com/dn5Lmr
This post is also available in: Chinese (Traditional)