Young Living Founder and Chairman of the Board D. Gary Young was traveling the world 23 years ago seeking the natural secrets of longevity, energy, and vitality, when he was introduced to the powerful wolfberry found in China's remote Ningxia region.
For centuries residents of this region have enjoyed the astonishing wellness-supporting benefits of wolfberries (also known as goji berries), but due to the region's isolation, knowledge of this remarkable superfruit has remained relatively hidden from Western culture. Gary began finding out all he could about the wolfberry and soon learned that Chinese biochemists at the Ningxia Institute of Nutrition had found it to be one of the most nutrient-dense foods on the planet. Gary became convinced that this superfruit needed to be made available to the world.
By combining selectively sourced Ningxia wolfberries, superfruit extracts, and pure essential oils, Gary created Young Living's proprietary NingXia Red®. This delicious beverage has made its way into homes of members across the globe and has expanded into an entire line of NingXia Red products. When incorporated into your daily wellness routine, NingXia Red products can support energy levels, revitalize wellness support and support normal cellular function.*
*These statements have not been evaluated by the Food and Drug Administration. This product is not intended to diagnose, treat, cure, or prevent any disease.
The "Seed to Seal" story of NingXia Red begins in the remote hills of the former Chinese province of NingXia:
---
[column size="SIZE" last="YES/NO"]Learn more about NingXia Red products: [/column][lorem paragraphs="NUMBER"][tabs tab1="Holiday NingXia Red Set (Holiday Special!)" tab2="NingXia Red(bottles)" tab3="NingXia Red Singles"]
[tab id=1]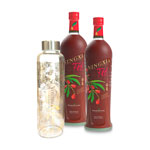 Holidays are the joyous time for us to enjoy the sumptuous festive meals together. Containing 2 bottles of NingXia Red and a specially designed Young Living glass water bottle etched with golden botanical pattern, this set helps you and your family stay healthy and energized throughout the holiday.
Whsl. $760 | Retail $1,000 | PV64
*Will Call orders only.
[/tab][tab id=2]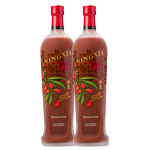 Replenish with NingXia Red, the naturally delicious wolfberry drink. Step up with NingXia Red!
2 pk (750ml each) | Whsl. $715 | Retail $941 | PV71
4 pk (750ml each) | Whsl. $1,290 |Retail $1,697 | PV127
Get them in Virtual Office
[/tab] [tab id=3]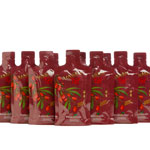 Attractive, 60-ml packets are ideal for introducing the naturally delicious NingXia Red. A convenient way to enjoy the benefits of the wolfberry superfruit. Put them in your bag or backpack, or give them as samples to friends and family.
30 ct. (60ml each) | Whsl. $845 | Retail $1,112 | PV84.5
60 ct. (60ml each) | Whsl. $1,645 | Retail $2,164 | PV164.75
90 ct. (60ml each) | Whsl. $2,445 | Retail $3,217 | PV245
Get them in Virtual Office
[/tab]
[/tabs]
This post is also available in: Chinese (Traditional)