Copaiba Essential Oil 15 ml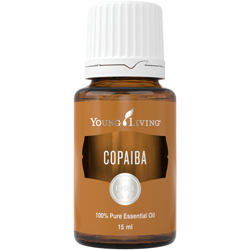 (Copaifera officinalis)
Known for its gentle, woodsy aroma, Copaiba essential oil is a product of steam distilling the gum resin tapped from the Brazilian Copaifera reticulata tree. Copaiba oil has high levels of beta-caryophyllene and a uniquely sweet aromatic profile, which helps create a relaxing atmosphere when it is diffused or applied topically. Copaiba is a great addition to your daily routine and skin care. Add it to a neutral moisturizer to utilize its natural fragrance and moisturizing properties. It can also be applied following activity for a comforting cooldown.
| | |
| --- | --- |
| Item No. (SKU): | |
| Variant: | |
| Brand Partner Price: | |
| Price: | |
| PV | |
This item is currently not available for purchase.
This product is only available to purchase by Young Living Brand Partner. To join and become a Young Living Brand Partner click on the Become a Brand Partner link at the top of this page.
* All prices shown include VAT. Shipping charges not included.
Product Snapshot

Product Snapshot

Features & Benefits
Provides a calming aroma
Can be diffused to create a warm, inviting environment
Reduces the appearance of blemishes
Can be massaged into fatigued areas after activity
Includes the naturally occurring constituent beta-caryophyllene
Can be applied to skin to promote the appearance of a youthful, radiant glow
Aromatic Profile
From the bottle: Gentle, light, woody aroma
Key Constituents
Alpha-copaene
Alpha-humulene
Beta-caryophyllene
Delta-cadinene
Delta-elemene
Gamma-elemene
Germacrene D
Trans-alpha-bergamotene
Ingredients

Ingredients

Ingredients
Copaifera officinalis† (Balsam copaiba) resin
†100% pure, therapeutic-grade essential oil
Suggested Uses

Suggested Uses

Applications
Add Copaiba to a moisturizer or skin cream to help enhance the appearance of a youthful, radiant glow and to help reduce the appearance of blemishes.
Dilute with V-6™ Vegetable Oil Complex and massage it on fatigued areas after exercise for a relaxing cooldown. To add a cooling sensation, combine Copaiba with Peppermint or Wintergreen essential oils.
Diffuse it to create a warm, inviting space. Create a custom blend by adding oils such as Cedarwood or Cinnamon Bark.
Create a natural beard oil with Copaiba, a lightweight carrier oil, and a complementary oil such as Northern Lights Black Spruce or Peppermint.
Where to Diffuse
Cool down at home after a strenuous workout with the nostalgic, woodsy aroma.
Blend the steam from your shower with a sweet, earthy scent to revitalize after a busy day at the office.
Experience
Copaiba's warm, slightly woodsy aroma creates a comforting environment when diffused. It is a great addition to
your daily routine and skin care when used topically.

Label Directions
Topical: Apply 2–4 drops directly to desired area. Dilution not required, except for the most sensitive skin. Use as
needed.
Aromatic: Diffuse up to 1 hour 3 times daily
Tokyo, Japan
Step outside the bustling cityscape and into one of the country's many beautiful pastoral settings. Catch the hint of cherry blossoms in the air, cool water flowing through well-manicured gardens, and lush greenery surrounding you.


4 drops Copaiba essential oil
3 drops Jasmine essential oil
3 drops Orange essential oil
Chocolate Orange
There's nothing quite like the iconic combination of chocolate and oranges to make you think of Christmas morning; but why wait until December 25 to get that magical scent and feeling? Add these four different oils together and be transported back to childhood memories.


3 drops Orange essential oil
3 drops Peace & Calming® essential oil blend
3 drops Copaiba essential oil
1 drop Cinnamon Bark essential oil
Commute Conqueror
Rush hour traffic can turn anyone's day south. This manly blend will help keep his eyes on the road, while making road rage the last thing on his mind. When used with a USB, this on-the-go blend can help make his commute a little time to unwind.


6 drops Lime for a cheerful and relaxing aroma
2 drops Eucalyptus Radiata for a scent that inspires energy
4 drops Copaiba/Cedarwood to help create a grounding environment
Cautions: Keep out of reach of children. For external use only. Keep away from eyes and mucous membranes. If you are pregnant, nursing, taking medication, or have a medical condition, consult a health professional prior to use.

Get to Know

Get to Know

Product Background
Copaiba essential oil is the product of distilling the gum resin tapped from the Brazilian Copaifera reticulata tree,
native to the Amazon region of the country. The copaiba tree grows between 15–30 meters high and produces tiny
white flowers and small nut-like fruit, neither of which are used in the production of the essential oil. Copaiba has been used for various purposes in areas where it grows natively since at least the 16th century. Beyond its use in
Young Living essential oil blends, Copaiba is used in many soaps, lotions, and perfumes.

Scientific name: Copaifera officinalis
Botanical family: Fabaceae
Additional Names: Balsam copaiba
Plant part used: Gum resin
Extraction method: Steam distilled (vacuum distilled)
YL Region: Most Young Living Copaiba essential oil comes from Brazil.
FAQs
FAQs
Q: What is the aroma of Copaiba essential oil?
A: Copaiba essential oil has a gentle, woodsy aroma.
Q: Can Copaiba essential oil be ingested?
A: Copaiba essential oil is labeled for topical and aromatic use and is not intended for internal consumption. Be sure to always follow individual label instruction for Young Living products.
Q: Does Copaiba essential oil need to be diluted for topical application?
A: Dilution is not required, except for the most sensitive skin. Use as needed.