Peppermint Essential Oil 15 ml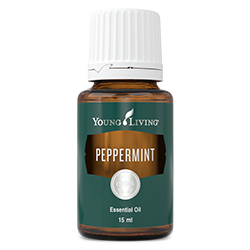 (Mentha piperita)
After a tough workout, dilute a few drops of Peppermint in V-6™ Vegetable Oil Complex, and use it in a refreshing post-workout massage.
Create your own home spa! Add Peppermint and Eucalyptus Radiata to hot bath water and enjoy the relaxing, invigorating scent and aromatic steam.
Peppermint is in the same family as both Lavender and Rosemary. Diffuse the oils of these powerful botanicals together for a fresh aroma that uplifts the spirit.
| | |
| --- | --- |
| Item No. (SKU): | |
| Variant: | |
| Brand Partner Price: | |
| Price: | |
| PV | |
This item is currently not available for purchase.
This product is only available to purchase by Young Living Brand Partner. To join and become a Young Living Brand Partner click on the Become a Brand Partner link at the top of this page.
* All prices shown include VAT. Shipping charges not included.
Product Snapshot
Product Snapshot
Features & Benefits
Cools fatigued muscles after physical activity
Produces a focused environment when diffused
Provides a refreshing experience when mixed with your favorite shampoo or when applied to skin after a warm day in the sun
Creates an invigorating and refreshing experience when inhaled
Aromatic Profile
Refreshing, cool, minty, herbal aroma
Key Constituents
Menthone
Menthofuran
1.8-cineole (eucalyptol)
Isomenthone
Neomenthol
Menthyl acetate
Ingredients
Ingredients
Ingredients
Mentha piperita† (Peppermint) oil
†100% pure, therapeutic-grade essential oil
Suggested Uses
Suggested Uses
Applications
Diffuse Peppermint while working or around kids while doing their homework for an environment that is
focused and energized.
Add Peppermint to hot bathwater and enjoy the revitalizing scent and soothing aromatic steam.
Inhale or apply it to your chest before and during a tough workout for a stimulating scent.
Apply it topically to fatigued areas following physical activity for a cooling sensation.
Where to Diffuse
Put focus first in study areas with this crisp, cool aroma.
Wake up shared family spaces first thing in the morning by infusing them with this icy scent.
Refresh your cooldown space after a vigorous workout with its chilling fragrance.
Experience
Peppermint essential oil has an invigorating aroma that can help create a focused environment when diffused and
can create a cooling sensation when applied topically, especially after physical activity.

Label Directions
Topical: Dilute 1 drop with 4 drops of V-6™ Vegetable Oil Complex or olive oil. Test on a small area of skin on the
underside of your arm and apply to desired area as needed.
Aromatic: Diffuse up to 10 minutes 3 times daily.
Diffuser Blends
Candy Cane
Is there anything more iconic than the smell of candy canes at Christmas time? However, those little sticks of
candy don't necessarily give off a strong fragrance. Not to worry! Simply add these drops to your preferred diffuser
and you'll be enjoying the spicy, sweet scent in no time.

4 drops Stress Away™ essential oil blend
3 drops Christmas Spirit™ essential oil
3 drops Peppermint essential oil
3 P.M. PICK-ME-UP
No need for an energy drink! Get your guy a diffuser and have him start diffusing the energizing aroma of this
blend during the post-lunch lull. Maybe the whole office will feel the boost and benefits of this get-going blend.
4 drops Peppermint to aromatically inspire a sense of concentration

6 drops Orange for a bright, energizing aroma
2 drops Idaho Balsam Fir for a scent that enhances calming and grounding
NYC, New York
Rather than invoke the smell of the Big Apple, this blend captures the energy of the world's most exciting
city. With adventure around every corner, you'll be transported to the City that Never Sleeps!

6 drops Inspiration essential oil
4 drops Peppermint essential oil
Cautions: Keep out of reach of children. For external use only. Keep away from eyes and mucous membranes. If you are pregnant, nursing, taking medication, or have a medical condition, consult a health professional prior to use. Not intended for use on infants.

Get to Know
Get to Know
Product Background
Peppermint is originally from Europe, but 75 percent of the world's supply is now grown in the United States. To
produce one of Young Living's most popular oils, we look to several farms, including our Whispering Springs Farm
in Mona, Utah. One 15-ml bottle of Peppermint essential oil is created by steam distilling 1 pound of the leaves
and flowering tops of the peppermint plant. Peppermint is a key ingredient in PanAway®, Cool Azul® Pain Relief
Cream, and Deep Relief™ Roll-On.

Scientific name: Mentha piperita
Botanical family: Lamiaceae
Region(s) grown: North America, Mediterranean, Great Britain, India
Plant part used: Leaves and stems
Extraction method: Steam distilled
YL Region: The majority of Young Living Peppermint essential oil comes from North America and India
FAQs
FAQs
Q. How is Young Living Peppermint Essential Oil distilled and what parts of the peppermint are used?
A. Young Living Peppermint Essential Oil is extracted through steam distillation and comes from the leaves and stems of the plant.

Q. What can you do if you accidentally get Peppermint Essential Oil in your eyes?

A. If accidental eye discomfort due to essential oil application does occur, put 1-2 drops of pure vegetable oil into the eye to flush the area. You can also put 1-2 drops of pure vegetable oil on a cotton ball and wipe the eye.

Q. How much of Peppermint does it take to create Peppermint Essential oil?

A. It takes approximately 55 pounds of botanicals to make 2 pounds of this product.

Q. What is the level of pulegone in Peppermint and what processes are used to keep it low?

A. Less than 2%. We source true Peppermint which is naturally low in pulegone. Each batch of Peppermint undergoes a rigorous series of tests and must meet our specifications before it's even bottled. Our Peppermint meets the ISO (International Standard Organization) standard. (Brett/Alyssa) –October 2019)