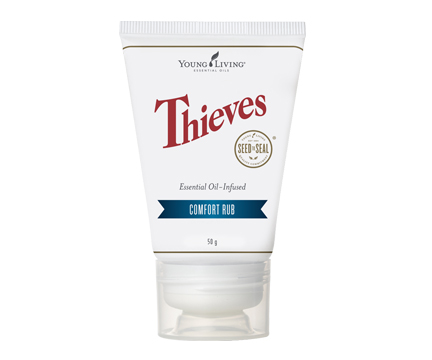 Let comfort take priority with Thieves Comfort Rub. This plant-based formula provides temporary relieve from breathing discomfort with its soothing aromatic vapors and a powerful blend of camphor, menthol, and eucalyptus.
Soothes occasional and seasonable breathing discomfort
Aromatic vapors act quickly to provide relief and eases deeper breathing
Formulated free of petroleum, parabens, phthalates, mineral oil, synthetic perfumes or dyes, artificial colors, preservatives, or GMO ingredients
Safe to use on family members ages 2 and above
Unique applicator enables hygienic, hands-free application method
该物品目前无法购买
無法購買
* 此處所示所有價格均包含銷售稅. 價格未包含運費.
使用方法
For adults and children ages 2 and up, rub a thick layer on desired area. Keep clothing loose so the vapors can reach the nose and mouth. Use up to 3 times daily or as directed by a doctor.
成分
Helianthus annuus (sunflower) seed oil, Carthamustinctorius (saower) seed oil, Ricinus communis (castor) seed oil, Vitis vinifera (grape) seed oil, Camphor, Rhus succedanea fruit wax, Helianthus annuus (sunflower) seed wax, Menthol, Olea europaea (olive) fruit oil, Eucalyptus globulusm leaf oil, Tocopherol, Ascorbyl palmitate, Eugenia caryophyllusm (clove) bud oil, Glyceryl linolenate, Citrus limonm (lemon) peel oil, Beta-sitosterol, Cinnamomum zeylanicumm bark oil, Squalene, Rosmarinus ocinalism (rosemary) leaf oil, Eucalyptus radiatam leaf oil m100% Pure essential oil