| | | | | |
| --- | --- | --- | --- | --- |
| ENJOY AND EXPERIENCE AUTHENTIC YOUNG LIVING WITH ALL APAC MEMBERS | | CELEBRATE AND BE INSPIRED ON GREATEST STAGE IN APAC | | LEARN FROM LEADERS OF YOUNG LIVING'S LEGACY TO BE A PIONEER |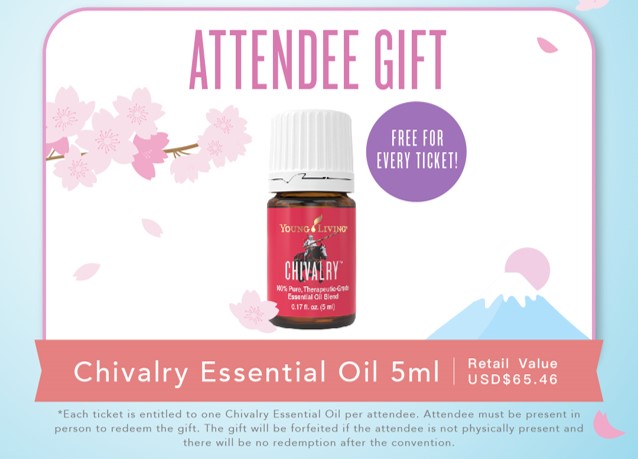 The Medieval era has taught and practiced "Chivalry" as one of the main concept to respect others. Along with APAC convention, we want Young Living members to show gratitude towards other people. By receiving the Chivalry Essential Oil as attendance gift, we hope to set an example and demonstrate chivalrous attitude towards everyone. This attendance gift will serve as a reminder of what Young Living stands for and believes in. It is a symbol of Dr. Gary Young accompanying you in your Young Living Aroma Journey.

| | | | | |
| --- | --- | --- | --- | --- |
| RECOGNITION | | SGPD PARTY | | GALA DINNER |
RECOGNITION
Your hard work hasn't gone unnoticed. We're pleased to announce couple of ways that we'll be recognizing your accomplishments at the APAC Convention!
New Rank Achievement Recognition

With each passing month of 2019, our APAC region members grow and expand. The Young Living's influence for good is on a global scale. Through our members' dedicated efforts to share the gift of pure and authentic essential oils, we have positively impacted the thousands of lives around the world. You will be recognized on stage in front of corporate managements. Join us in celebrating the hard work and success throughout APAC region!


SGPD Party (Free of Charge)
As recognition is for the New Rank Achievements in 2019, SGPD Party is designed for you to exchange knowledge and experiences from leaders around the world. The party will be in Traditional Japanese Style with a Japanese theme cosplay. Dress up to be the BEST dressed YL member and win awards. Don't miss out on this out of the world PARTY.

Gala Dinner
With the New Rank recognized and all the questions answered, Gala Dinner is a formal dinner party strictly for Diamonds and above leaders. It is a great honor to be attending the Gala Dinner as the event will feature Mary Young and Jared Turner as special guest to personally congratulate your success as a top Young Living Leader. It will be a cozy and heartwarming opportunity to be recognized in front of all the corporate managements, as well as your Young Living team members. Gala dinner will allow you to demonstrate your one of a kind leaders to your Young Living family and friends.

Be joyful in Young Living Be festive in 祭り(Matsuri)
EXPO Experience
The Young Living APAC Convention Expo will not only feature our most proud essential oils, but also extensive essential oil products for attendees to experience the Young Living experience. You will be able to experience the NEW APAC convention Products firsthand as well. Entering the EXPO will take attendee out of the convention and transported them to an entirely different world of Japanese Cultural Experience. It will allow you to understand Young Living in depth.

SUCCESSFUL MODULEIN MULTI-BILLION COMPANIES
DIAMOND'S WISDOM
Workshop Speakers will be providing keys, tools, and philosophies to Young Living members to solve any questions, doubts, ailments that members would have. It will bring member a step closer to the abundance lifestyle of Young Living.
FOLLOW THE LEADERSBECOME A PIONEER
Mary Young (Co-Founder and Chief Executive Officer)
Jared Turner (President and Chief Operating Officer)
Mary and Jared are set to provide you with the most authentic Young Living culture and experience in APAC Convention. Through Mary and Jared's lens, you will be able to understand YL vision, mission, and core value which accompanied Young Living throughout the years. Members will be able to propagate the legacy of Young Living from the root of the beginning.

R. Michael Buch, PhD (Chief Science Officer)

Dr. Buch as Young Living's first-ever Chief Science Officer conducts scientific research and development on new and established products. You will be able to understand the essence of Seed to Seal as Dr. Buch has more than 25 years of experience in the health and wellness industry. It will help to highlight what sets us apart from other companies and launch new Young Living products.

Lauren Walker (Chief Supply Chain Officer)

Lauren pioneered the Young Living's innovative supply and production strategies. Through her experience and passion, it has helped Young Living to rise to an exceptional level. Come and learn the detailed behind the scene of Young Living's supply chain operations and product manufacture. You will understand the progress and future in a 360 degree perspective.

Tai Tolman (Regional President, Asia-Pacific)

Franco Silva (Managing Director of Sales and Marketing, Asia-Pacific)

With years and years of experience in the direct selling industry, Tai and Franco will bring the overview and future outlook of the APAC region. They will provide members with develop new programs, sales and marketing strategies, partnerships and promotes Gary's vision of getting oils in every home.