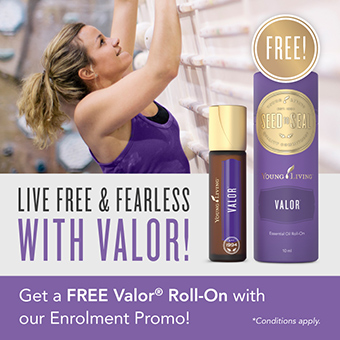 Enrolment Promotion - Live Free & Fearless with Valor!
Promotional Period: 23 February - 31 March, 2019
Share Young Living with friends and family to receive a special bonus!
Enrol two members with a Premium Starter Kit on Essential Rewards (ER) and they place an additional ER order in the following month, you'll get a FREE 10 ml roll on of our best-selling blend, Valor®!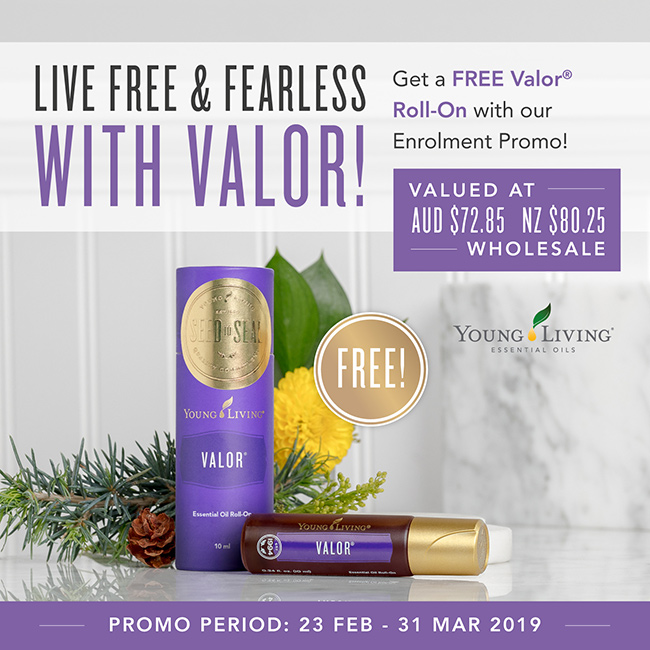 Find out more about the Valor enrolment promo in Australia
Find out more about the Valor enrolment promo in New Zealand
YL LEADERSHIP ACADEMY: DISNEYLAND AND IGC CONTEST
March Promotions: Everyone belongs!
Promotional Period: 1-31 March, 2019
Harmony Day (21 March) - It's time to celebrate a day of inclusiveness, respect and belonging! Like our multicultural nation, your Young Living tribe can come from all walks of life, from wonderfully diverse backgrounds and perspectives. We all share a common mission: to connect with, nourish, nurture and lift others up. We are here, together, to help each individual in our tribe become the highest and best version of themselves through self-empowerment and to achieve their own personal dreams, whatever they may be. In celebration of Harmony Day, our March PV promotion features popular essential oil singles sourced from nations around the world and blends that inspire acceptance, peace and strength.
Reach any of the following PV minimums with your January order and earn these great free products. If you're a qualifying Essential Rewards Member, you'll also receive an exclusive bonus reward - a Northern Lights Black Spruce 5 ml!
Find out more about our March PV promo in Australia
Find out more about our March PV promo in New Zealand
Training & Events
April LYPR & Register now for Symposium 2020!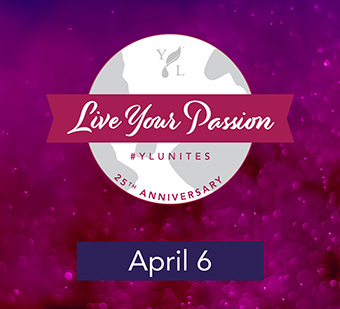 The April Live Your Passion Rally: #YLUnites is coming!
Saturday, 6 April 2019
Be Part of a Global Phenomenon! Register as a Host for April's LYPR Today! #YLunites
Every quarter, thousands of Young Living members in cities across the globe unite to feel inspired and energised at our member-hosted Live Your Passion Rally (LYPR) events. The first LYPR of 2019 in January brought together nearly 200,000 attendees in 44 countries and kick-started the momentum for an epic year! Kudos to all of you for successfully empowering more people to take charge of their well-being and live their passion with Young Living.
On April 6 (Saturday), it's your chance to host and inspire your users, partners and potential new oilers with another high-energy LYPR! Share experiences, learn from one another and impart knowledge about essential oils through the rally and take your Young Living journey further
The community-driven, experiential LYPR is a welcoming day of fun for everyone. New members and seasoned Leaders alike will have the opportunity to make new friends, learn something new, celebrate successes and set goals for the coming quarter. Members who attend April's LYPR will be the first to hear about upcoming events, news, and product launches from the Young Living executive team.
Host a rally event and get your team excited. There are lots of exciting prizes and surprises in store!
Your opportunity to join in the excitement of hosting a LYPR is OPEN NOW until Saturday, March 22! You can hold your LYPR at home, a local community centre, school, hotel conference room, or even online!
Learn more about LYPR and how you can host a Live Your Passion Rally event in Australia
Learn more about LYPR and how you can host a Live Your Passion Rally event in New Zealand
'Join' the YLUnites host Facebook group where you'll get the latest information relating to the rally, such as host conference calls, hints and tips as well as a chance to network with other hosts. Note: this is a closed group, so you will need to be LYPR host to join this group.
2020 Symposium Australia & New Zealand - early bird tickets now available!
Friday, 28 February - Sunday, 1 March 2020
Come along to learn more about essential oils, be inspired, and discover how you can make a positive difference and help others make.
The 2020 Young Living Symposium for Australia & New Zealand will help you to create your future and build your dream.
You will have the opportunity to hear from some of Young Livings's most influential Corporate Staff, Top Leaders and Celebrity Guests. Network with like-minded essential oil lovers, gain new product knowledge, attend fun workshops, and experience our Product Expo.
This is Young Living Australia and New Zealand's biggest event of 2020 - don't miss out!
Save $110 with our early bird pricing!*
Register & Book your tickets now for Symposium 2020
* Early Bird Pricing is available between 1st March to 30 October, 2019.
Recognitions
YL Golds Naomi & Warren Dyer in the spotlight
Member Success Stories
IN THE SPOTLIGHT WITH NAOMI & WARREN DYER
This month we talk to Naomi & Warren Dyer, YL Golds about their journey since taking up the Young Living opportunity.
From our one-on-one with Naomi & Warren Dyer:
How has your life changed since you joined Young Living?
Naomi: "In so many ways. From a wellness perspective, I have incredible energy, wellness and happiness. Having battled through cancer and a challenging surgery, I can no longer sing professionally. I now use my voice to speak for Young Living, educating on empowerment and lifestyle choices. Young Living has given me my voice back."
Warren: "Young Living has enabled me to make incredible lifestyle choices, including the opportunity to create a willable family business, that our children love being a part of just as much as we do."
Click here to read more from our interview with Naomi & Warren Dyer
CORPORATE Update
A message from Mary Young, our Co-Founder
A message from Mary
Hello, Everyone,
It seems that the speed of 2019 is increasing, with so many new and exciting things happening!
We cheered with the fourth graduating class of the Young Living Academy in Ecuador on February 16, which was a thrill for all who were there to celebrate with our 21 students. It's a new horizon for these young people, and they are anxious to start making their way in the world.
A few days later, we cut the ribbon for the opening of the new experience centre in Mal del Sol, the most prestigious mall in Guayaquil. Millions of people visit this center every year and will be introduced to Young Living as they become curious about the beautiful lavender wall and the aroma that will attract them to come in and visit.
On February 22 we flew to Bogota, Colombia, for the ribbon cutting of the opening of Young Living in their country. These members are on fire, and we are going to see phenomenal growth as they spread the mission of Young Living. We also celebrated the 20-year anniversary of Australia, with truly monumental achievements under the dynamic leadership of our General Manager, Kristen Tod.
With so many new people joining Young Living, we feel the need for them to have more education—not just about building a business but more about our products, how they work and how to use them. There is so much educational information available, far more than what we had even five years ago, especially in Virtual Office.
There is also on-going university research, with many published papers listed on PubMed and in many scientific journals. The internet is an amazing resource, but there is also conflicting information, so you have to figure out what to believe.
We encourage you to hold more in-home meetings, cottage meetings where you can share your knowledge and personal experiences. Please help your new members get information that will give them broader knowledge and the ability to make the best choices.
My best wishes,
NOTICES
Pricing changes, New Lifestyle Booklet & YL Share App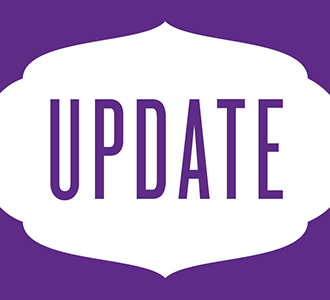 Delivering Essential Oils without Compromise
Pricing changes taking effect April 1, 2019
Young Living's commitment to having the highest standards in the industry means being transparent with our members, especially when it will affect their pocketbooks—no matter how modestly. However, through a standard nominal price and PV adjustment of majority of our products, we can address rising costs from sourcing, inflation, and cost of living increases without compromising our quality commitment.
Beginning April 1, 2019, you will see the cost and PV of some of your favourite products rise slightly. We'd like to share what this price change represents:
Young Living's continued commitment to quality: We provide you with the highest quality, purest essential oils and essential oil-infused products on the market.
Maintaining our industry-leading international sourcing and compliance standard.
Continuous reformulations: We are committed to providing products made with the best ingredients available.
Our ability to seek further certifications such as non-GMO, LEED, and others: This demonstrates our commitment to the highest standards in all aspects of our operations.
While the price of many of our products is going up slightly, the Premium Starter Kits (PSKs) will remain the same. Maintaining the cost of PSKs is one way we're keeping enrollment simple and affordable for you and your contacts!
We are proud to maintain these industry-leading standards that ensure our pricing matches our quality commitment. Thank you for your ongoing support and commitment to everything Young Living!
Watch for these changes beginning April 1, 2019.
New Lifestyle Booklet Available Now!
Have you seen the Young Living Lifestyle booklet?
This booklet is the perfect resource to share with new prospects to introduce them to the Young Living Lifestyle. It contains a glimpse of the rich history, global impact and diverse product ranges of Young Living, as well as how to share the YL Lifestyle and what the next steps are, to pursuing wellness.
Product Code: 27051. Sold as a 10 pack.
Get the Lifestyle Booklet in Australia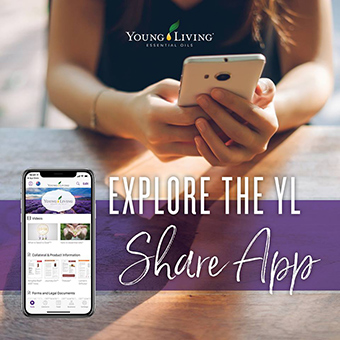 Experience our NEW YL Share App!
YL Share is a free app that makes it easier than ever to share Young Living!
With the YL Share app, members can share their favourite Young Living content right from their smartphones. With just a few taps, you can select content from the Young Living library and post it to social networks or deliver it via email or text to any of the contacts in your phone. It's a great way to build a business and share information with potential members.
Learn more and download the YL Share App in Australia