A look back at the 2017 International Grand Convention
This year's convention was an unbelievable success—thanks to you, our members! Nearly thirty thousand of you gathered with us from around the globe for the ultimate Young Living experience.
We kicked off the convention fun with the Farm Experience at the scenic and historic Young Living Lavender Farm in Mona, Utah. Visitors enjoyed live music, a rock climbing wall, horse tricks, and lavender lemonade and experienced our Seed to Seal® process firsthand at the distillery. They even got to witness a real-life jousting tournament, where the fiercest of knights came back to life in a show of honor.
Back at the Rice-Eccles Stadium, we gathered together for food, fun, and friendship during our convention tailgating parties. It was the perfect opportunity to network and connect with other passionate business builders. At the stadium on Friday, we also got to hear from our keynote speaker, Shawn Achor, who taught us about the critical correlation between happiness and success.
At the Salt Palace, Eric Worre taught about how to break through doubts and fears and grow a large business fast. Attendees also learned critical business-building skills by going to special trainings, including the International RevOILution hosted by D. Gary Young and the Royal Crown Diamond panel. Visitors to our amazing booths at the Expo not only got to experience our new and member-favorite products themselves, but they also got lots of inspiration for sharing Young Living.
At the Wednesday evening general session at the Rice-Eccles Stadium, we announced over 50 amazing new products and were met with tumultuous applause and enthusiasm from our members. We also celebrated the outstanding efforts and accomplishments of our members at the Silver, Gold, Platinum, and Diamond recognition events. Other activities and events included YL Fit, the Foundation Color Run, the YL Spa, and so much more!
The grand finale of the 2017 International Grand Convention was a sensational concert with country music superstar Carrie Underwood. It was the perfect ending to our most immersive and inspiring International Grand Convention ever. We're already excited next for year!
To relive the fun, check out our 2017 International Grand Convention recap video here. Maybe you'll spot yourself!
To register for the 2018 International Grand Convention, click here. We hope to see you there!
Take a deeper look at Seed to Seal
You may know Seed to Seal® as a series of steps, but we're proud to give you an updated first look at just how deep that quality commitment runs. As a company that strives to continually improve every aspect of our operation, Young Living has expanded our Seed to Seal story to give you a more in-depth look at our quality commitment. Expanding our story has included defining and highlighting the three pillars of our Seed to Seal program: Sourcing, Science, and Standards. These pillars were introduced by Chief Operating Officer Jared Turner during the convention's Friday night general session.
Sourcing
Because synthetics, contaminants, cheap fillers, and unethical production practices are not an option for the essential oils in the homes of members, we source our oils from our own farms and vetted suppliers and test extensively. If an oil doesn't meet our strict testing requirements, we reject the batch.
Science
Our Research and Development department uses clean ingredients based on the most recent health research and trends. Pure, earth- and plant-derived, and effective ingredients that meet our demanding scientific standards are certainly more expensive, and formulating innovative offerings takes time, but we know that members appreciate authentic products they can rely on without a second thought.
Standards
Recent growth in the essential oils industry has often outpaced sustainability standards. Young Living is leading the effort to close this gap by creating standards and protocols to ensure quality and environmental stewardship. Our standards in this regard continue to evolve and improve. We are proud to be making an investment in the planet and leading the way.
Our three pillars message focuses on what we do to provide our members with the best products for their families. These pillars also provide broader, more concrete information that supports members as they share these products and their stories about how Young Living has changed their lives.
Check out the new SeedtoSeal.com for more details!
Catch up on the convention on social media
Couldn't make it to the convention? We've got you covered! Throughout the event, we updated our social media channels, including Instagram, Facebook, Snapchat, and Twitter. You'll see key moments, learn about new products, and hear about the exciting things happening behind the scenes at Young Living on these channels.
Remember to check out what it was like from the perspective of the people who make Young Living great: members! Attendees used the hashtag #YLConvention to share the fun and connect throughout the event.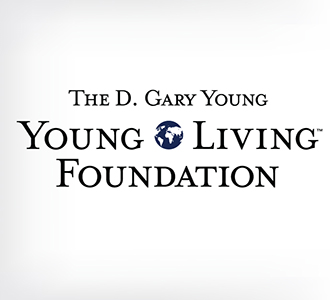 A big year for the Foundation at the convention
The efforts of The D. Gary Young, Young Living Foundation were a tremendous success at this year's International Grand Convention. Through the incredible generosity of our amazing members, our Foundation Color Splash: Run for a Cause and Foundation Expo Booth raised nearly $1 million! We're hoping with people's text donations we can hit $1 million and more.
It didn't matter if you were an avid runner or a first timer, the Foundation Color Splash: Run for a Cause race focused less on speed and more on getting together for a great cause. Plus, the event included other great activities! Attendees loved the opportunity to have fun and make a difference in the lives of underserved individuals.
The Foundation Booth at the Expo offered members the opportunity to speak with representatives from our partner organizations and projects. The booth also featured a fashionable selection of the latest Foundation swag, including items directly from Ecuador, Cambodia, Uganda, and Nepal. The most exciting part? Three lucky donors at the booth went home with their very own motorcycle—generously donated by a few of our amazing members.
Because Young Living pays for 100 percent of the Foundation's operational costs, all proceeds went directly to the Foundation's carefully selected projects and partnerships. The generosity of our great members is the reason why we're able to positively change lives all around the world. Thank you to everyone who came together for some fun and a good cause to make a difference!
To learn more about the Foundation and to get involved, visit YoungLivingFoundation.org.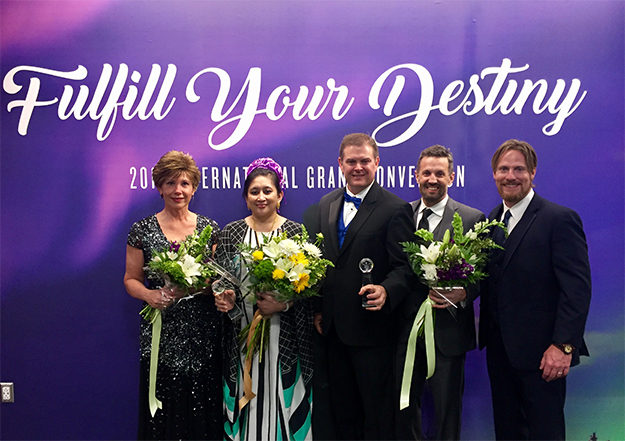 Congratulations to the Spirit of the Foundation winners and honorable mentions
At the convention Awards Gala last Thursday night, we announced our Spirit of the Foundation award winner Rien Nasution and two honorable mentions: Deborah Sleight and The Essentially Equipped Challenge Group. They are all shining examples of how a committed individual or group can make a tremendous impact and even help change the world. Here's look at each of their stories:
Rien Nasution
When a devastating tsunami stuck Indonesia in 2004, Rien traveled there from her home in Malaysia to help bring medical and food relief to the main capital. She also sheltered, fed, and cared for the displaced children who survived the tsunami. Years later, she started a self-funded orphanage in a rural area, five hours from the main city. She has lived a life of selfless service and has taken it upon herself to help those in need, to lift those who are being overlooked.
Deborah Sleight
Deborah is a Star member who volunteers each month at a local women's rehabilitation center, cooking and serving for 20–25 individuals. She also takes the time to sit and listen to each person. She knows them by name, loves being their friend, and enjoys giving back to these women who have felt like no one cares about them. Every Christmas, she provides gifts to children in need, and in 2014 she arranged a humanitarian service trip to build an orphanage in Guatemala.
The Essentially Equipped Challenge Group
This band of inspiring men within Young Living are always looking for ways to serve and give back. Last year, in a few short months, they raised more than $150,000 that the Foundation used to purchase a brand-new bus for the children at the Young Living Academy in Ecuador! This year they are raising funds to help the Young Living Foundation rebuild homes in Nepal. They've donated motorcycles for the Foundation to give away to three lucky donors, so we can raise even more funds for the Foundation's Rebuild Nepal project.
Please join us in thanking and congratulating these individuals for their outstanding sacrifices and efforts. They truly encompass what the spirit of the Foundation is all about.
Have members in mind who do extraordinary things? Watch for your opportunity to recommend them for the award next year!
Help us make next year's International Grand Convention even better!
Another spectacular International Grand Convention has come and gone, and now we want to hear from you! We've created this short survey to help us know exactly what you want to see at the convention next year.
We want to hear it all—the good, the bad, whatever you think would help us improve. And don't worry, it's completely anonymous. This survey should take no longer than 15 minutes to complete and will be used only to assist us in making future conventions even better!
If you attended the convention, click here to begin. Please complete the survey by June 26.
Thank you for all you do for Young Living and for participating in this important survey!