SIGN UP FOR YL TEXTS FOR A CHANCE TO WIN!
Check out the Savvy Minerals by Young Living catalog!
We're thrilled to announce that the Savvy Minerals by Young Living® line has its own product catalog! Available digitally today, and for purchase in print soon, this sleek lookbook includes all our mineral-based makeup products, along with clever tips and tricks for easy application. You'll also find 15 brand-new Savvy Minerals by Young Living products inside that will be available tomorrow at 10 a.m., MT.
6 lipstick shades infused with Tangerine essential oil
4 blush shades
2 lip gloss colors
2 eyeshadow shades
Poppy Seed Lip Scrub—available to order in May
This appealing catalog works perfectly to introduce friends and family to our beautifully formulated makeup, help new members see the variety Young Living has to offer, and complement Savvy Minerals by Young Living get-togethers.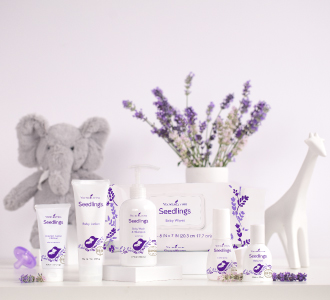 NEW WAYS TO SAVE ON YOUNG LIVING SEEDLINGS®!
What could make our Young Living Seedlings baby care line better? More products, lower prices, and convenient bundle options!
We're thrilled to announce the relaunch of our Young Living Seedlings baby care line! The Seedlings line offers carefully diluted, essential oil-infused baby products that are formulated without harmful ingredients. With this relaunch, U.S. members will be able to enjoy the benefits of all the products in the Young Living Seedlings line, including our soothing Seedlings Linen Spray and gentle Seedlings Baby Wash & Shampoo. We're also adding new bundle options! Our Young Living Seedlings Baby Wipes will be available in a convenient 3-pack or 6-pack, so parents can always keep these gentle wipes on hand. The new Young Living Seedlings Gift Bundle has all our incredible infant care products in a beautiful cotton rope basket. It's the perfect gift for expectant parents!
We're delighted to offer these premium products at competitive prices—without compromising the high quality supported by our Seed to Seal® commitment. Share the exciting news!
HAVE YOU SEEN OUR YL CENTRAL PAGE?
Now located in the Virtual Office, YL Central (YLC) is a convenient place to satisfy your educational needs on specific Young Living products. You can find useful information using this handy resource that includes videos, graphics, podcasts, blog posts, and product PowerPoints with scripts.
YLC currently offers information on our top 30 products, NingXia Red®, Seedlings®, Thieves®, and Savvy Minerals by Young Living® and will continue to add even more products.
Visit YLC and share this information with others!
To access our YLC page, go to Virtual Office > Member Resources > Young Living Central.
REMINDER TO SHOW SOME LOVE
Children from three of The D. Gary Young, Young Living Foundation's partnering organizations have created exclusive designs that you can wear proudly! Available only until April 30, you can purchase the T-shirts designed by children from African Hearts, the Young Living Academy Ecuador, and the Hope for Justice Shine School at YoungLivingGear.com. The most popular shirts will be available for a charitable donation at the upcoming 2018 International Grand Convention.
All proceeds will directly impact the organization that created the design for the shirt you select—which means now's a great time to pick up three new T-shirts! Help support these life-changing organizations and add some flair to your wardrobe, pick up a gift for a friend, or both!
NEW YL GEAR AVAILABLE TODAY AT 10 a.m., MT!
Show off your love for Young Living with new merchandise! Today at 10 a.m., MT, we will have eight new, exclusive items available at YoungLivingGear.com, including Savvy Minerals by Young Living products:
Shop for friends, birthday surprises for essential oil devotees, and presents to reward yourself for all your hard work!
Get browsing today at 10 a.m., MT!
READY FOR A CLEAN SLATE?
Our reformulated Satin Facial Scrub™, Mint is here! We designed this new formula with 100 percent naturally derived ingredients—including apricot seed powder, mango seed butter, and raspberry fruit extract—to gently polish and reveal glowing, radiant skin. With pure Peppermint essential oil, it leaves skin feeling invigorated and refreshed.
Get yours today at YoungLiving.com!
Help make the next Live Your Passion Rally the best one yet
On April 7, members from all around the globe gathered to celebrate, learn, and connect at our quarterly Young Living Live Your Passion Rally (LYPR). While this was our biggest rally yet, we're not content to leave it at that. We want to keep making these exciting events even bigger and better, which is why we need your help. Please take a few minutes to complete a survey and share your valuable thoughts about LYPR. To thank you for your help in developing can't-miss rallies for you and your team, we'll enter your name into a drawing to win a 5-ml bottle of Rose essential oil—a retail value of $251.32! It's the perfect way to celebrate spring! Look for an email notifying you if you win. Read the official rules here.
The survey closes at 11:59 p.m., MT, on Wednesday, April 18, so act fast!
Thank you for your support and dedication. You're a valuable part of Young Living's growth!
Be inspired by the Slique in 60 Phase 1 winners!
Six hardworking, determined, and driven Young Living members are the Slique® in 60 Phase 1 winners! Congratulations to Rose Campbell, Rosalind Reinolds, Linda Vermooten, James Woods, Kevin Gillem, and John Magrane. By using Slique products, increasing their physical activity, and adjusting their diets over the past two months, they achieved amazing results!
With their success inspiring us, we're ready to conquer Phase 2! Once Phase 2 ends and all submissions are verified, we'll announce the Phase 2 winners and the overall 120-day champions. Stay tuned for further details to come and keep up the amazing work!
THANK YOU FOR BRINGING HOPE TO CHILDREN
April 12 was the International Day for Street Children, and we want to thank you for joining with us in raising awareness of African Hearts, a partner of The D. Gary Young, Young Living Foundation that provides street children with a new start—and new hope. If you haven't yet, consider supporting African Hearts through a donation. Your entire donation will go toward feeding and educating the street children of Uganda.
Thank you for continuing to support this wonderful cause!
Tell your team, share the video, and help us rebuild hope!
It's easier than ever to shop YL online
We've streamlined the retail customer signup experience! When your friends, family, and other contacts shop YL online, it's now easier for them to order products they'll love through our new retail sign-up option and for you to take advantage of differential volume on retail orders! These exciting changes are now available in markets with a retail checkout option.
This change is part of our goal to simplify our online experience, so you can focus on building your business. We know you—and your contacts—will love this update!
MEMBER SERVICES CLOSING EARLY ON APRIL 21
Member Services will be closing early on Saturday, April 21, for our employee spring event. We will close at 5 p.m., MT, on April 21 and reopen for normal hours on Sunday, April 22.
We appreciate your patience while we celebrate Young Living!