Healthful Cleaning
---
Cleaning protects our health in our homes, schools and workplaces. But have you ever considered that the products you're using now might be doing more than simply cleaning? Are they safe to inhale or come in contact with your skin? Household and cleaning products—including soaps, polishes and grooming supplies—often contain harmful ingredients we call toxins.
---
The Dirty Dozen
These are 12 toxic ingredients you should avoid that are commonly found in cleaners and personal care products.
By clicking on the flashing dots in the images below, you'll learn more about these toxins, the products they're found in, how they're used in many mainstream products, and their suspected impacts on bodies and the environment.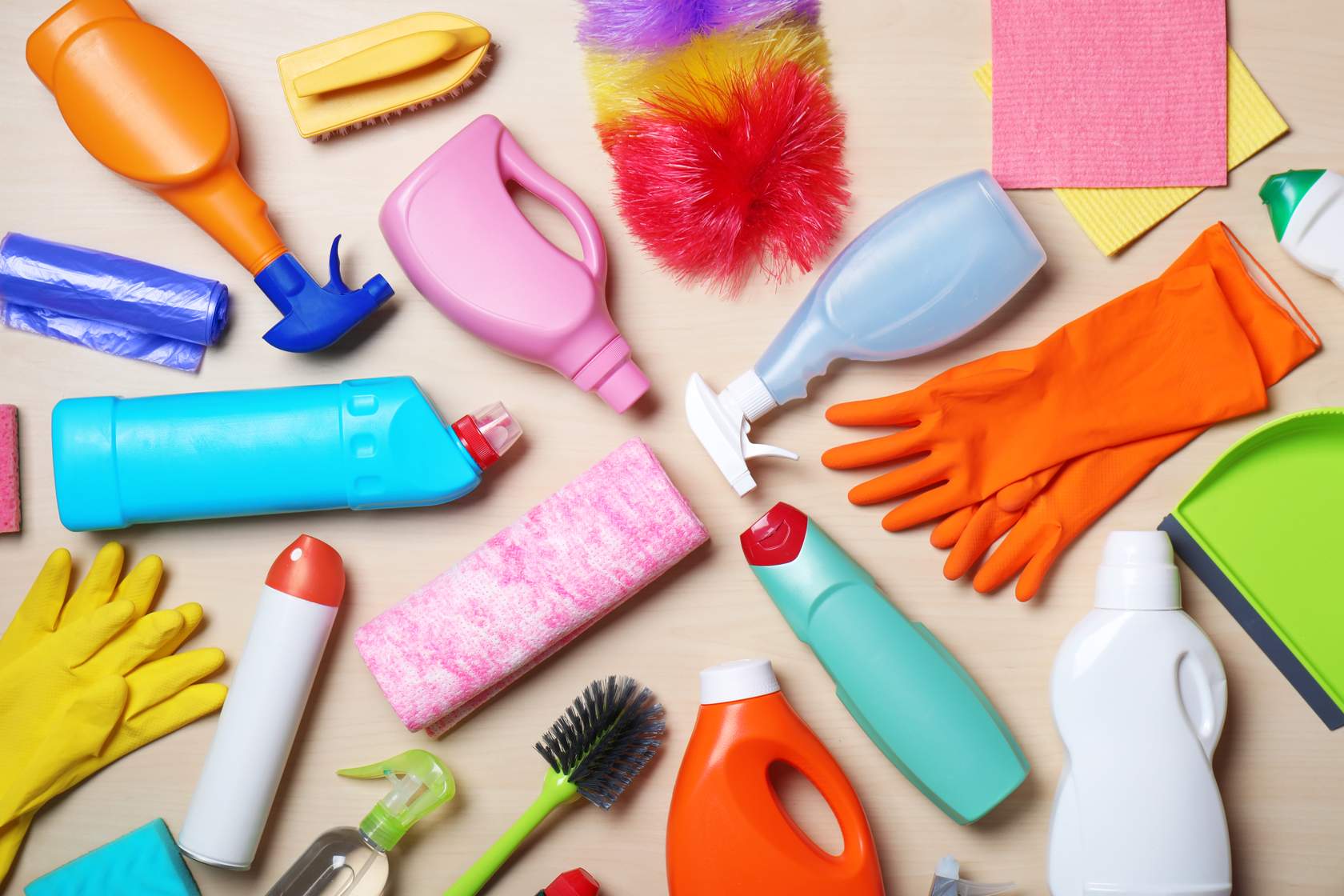 ---
The first step to avoiding harmful toxins is to become aware of where they are commonly found! Continue to click for more information.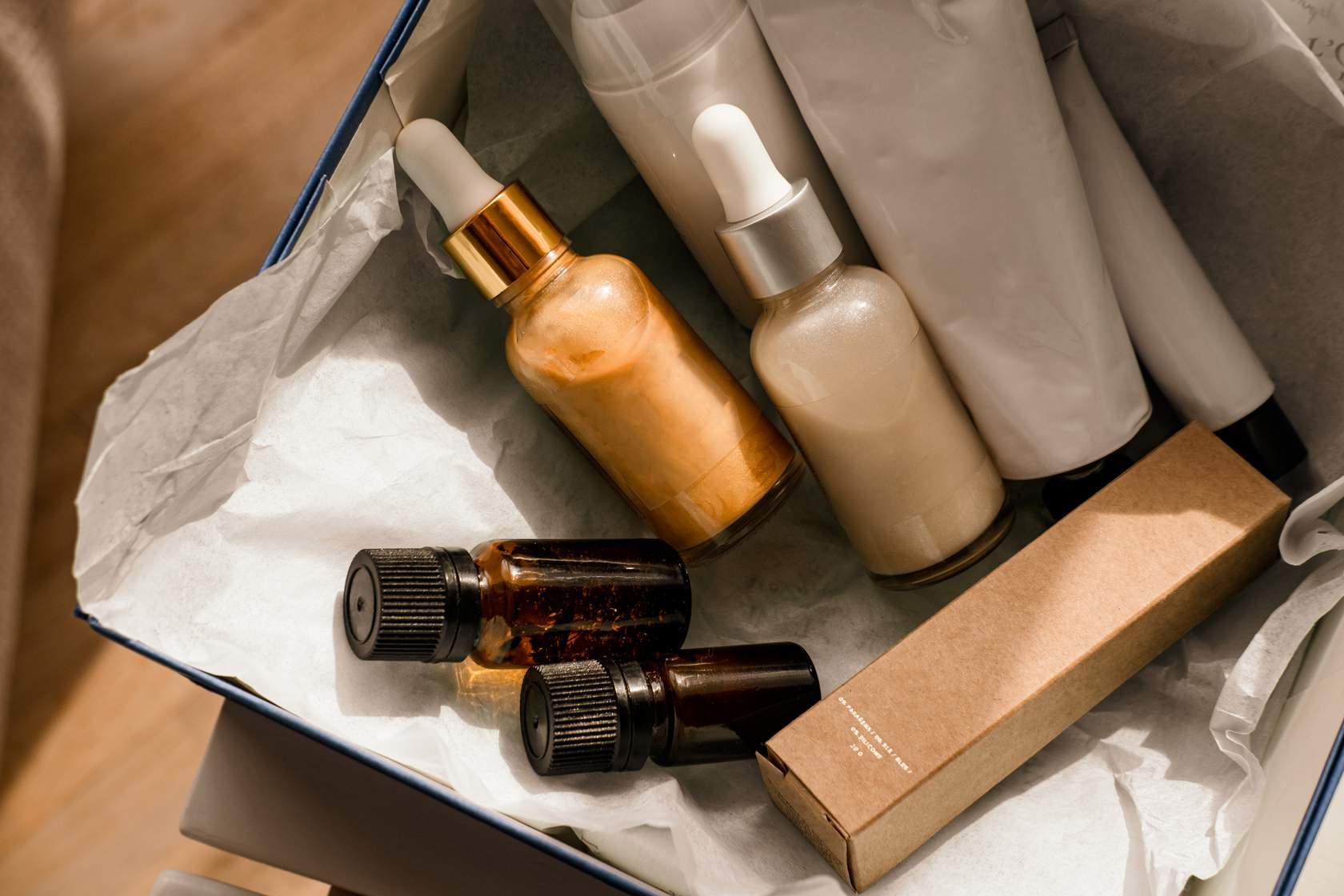 Why are toxins harmful?
Synthetic toxins can enter the body through the skin, inhalation, or ingestion. Even infants are at risk of exposure through breast milk and while in the womb.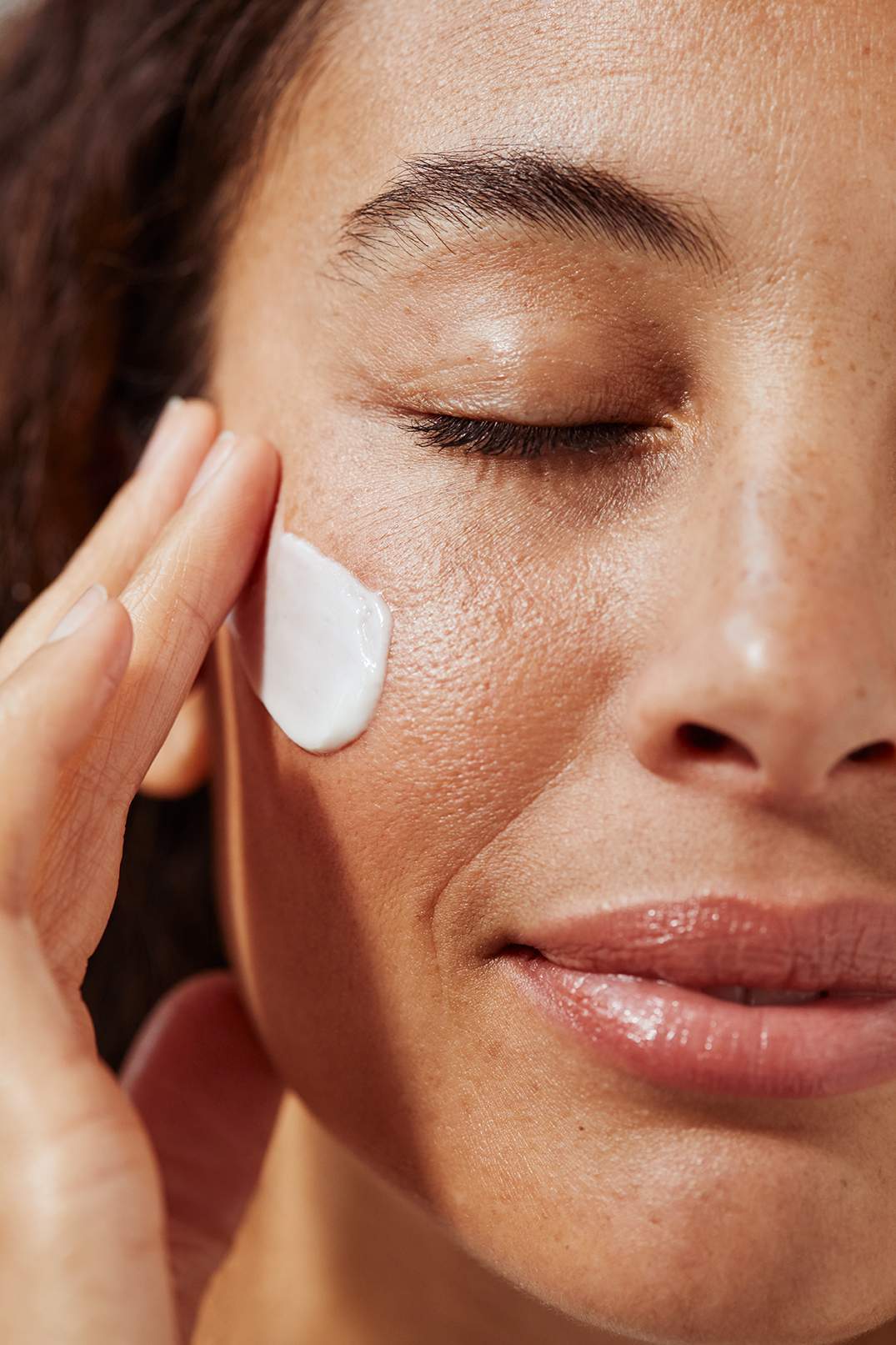 Each and every second 310 kg of toxic chemicals are released into our air, land and water by industrial facilities around the world.
This amounts to approximately 10 million tonnes (over 21 billion pounds) of toxic chemicals released into our environment by industries each year.
Of these, over 2 million tonnes (over 4.5 billion pounds) per year are recognized carcinogens. This amounts to about 65 kg each second.
These toxins will persist in the environment for decades, even centuries.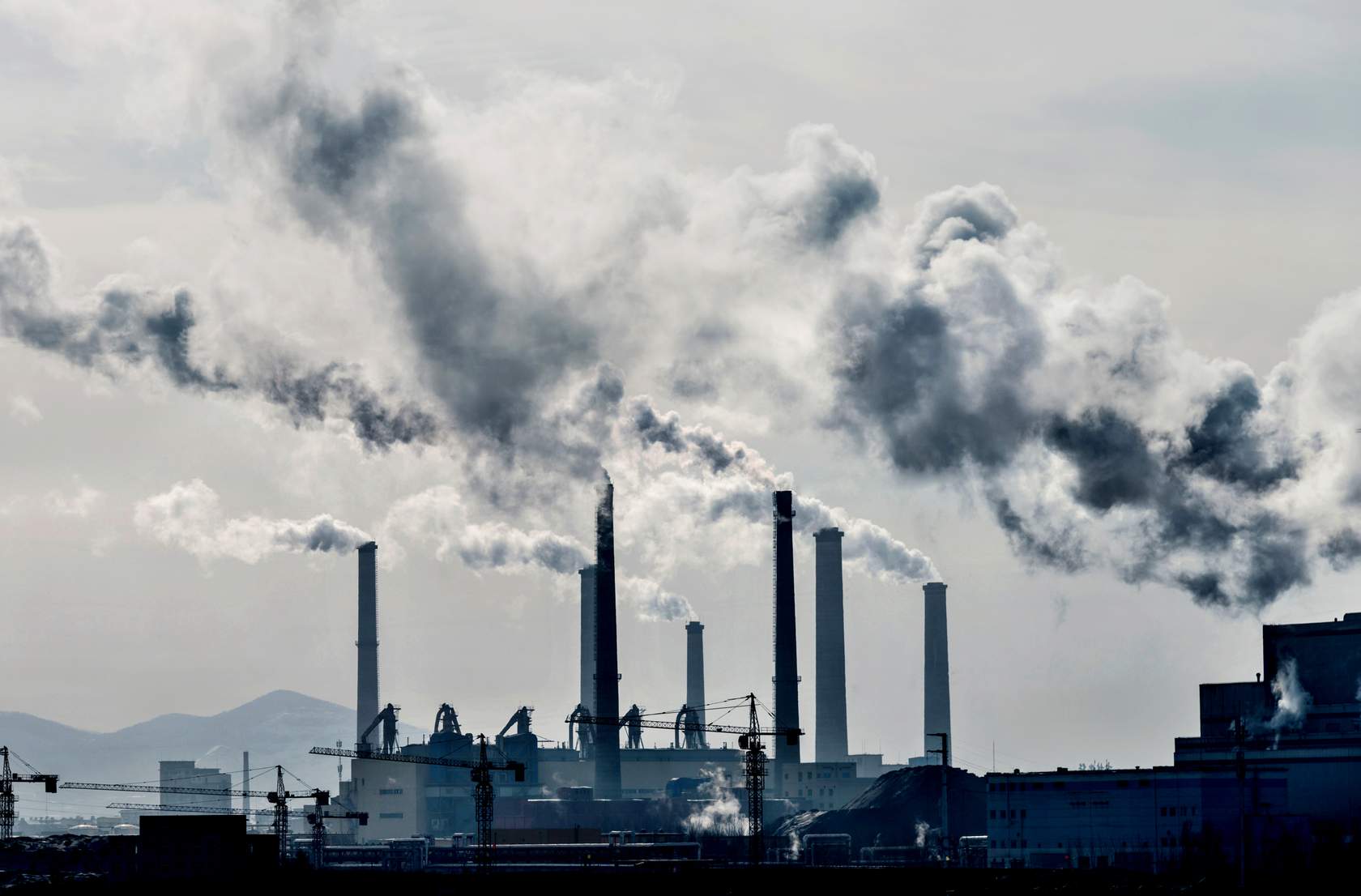 Only a small percentage of chemicals have been tested for their safety and toxicity and more studies are needed.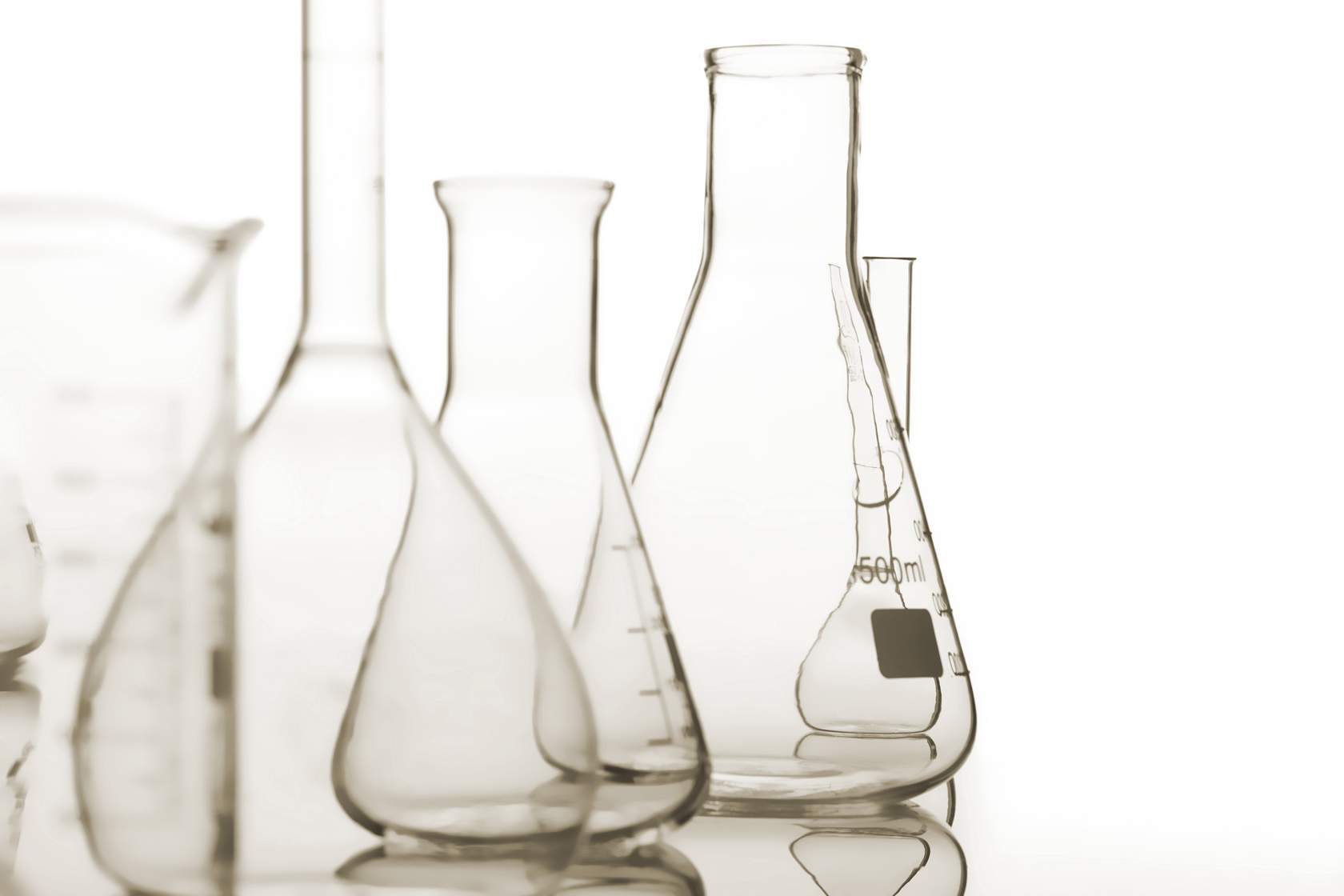 ---
Now that you're aware of these issues, the next step is to make small and simple changes to eliminate toxins from your home.
Take Action: Healthy home
Transitioning to a healthy, plant-based home is a lifestyle journey, and you can make changes over time.
Start by replacing the products you use most frequently. This may be your household cleaner or your hand soap.

Focus on replacing products used on those who are most susceptible to them. Children and family members with compromised immune systems can be more prone to the harmful effects of harsh chemicals.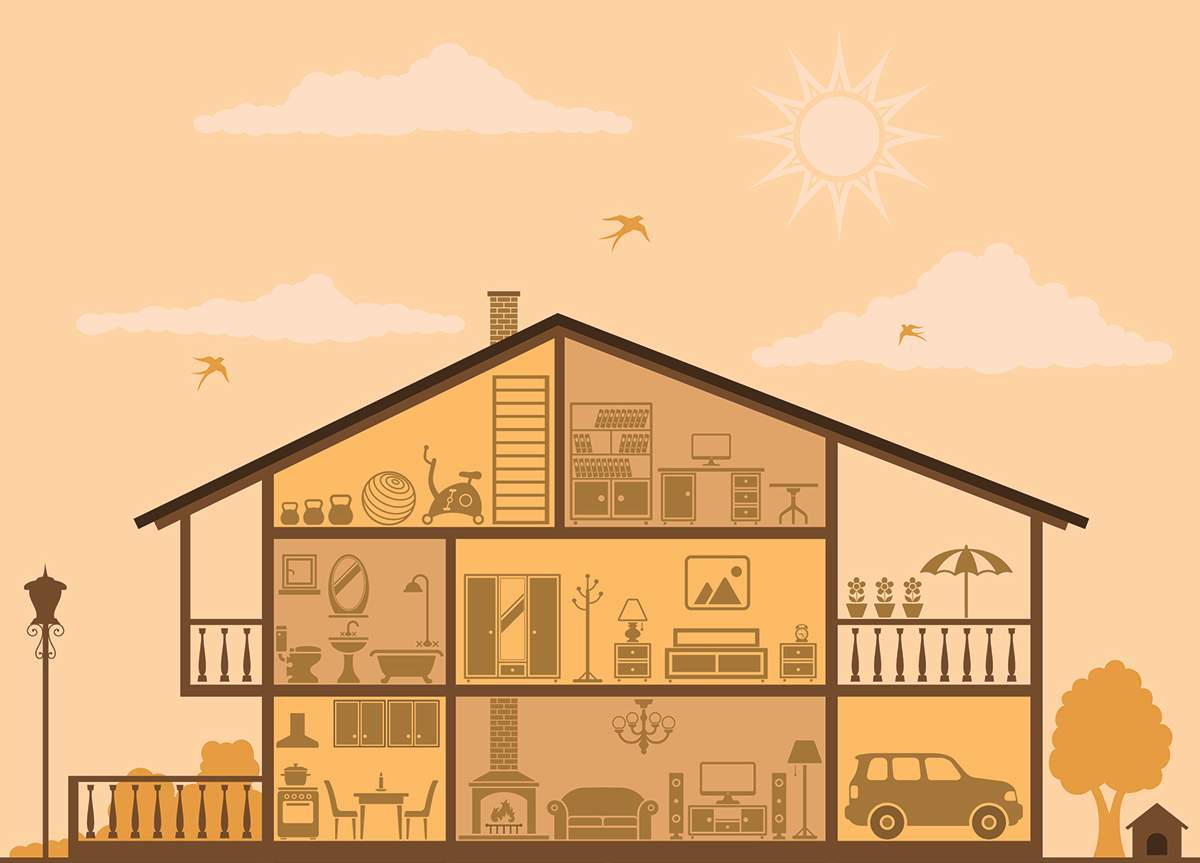 ---
Young Living's Thieves® product line is the best alternative to harsh mainstream cleaners and personal care necessities that are often filled with harsh chemicals. Each of our plant-derived cleaning products is natural enough for your family and strong enough for your life!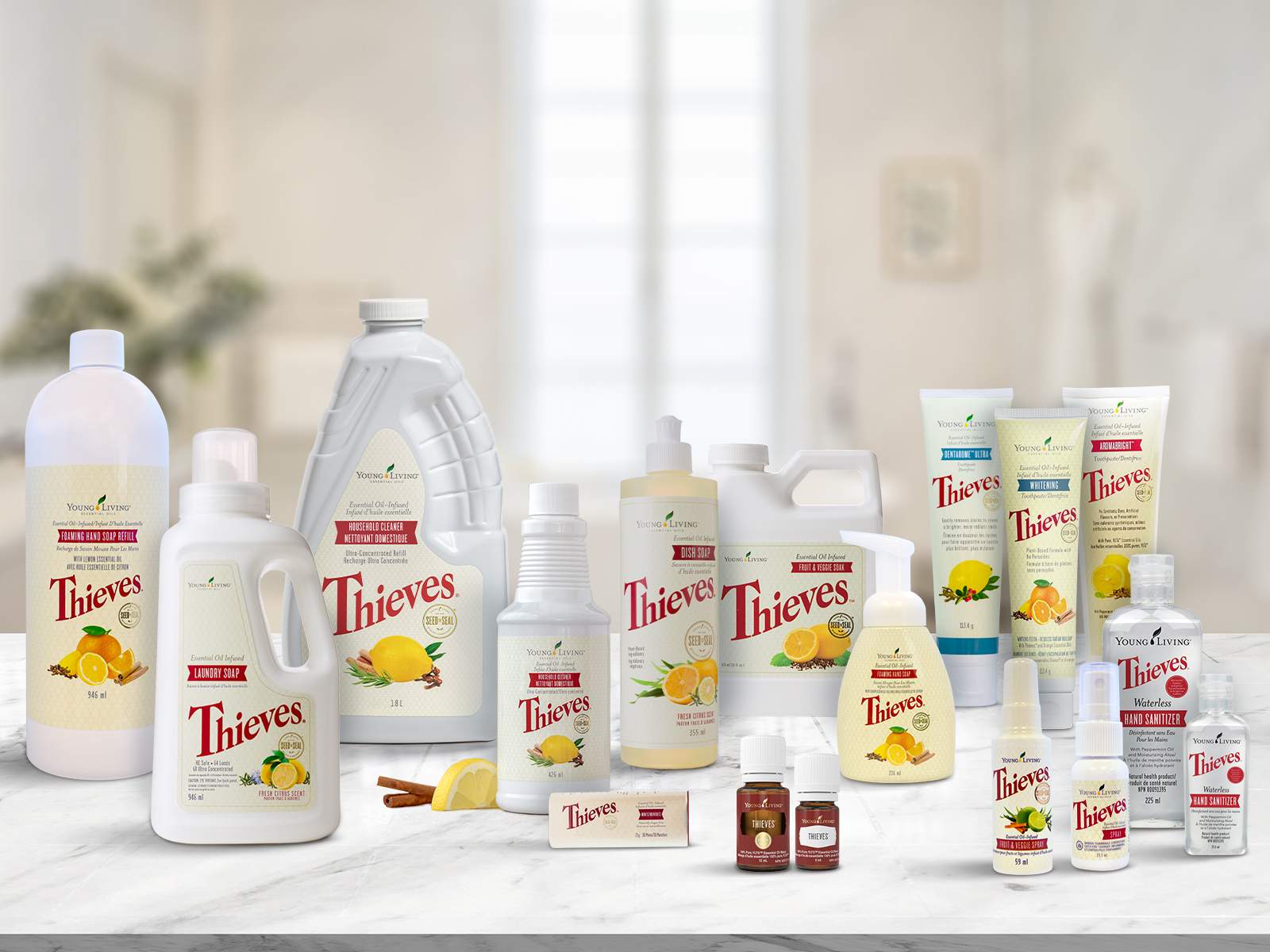 The entire Thieves® product line is infused with Thieves essential oil blend, a proprietary combination of Cinnamon, Lemon, Rosemary, Eucalyptus and Clove essential oils.
We've infused Thieves into personal care, oral care and cleaning products to create safe, gentle, and effective products you can use in your home to support and enhance your family's wellness.
---
You have all you need in a bottle of Thieves Household Cleaner!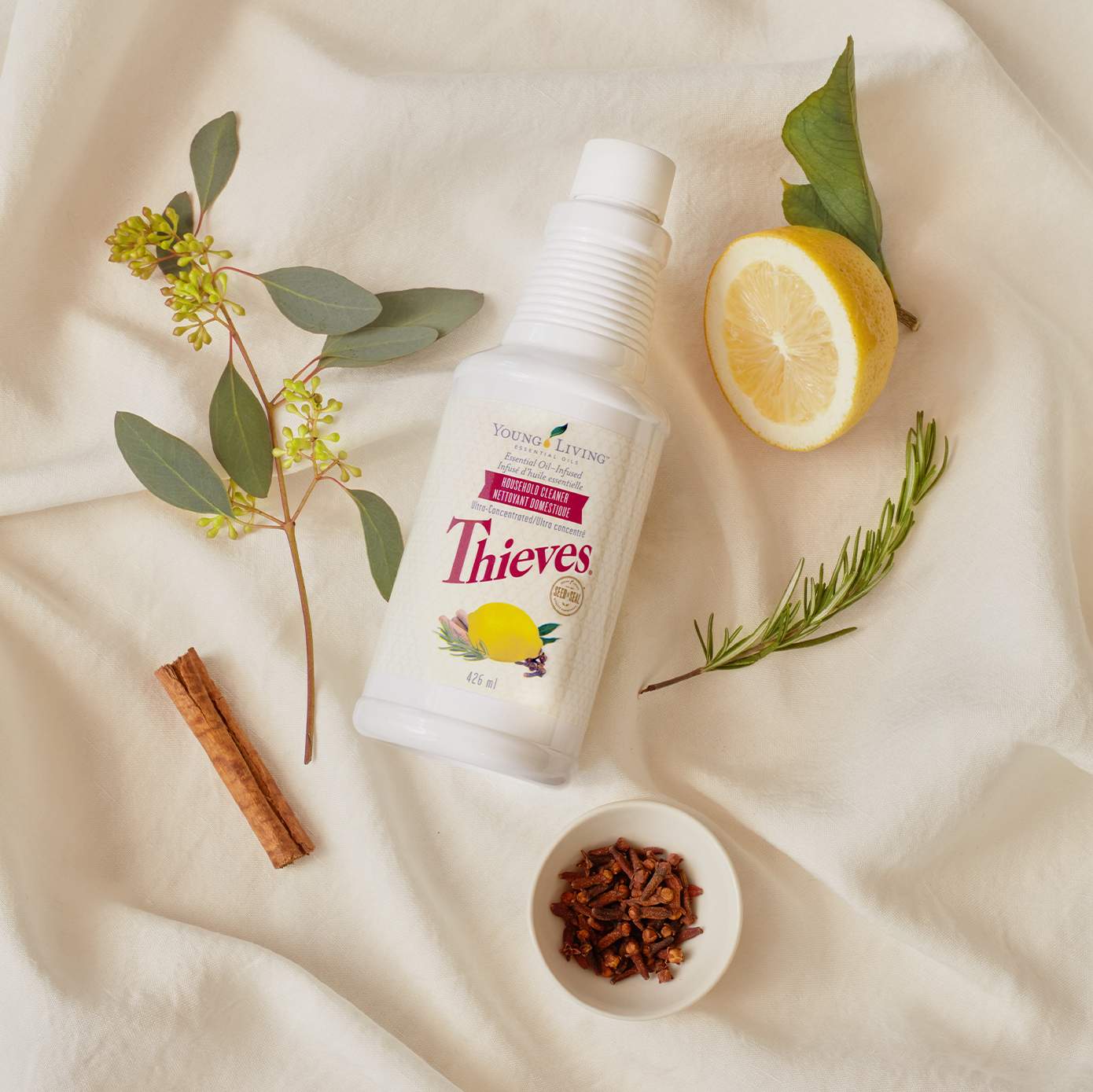 ---
You can replace almost every commercial cleaner in your home with one bottle of Thieves® Household Cleaner. Its versatility will save you money and shelf space. Plus, no more worrying about your children or pets getting into the cleaning supplies and being exposed to harmful chemicals.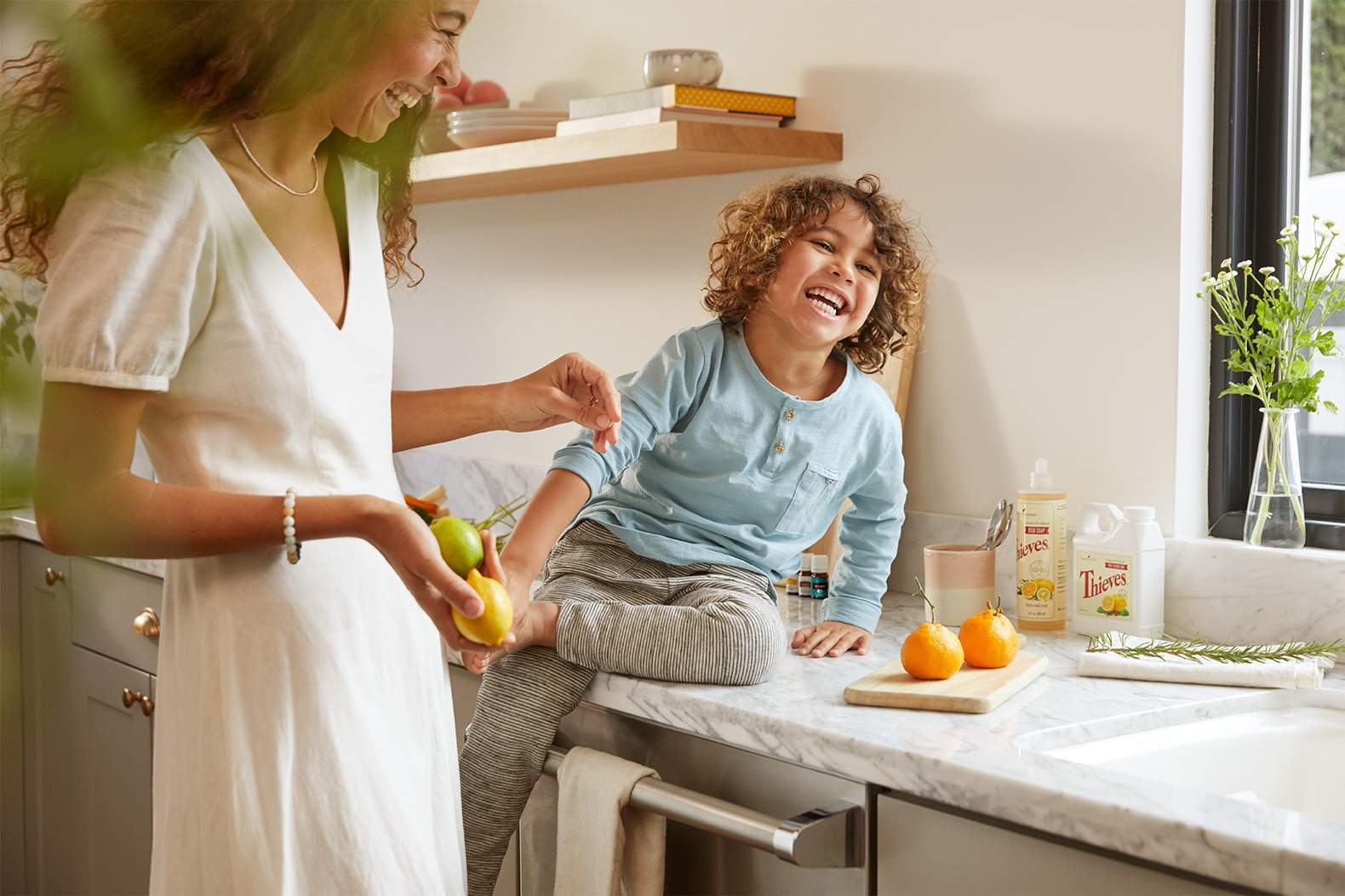 ---
You already keep a clean kitchen, but is it clean from harsh chemicals? Skip the harmful toxins—keep your kitchen safe and clean with Thieves!
Thieves All Purpose Cleaner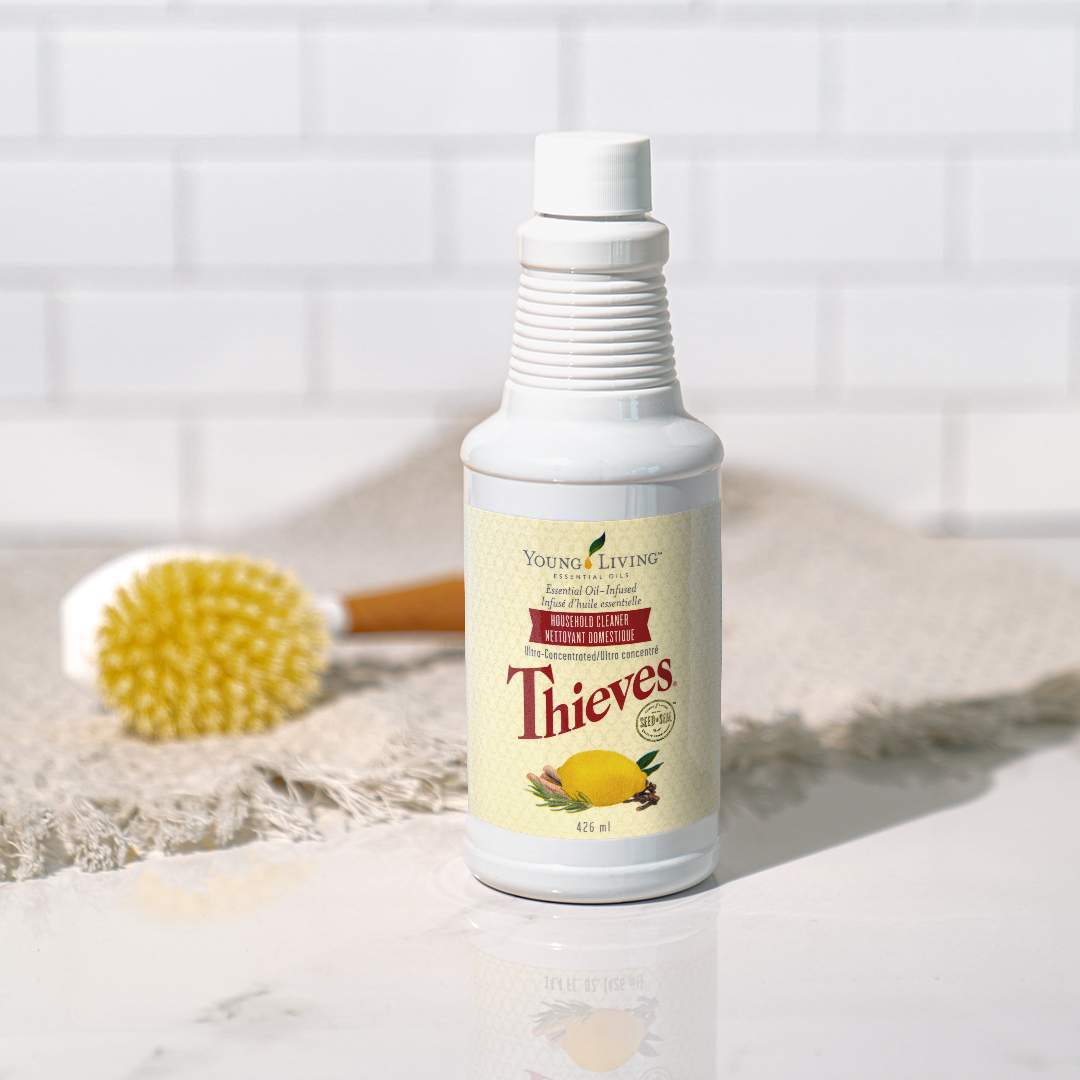 Made with naturally derived, plant-based ingredients for a safer way to clean your home
Becomes a quick go-to cleaner of choice for anything in the home
Brings a sparkle to your countertops, floors, furniture, windows, walls, oven, around your toilet, and almost any surface
Thieves Dish Soap and Foaming Hand Soap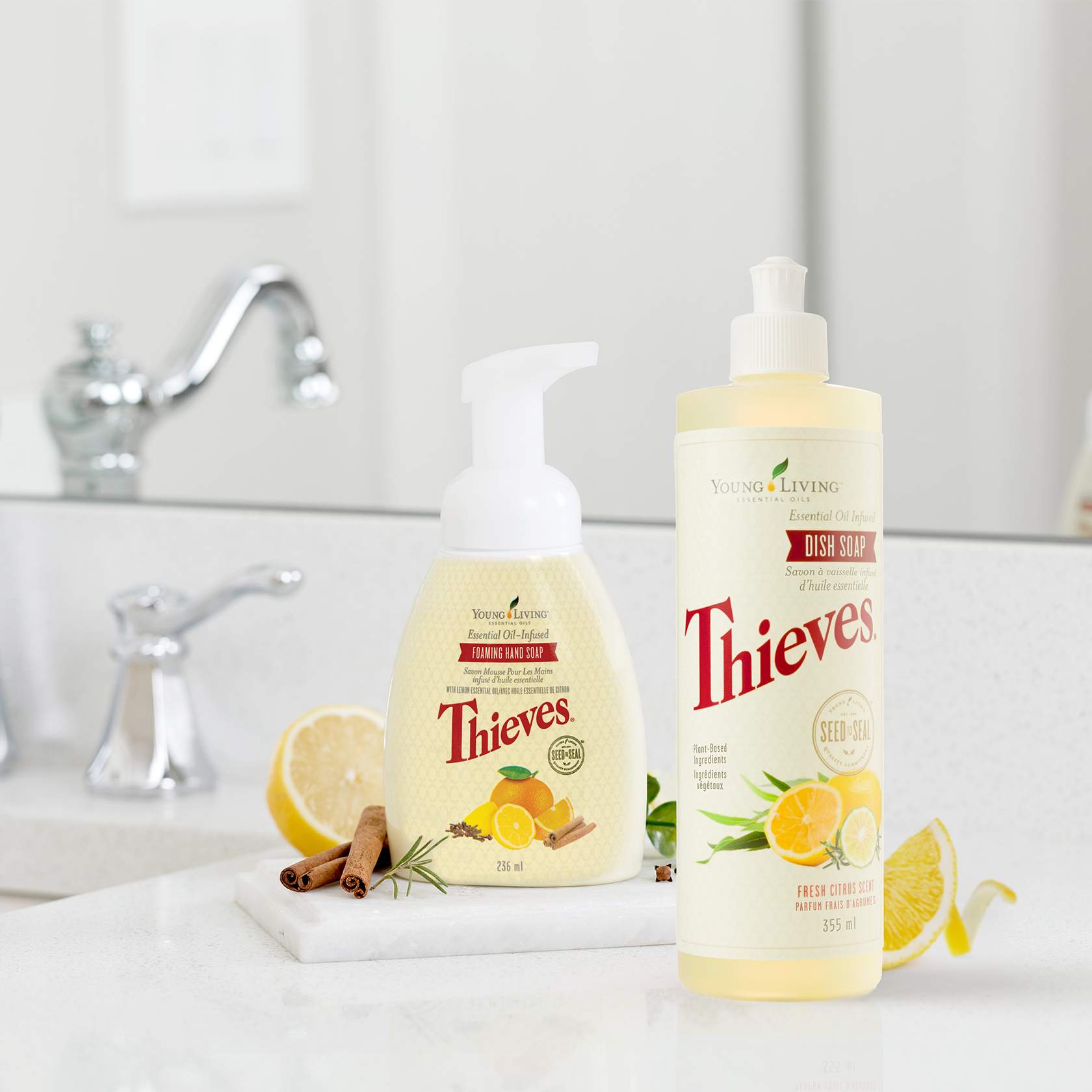 Effectively cleans your dishes without harsh chemicals, dyes or synthetics.
Made with plant-based ingredients to leave your dishes sparkling clean.
Contains pure essential oils like Thieves, Jade Lemon and Bergamot.
Gently cleans and conditions the skin.
Combines Thieves blend, Lemon and Orange essential oils with other naturally derived ingredients, such as aloe vera, to clean hands.
Instant foam makes it easy to lather and rinse.
Leaves skin soft and clean, with a light Thieves scent.
Contains no sulfates, dyes, synthetic fragrances or harsh chemicals.
Thieves Fruit & Veggie Spray and Soak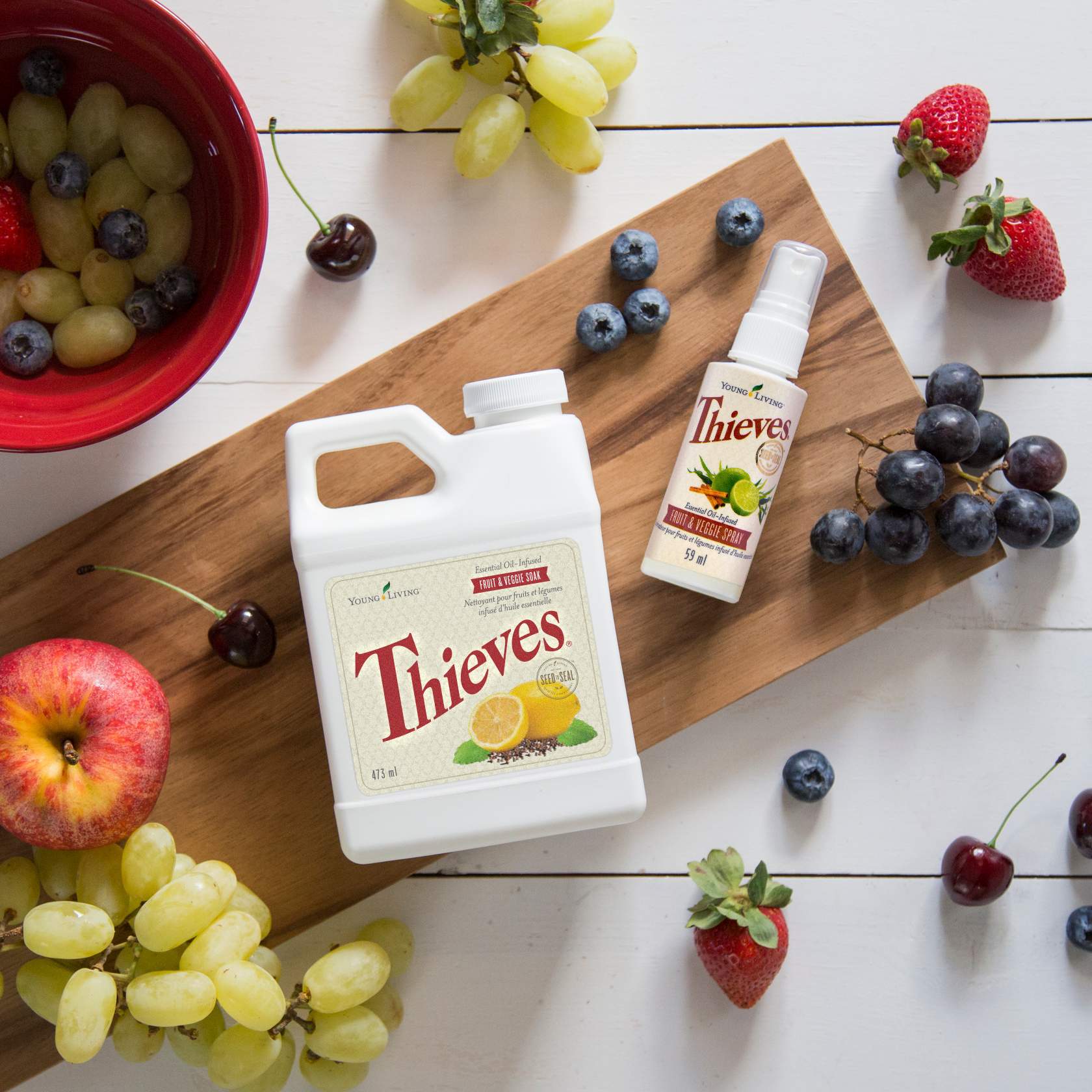 Thieves Fruit & Veggie Spray and Soak
Utilize naturally derived ingredients and the cleansing power of Thieves essential oil blend to effectively wash produce.
Thieves Fruit & Veggie Soak is a perfect choice when cleaning larger amounts of produce. With the help of DiGize, Purification and Thieves essential oil blends, you can prepare produce for a wonderful meal or healthy snack.
Decyl glucoside is the plant-based surfactant used in many Thieves products. It is a plant-derived ingredient used to effectively remove dirt, wax and other surface impurities.
To use: Pour a capful into a bowl of water. Mix in fruit and veggies. Let sit for about a minute and then rinse.
Cleaning your Kitchen with Thieves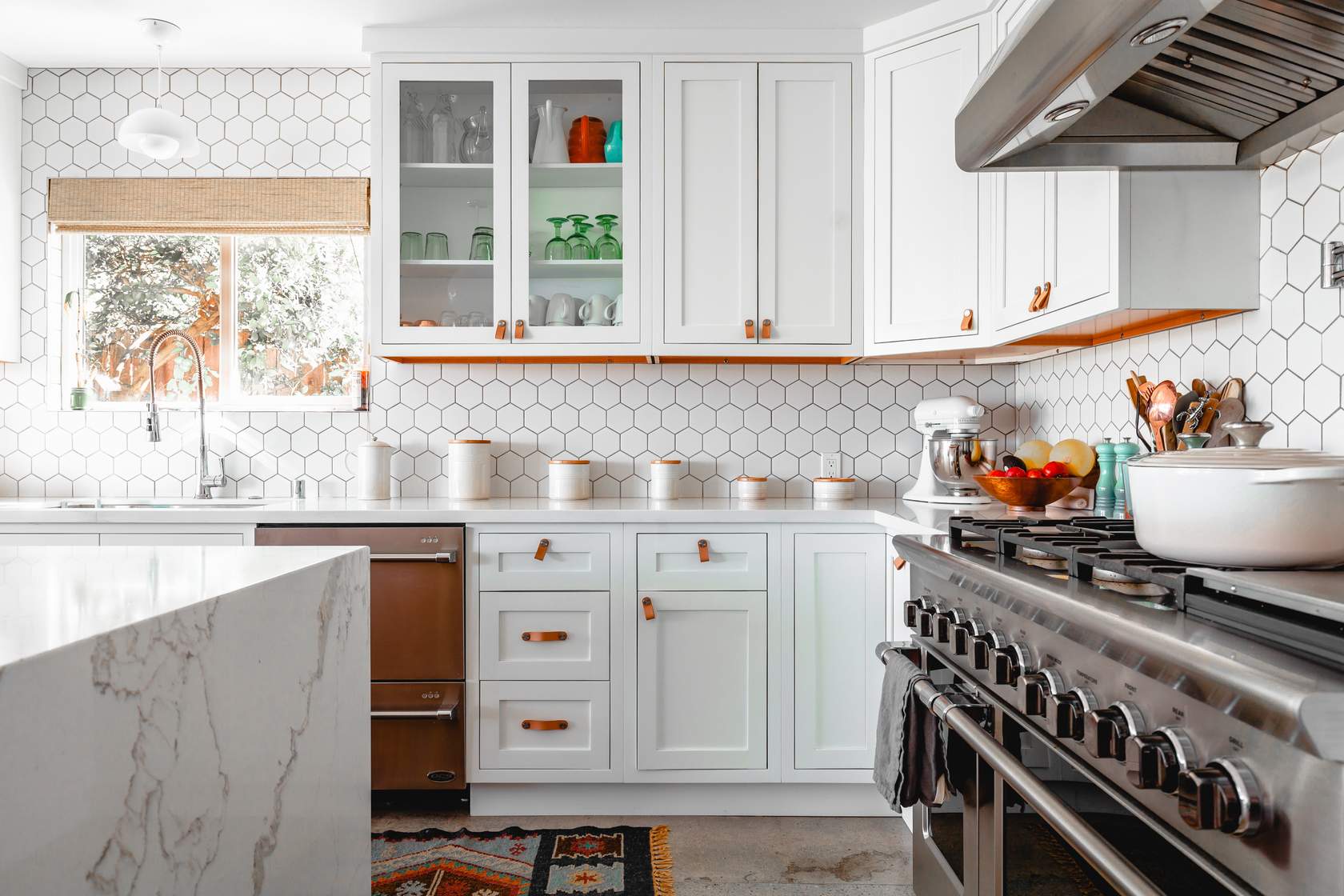 ---
If you're like us, there are a million things you'd rather do than clean your bathroom.
Between the germs, dirt and noxious chemicals, bathroom cleaning quickly becomes a task you'd rather delegate to a roommate, spouse or any child old enough to wield a toilet wand.
With the help of Thieves® products, you can replace the harsh toxins found in household cleaners with powerful, safe cleaners that make scrubbing down every bathroom surface much more bearable.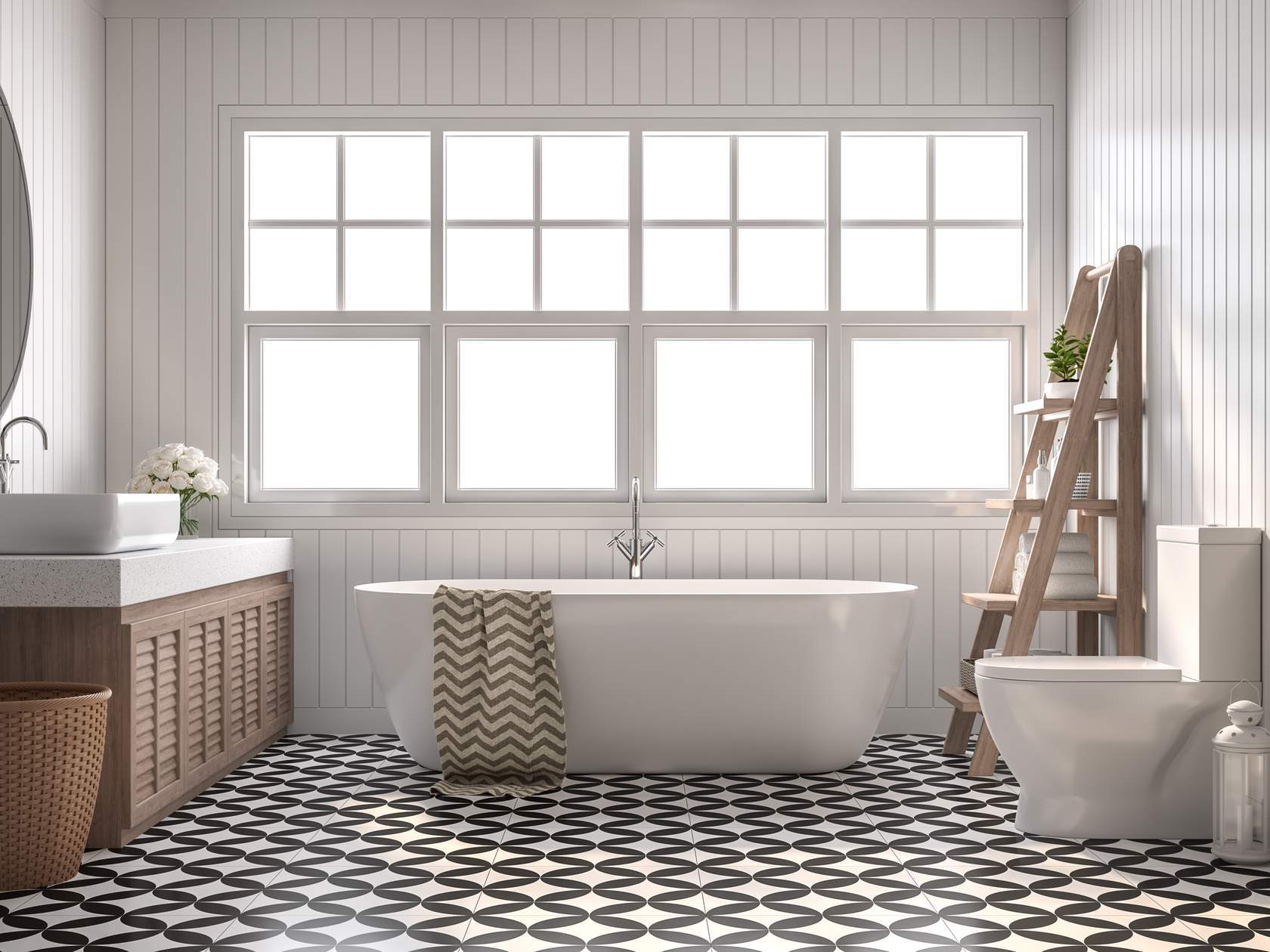 ---
When it comes to laundry, you can't go wrong with Thieves®.
Our liquid laundry detergent is safe for your family as well as the environment. It contains no phthalates, chlorine, formaldehyde, artificial colours, or other harsh, unnecessary ingredients, leaving all the naturally derived ingredients you need to leave your laundry smelling fresh and so clean!
Thieves Laundry Soap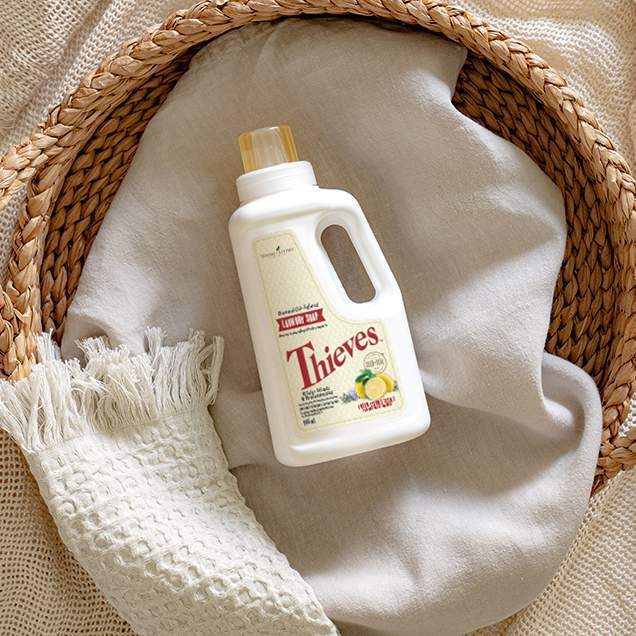 Plant-based formula that is formulated without synthetic ingredients.
Works with all washers, including high-efficiency.
Highly concentrated formula; a 946 ml bottle can wash up to 64 loads.
Can be poured directly onto clothing.
Formulated without sulfates, dyes, petrochemicals, formaldehyde, phosphates, synthetic perfumes or optical brighteners.
---
Thieves Laundry Soap is formulated without optical brighteners—chemicals that only make clothes look cleaner and brighter without actually cleaning them—and sodium lauryl sulfate—a cleansing agent that can cause irritation and itchiness. By avoiding these ingredients, Thieves Laundry Soap is a high-quality product that is naturally derived, effective and perfect to use around those you love.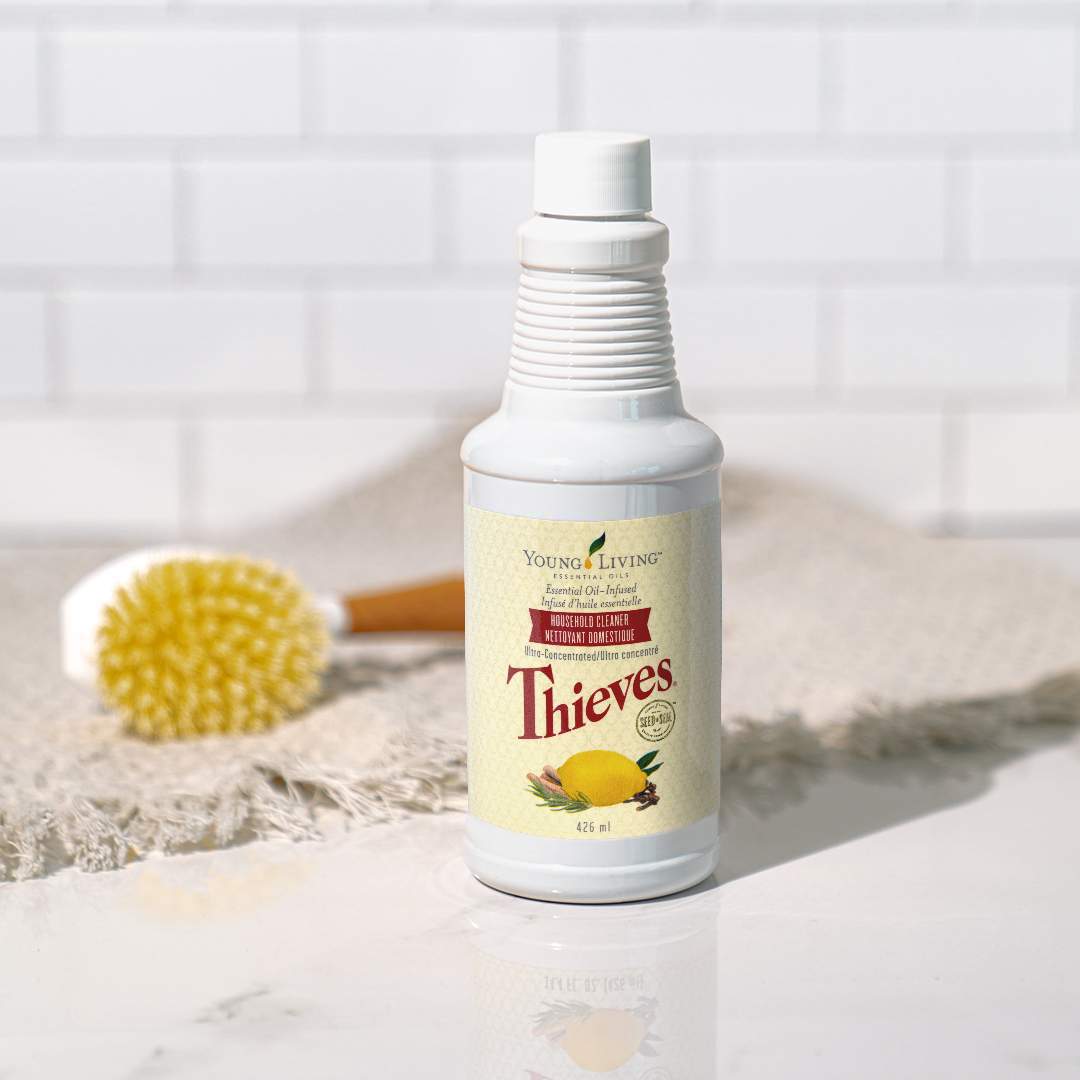 Need a little cleaning boost?
In this bottle, you'll find a powerhouse cleaning product for everything around the house, including laundry!
If your load is extra dirty, add a capful of Thieves Household Cleaner as you add your detergent to the washer. Press start and wait for those extra-clean clothes!
---
Enjoy Thieves' warm, irresistible aroma and combine pure Clove, Cinnamon Bark, Eucalyptus Radiata, Lemon, and Rosemary essential oils in your daily personal care!
Young Living's AromaBright Toothpaste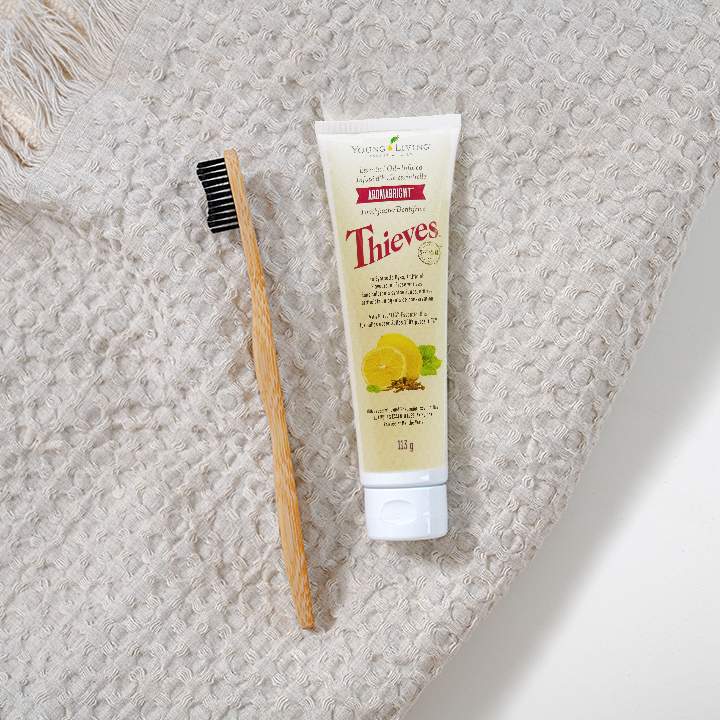 Young Living's AromaBright Toothpaste
Gently brushes away daily buildup and helps combat the effects of unsightly staining.
Plant-based formula that is gentle on teeth and their delicate enamel.
Made without synthetic dyes, artificial flavours or preservatives.
Contains Peppermint, Spearmint and Cinnamon Bark essential oils, along with our popular Thieves blend.
Has a sweet spicy-mint flavour that freshens the breath.
Thieves Foaming Hand Soap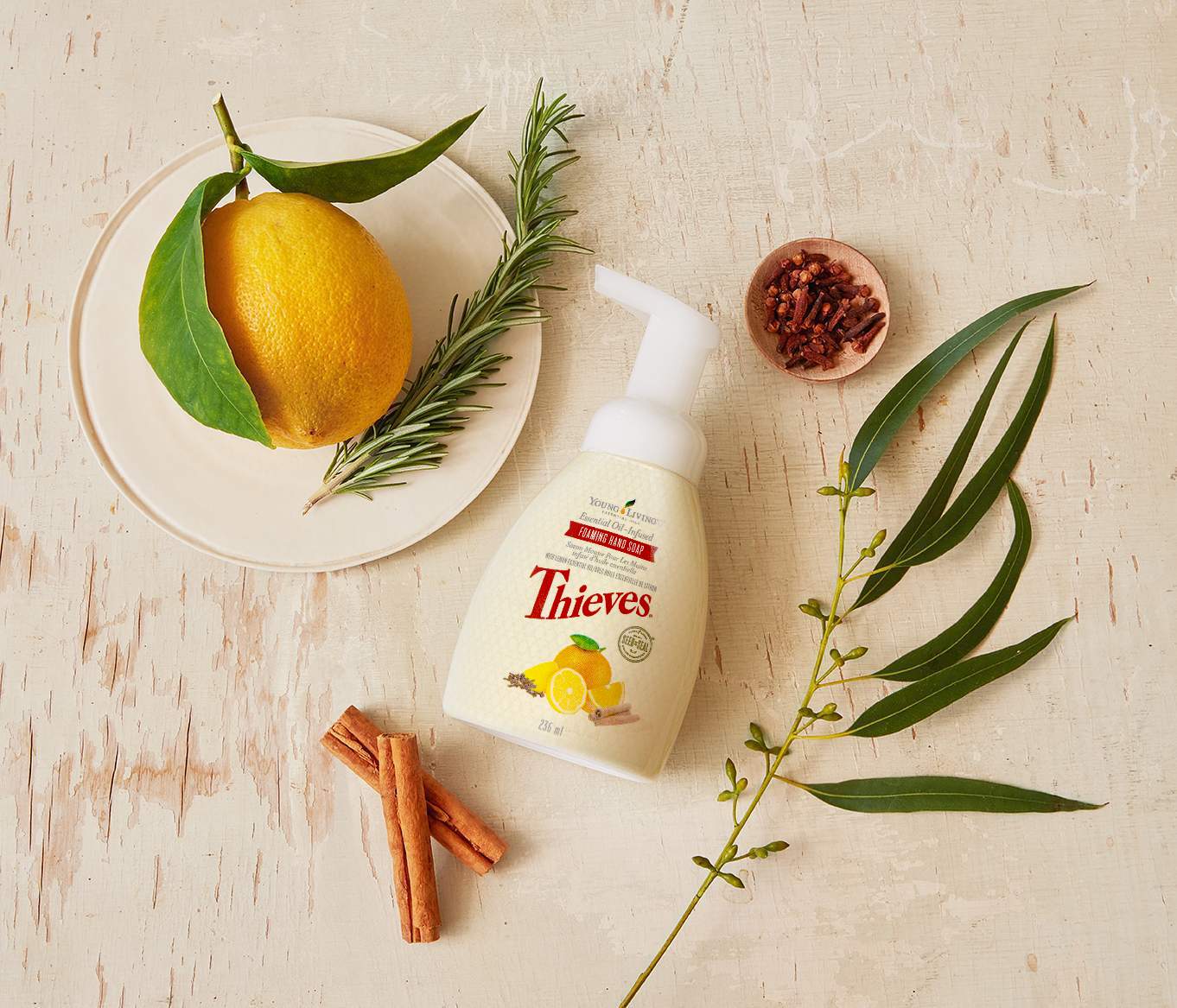 Made with a plant-based, instant-foam formula.
Leaves skin feeling clean and refreshed but never over-dried.
Contains the citrus-spice aroma of our proprietary Thieves blend of Clove, Lemon, Cinnamon Bark, Eucalyptus Radiata, and Rosemary.
Pump included.
Congratulations on completing the healthful cleaning course!
What plant-based solutions are you going to detox your home with first?
Product Availability
Not all products mentioned above may be available for purchase in your local market. Products marked with "NFR only" may be available through and NFR order. Please keep reading to learn more about NFR orders.
What is an NFR order and how can I place one?
"Not For Resale" orders (NFR) are a type of special order where it is possible to order product available in the United States catalog. Not all Young Living markets can process NFR orders. Please contact your local Member Services office for more information regarding the procedure and ability of your home market to process these types of orders.