WHO WE ARE
We believe empowerment is the key to long-term change.
Mission

To protect and empower our world's young.

Vision

A rising generation free to thrive and create positive change in their communities.

Since D. Gary Young started the Foundation in 2009, we've been focused on giving those who receive far
too little attention the tools and resources they need to unlock possibilities. Our mission and vision
serve as our compass for providing long-term solutions.
THREE FOCUSED AREAS TO CREATE LASTING CHANGE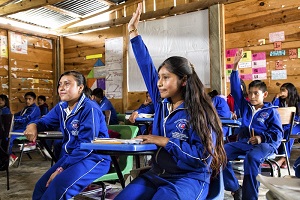 CHAMPIONING EDUCATION
Opening doors of opportunity through traditional and vocational education, skills building, and leadership development.

DEVELOPING ENTERPRISE
Empowering women worldwide to break the generational cycle of poverty for their children by investing in small business and fair-trade enterprises.

ENDING EXPLOITATION
Protecting the vulnerable from losing their freedoms to abuse and human trafficking.

GET INVOLVED
Together, we are an incredible force for good.
Donate
Give monthly or one time via commissions or credit card.

Our 100% Promise
What we do is propelled by your support.
Young Living generously covers our operating expenses, so when you contribute to protecting and empowering our world's young, 100 percent of your donations go directly to those in need, every time.