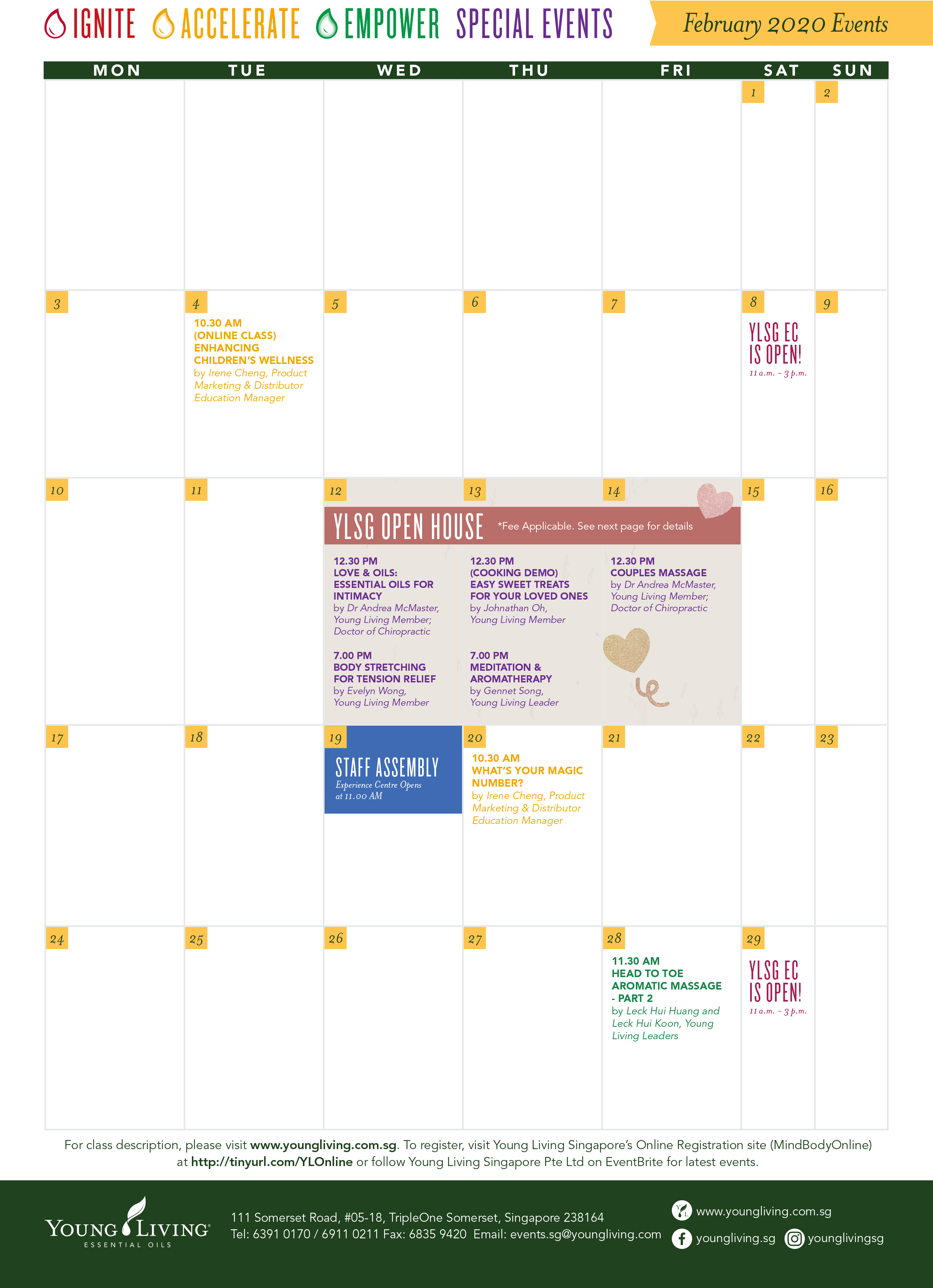 Venue: Young Living Singapore Training Room (111 Somerset, Level 5)
Sign up online and receive your seat confirmation instantly via the MINDBODY Connect website and mobile app! Feel free to join us in any of these free sessions!
Step-by-Step Guide to Register Online for Young Living Singapore Events
Create your account and login.
To sign up for a workshop, click on Workshops > Click on "Week" button to navigate through the weekly schedules > Choose from the available schedules > Click on Sign Up Now!
To check your registration, go to MY INFO and click on "My Schedule"
In the event you are unable to attend a class you previously booked, you are required to cancel your booking to free up your slot for other members to use. To cancel a booking, go to MY INFO tab and click on "My Schedule". Click cancel on the class you are unable to attend.
Step-by-Step Guide to Mobile App Registration While On-the-Go with MINDBODY Connect App
Register with your email address and create a new password for the app. Make sure to register with the email address that you used at the MINDBODY website.
Check your email for a message from MINDBODY Connect. Click the link inside to activate your account.
Add our location (Young Living Singapore) as a favourite. Check on upcoming schedules and sign up for workshops on your mobile device.
Things to Note
Due to the limited capacity of our training room, only 30 slots are available per class. The slots do get filled up fast, so please make your bookings early. In the event that you are not able to book a slot, we apologize and request your kind understanding.
1.
Monthly training schedules will be released on the last day of the month prior via website and e-newsletter. Pre-registration will begin then.
3.
You may only book for yourself. You cannot book a slot on behalf of others.
On the day of the training:
1.
Please come in on time as all pre-registered seats will be released to waitlist / walk-in guests after
10 minutes
from the start of the session.
2.
Reserving of seats is STRICTLY PROHIBITED. Physically present attendees will be given seat priority.