Celebrate this historic first, as Young Living Philippines turns ONE this November!
Event Details
| | | |
| --- | --- | --- |
| | | LOCATION: Grand Hyatt Manila in Bonifacio Global City, Taguig |
EVENT HIGHLIGHTS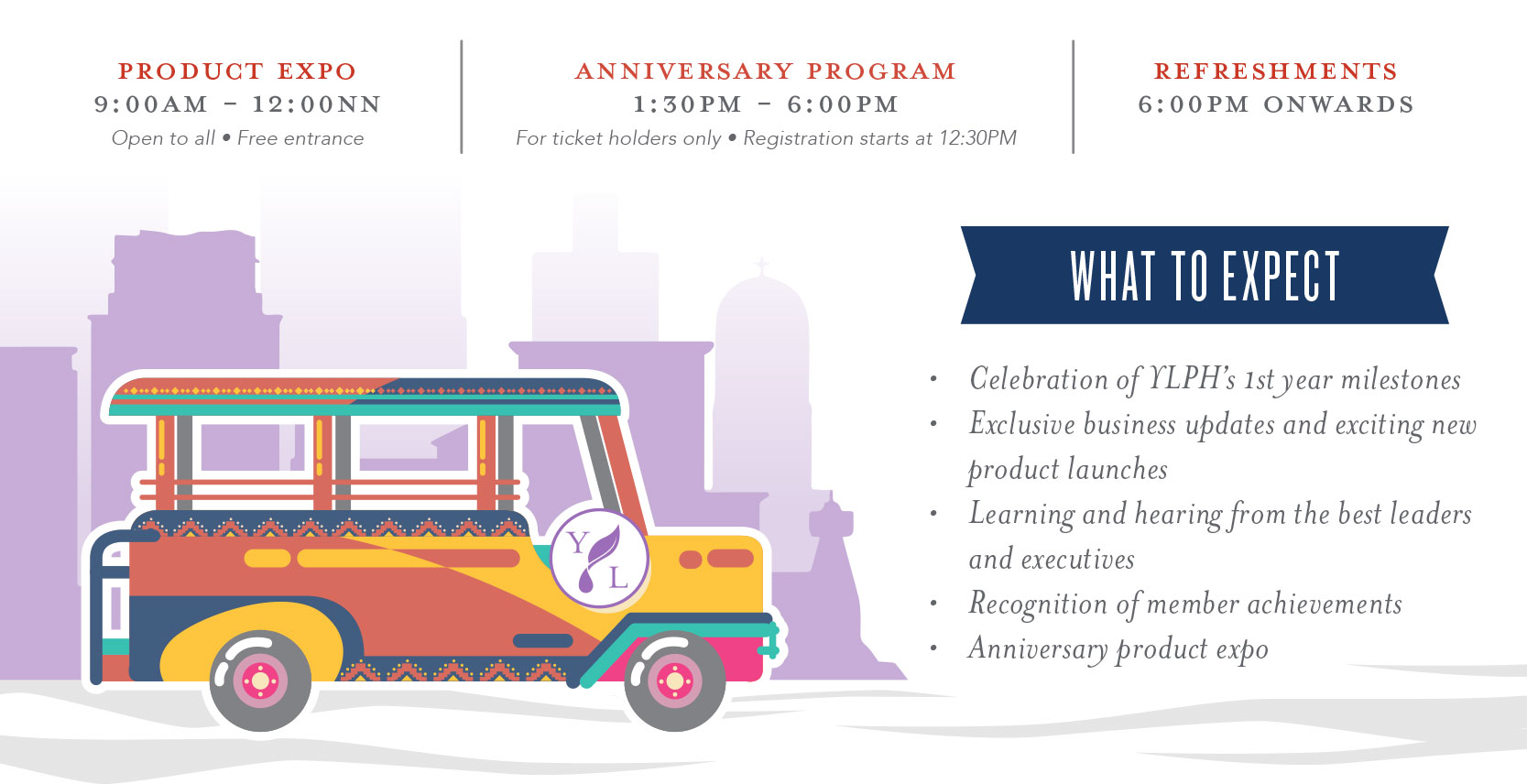 OUR SPECIAL GUESTS
Prasad Gankanda

Sr. Vice President, Global Sales Operations

Prasad Gankanda is best known for his contributions in global operations, resulting in tremendous advancements in our operational efficiencies and leaving a positive impact on member experience. He has led the dramatic reduction in international out of stock, improvements in delivery quality and lead time as well as the implementation of various operational enhancements.


Currently, Prasad is leading the next-level development of operations in Asia-Pacific and the new markets.
Dr. Mike Buch

Chief Science Officer


Dr. Mike Buch is Young Living's first-ever Chief Science Officer. His work includes scientific research, development on products, new product usage, claims, product strategy and stewardship.


He had already developed dozens of patents in the health care field and published books and articles. He is responsible for developing health care products in more than 100 countries!

Matthew French

Chief Legal & Sustainability Officer


Part of our stewardship is to do business responsibly—from sustainably sourcing plants, to uplifting local communities, and to complying with environmental and other laws.


Matthew French oversees the Global Compliance Program, helping to ensure that Young Living offers the purest products that you can feel confident are contributing to the greater good.
Jonathan Lee

Sr. Program Manager, Global Philanthropy

Jonathan Lee works closely with underprivileged communities around the world to help provide education and wellness opportunities to those that need it most.


Last year, during the grand opening of the Philippine market, a Young Living Foundation project was revealed. Since then, members have embraced the work that the Young Living Foundation has undertaken. Recently, new classrooms have been built for the children of the Alejandro T. Manaog Elementary School in Bicol where our Elemi partner farm, the Happy Pili Tree Farm, is situated.

Tai Tolman

Regional President, Asia-Pacific


Tai Tolman has a 16-year background in direct sales and global market management. He has successfully opened and developed more than 32 international markets across Asia and Europe.

Since 2005, Tai has lived and worked professionally in five different countries. For the last 10 years, he has served in Asia as a Vice President before becoming the Regional President of Young Living Asia-Pacific.
Franco Silva

Managing Director for Sales & Marketing, Asia-Pacific


Franco Silva joined Young Living 2 years ago as the head of Global Sales Operations and ran one of the largest recorded sales campaigns of company history.

He currently works alongside his regional and country colleagues in APAC to develop new programs, sales and marketing strategies, partnerships and promotes Gary's vision of getting oils in every home.
Jesse Nelson

Sr. Director of Sales, Asia-Pacific


Since joining Young Living this year, Jesse has been a key addition to the YLPH family. With a track record of developing strong sales teams, he has been working closely with both the local and regional corporate teams to drive sales and enrollments for YLPH.

Jesse's presence is truly felt in the Philippines as he's the official face of YLPH's weekly Good Vibes Monday Facebook Live!


Jen Jordan

Royal Crown Diamond , Young Living USA


TOPIC: My Young Living Journey

Jen Jordan's experience with oils started in 2009 through her sister who introduced her to Young Living.

With a life motto of "Love God; love people" she built her business AROUND the culture of positivity. She encourages, empowers and inspires others to become their own wellness advocates. Her positive aura continues to energize any person or community she touches.
Joanne Kan

Royal Crown Diamond, Young Living Hong Kong


TOPIC: Seed to Seal and the Legacy of D. Gary Young

Joanne Kan is Young Living's first Asian-born Royal Crown Diamond. As of date, she has visited 13 Young Living Aromatic farms all over the world, and has trained personally with D. Gary Young.

Her book, "Following the Leader", recounts the details of her 30+ life changing journey travelling and learning from her mentor. This year, she has been awarded the 5x5 Award DEVELOP for her passion for the farms and has single-handedly brought thousands of members to our farms around the world.
Kat Charcos-Puyo

Platinum Member, Young Living Philippines


TOPIC: Overcoming Objections in your Young Living Business


Kat is a passionate, tell-it-as-it-is, mother of 3 very young kids based in Surigao City, Philippines. She is a part-time, private-practice lawyer, and full-time cheerleader to her growing team of essential oil-obsessed people.


She is a volunteer to several local and international organizations and has helped shape the leadership skills of young people all over the world.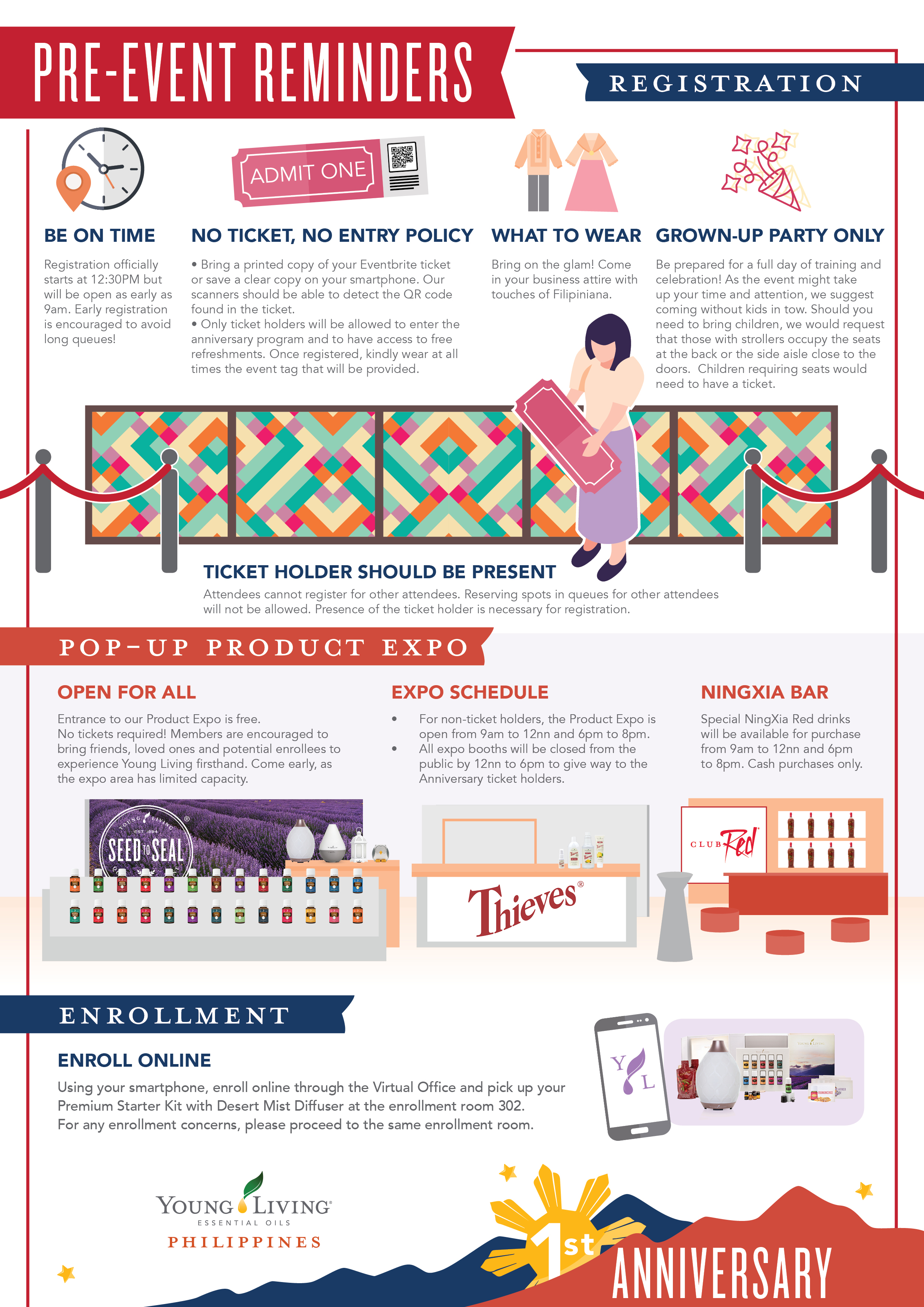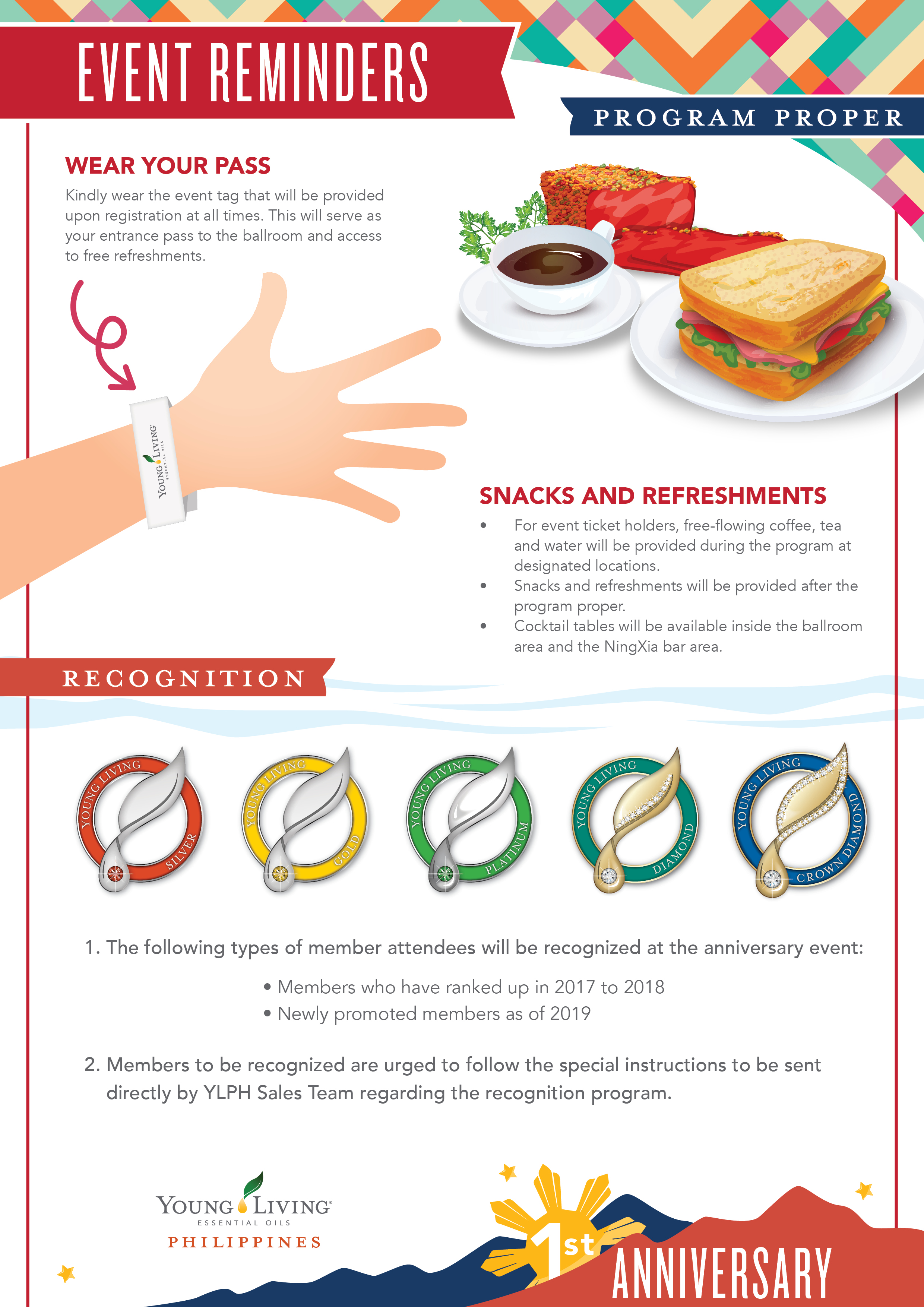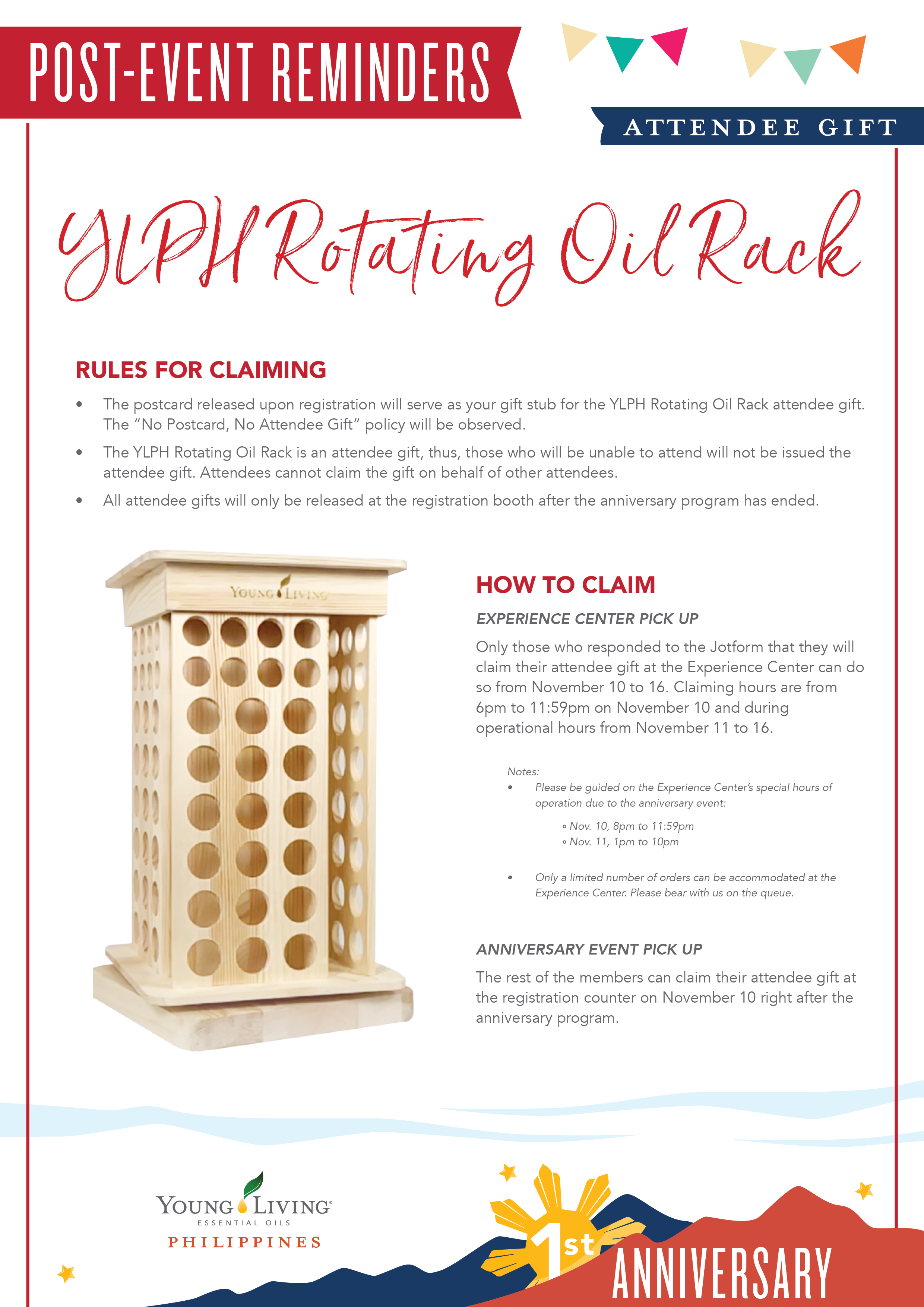 ATTENDEE GIFT
YLPH Rotating Oil Rack

Dimensions: L: 23.5 cm, W: 23.5 cm, H: 41.5 cm

*Item will be released at the anniversary event on November 10

Product Features & Uses:
72 essential oil 15ml bottles

32 essential oil 5ml bottles

Open center compartment for massage oils

With Premium YL Hot Stamps
YLPH Rotating Oil Rack

Each anniversary ticket you purchase entitles you to this premium, multi-purpose oil rack. Enjoy your oil collection and get organized!
Frequently Asked Questions
1. WHAT DOES THE ANNIVERSARY TICKET INCLUDE?
Purchase of a ticket includes entry to the event, a SWAG (YLPH Rotating Oil Rack) and snacks.

2. WHAT TIME WILL THE EVENT START?
Registration starts at 12:30PM. Please note that the event is free seating. Hence, the earlier you come, the better!

3. WHAT IS THE ATTIRE FOR THE EVENT?
Please come in your business attire with touches of Filipiniana.

4. WHERE CAN I CLAIM MY YLPH ROTATING OIL RACK / SWAG?
Your SWAG can be claimed at the event itself. Please note that the SWAG is an Attendance Gift. As such, your SWAG can be only claimed at the event itself.

5. CAN I BRING A NON-MEMBER TO THE EVENT?
Yes. You may bring one non-member guest for as long as the guest also purchases a ticket. To give opportunity for all members to witness the anniversary, members are encouraged to only bring one paying, non-member guest.

6. IS THE NON-MEMBER QUALIFIED TO THE SWAG?
Yes, all paying attendees are qualified to get a SWAG.

7. ARE THERE OTHER ACTIVITIES APART FROM THE ANNIVERSARY EVENT?
Yes, there will be a mini product expo from 9AM - 12NN. Entrance is FREE

8. ARE THE TICKETS TRANSFERRABLE?
Yes. Tickets are transferrable for as long as you inform Young Living Philippines via events.ph@youngliving.com They are, however, non-refundable.

9. IF I ATTENDED THE DEEP DIVE FOR YL CULTURE AND WELLNESS EVENT, WHAT WILL BE MY TICKET PRICE?
All PAYING attendees of the said event can get one Anniversary Ticket at the early bird price regardless of when they purchase their Anniversary ticket. Please note that ER attendees who got their tickets for FREE in the Deep Dive event are not entitled to the same privilege.

10. WILL THERE BE PRODUCTS FOR SALE DURING THE EVENT?
We will have an exclusive promotion and new product access only for member event attendees. These will only be announced during the anniversary program.