We are delighted to announce that 315 members have qualified for Mastermind!
All qualifiers have been notified by email. Qualifiers need to RSVP their attendance to this event by Wednesday 8th August, via the events inbox –
events@youngliving.com.au
Congratulations to our qualifiers – we look forward to having you at this empowering event!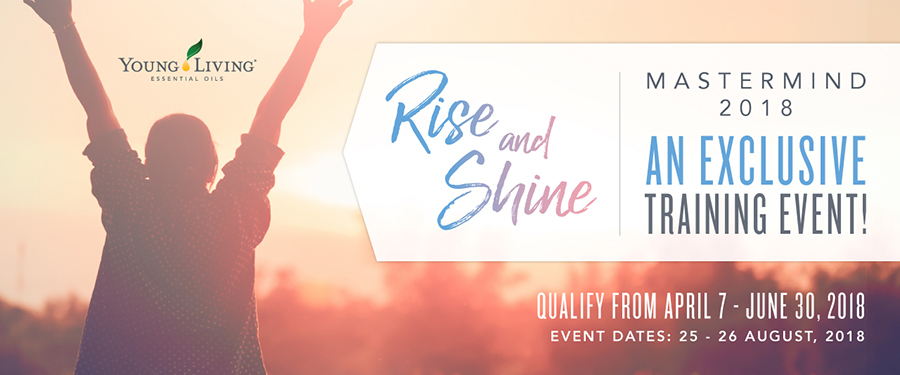 Do you want to take your business to the next level and really accelerate your success?
Then make sure you qualify to attend Mastermind 2018, open to Australia and New Zealand members.
If you are striving to build your Young Living business, then this is an event you cannot miss! You will learn the tools you need to maximise your Young Living business and experience the rewards for your effort.
Qualification Period: April 7 - June 30, 2018
To attend this event the following qualifications must be met*:
Senior Star must have 1 Executive month.
Executive must qualify as Executive for 2 months.
Silver must qualify with a minimum of one Silver month.
Gold, Platinum and Diamonds are guests of Young Living Australia.
*Must have qualified by June 30, 2018
*This world-class training is FREE to attend. Flights and accommodation are at own members cost.
Accomodation
Young Living has secured special rates for your accommodation at Novotel Sydney Norwest. Contact the Events team on events@youngliving.com.au to book.
Attendees will be twin shared accommodated at their own expense at the Novotel (@$220 AUD per room including 2 breakfasts). Cost to attendees of $110 AUD each.

Click here
for a list of local restaurants in close proximity to the Novotel in Sydney's Norwest.
Agenda
Please note all agenda timing is subject to change - Young Living will notify you if changes occur.
9:00 AM
Flights arrive into Sydney
9:30 AM
Coach transfer from airport to Novotel
10:30 AM - 11:00 AM
Morning tea / Registration
11:00 AM - 12:30 PM
Training Session
12:30 PM - 1:30 PM
Lunch
1:30 PM - 3:00 PM
Training Session
3:00 PM - 3:20 PM
Afternoon tea
3:20 PM - 6:00 PM
Training Session
6:00 PM
Event Closes

9:00 AM
Training Session
10:15 AM - 10:30 AM
Morning tea
10:30 AM - 12:30 PM
Training Session
12:30 PM - 1:15 PM
Lunch
1:15 PM - 3:45 PM
Training Session
3:45 PM
Event Closes
4:00 PM
Coach transfer hotel to Airport (Afternoon Tea Box for members to take on coach to airport)
Cost
Young Living will be covering the following costs:
All professional speaker fees.
All speaker flights and accommodation.
All attendees' lunch and afternoon tea on Saturday 25th August.
All attendees' morning tea and lunch on Sunday 26th August.
A bus will be collecting members from Sydney's Domestic Airport on Saturday August 25 departing at 9:30 AM. The bus will also return members to Sydney's Domestic Airport departing at 4:00 PM on Sunday August 26. Contact the Events team on events@youngliving.com.au to book a place on the bus.
Please do not book your return flight before 6:00 PM on Sunday August 26. Gold and above members please contact a member of our Sales/Business Development team before booking your return flight.
Training Sessions
Richard & Kimmy Brooke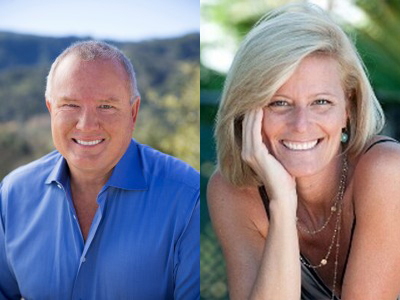 About Richard & Kimmy
This dynamic couple have been inspirational leaders and mentors in the network marketing industry for decades. They've both written books on the art of building a lifestyle business. More recently they have joined Young Living and skyrocketed their way to Diamond within a few short months. Based in Hawaii, Richard and Kimmy are thrilled and excited to be coming to Australia again to share their stories and wisdom with all our developing leaders.
Be Fearless - Your Gameplan to Skyrocket Your Young Living Business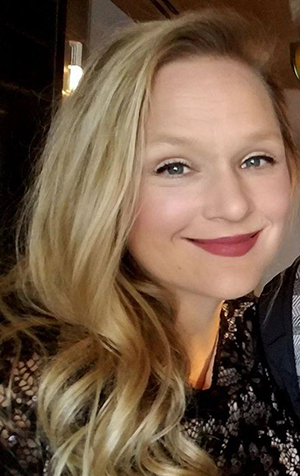 Sarah Harnisch – Young Living Diamond and Best-selling Author of 'Gameplan' & 'Fearless' books
Sarah's powerful, concise, focused training will set a fire in you so you can learn how to blow up your rank, ignite leaders, and build a solid legacy income for your family!
She will share how to fill classes without knowing people, how to deal with no's, the top distractions that can derail your business, strategy, how to emotionally detach yourself from the sale of the starter kit, and more. This part of her training is based on her best-selling Gameplan series, which has sold over 1.5 million copies.
Sarah will also teach you how to get people on Essential Rewards with ease and be fearless at it.
'Fearless' was written to train people how to get their distributors on Essential Rewards. Sarah took this tool and spiked her ER totals from 28 percent to 42 percent in six months. She'll walk you through the why of oiling, train you on label reading and research and the Simple Swap, give 10 practical aromatherapy challenges, and make you cry and laugh in one sitting. Don't teach the starter kit, teach the lifestyle.

About Sarah
With a passion for helping others and a modern approach to sharing the oils, Sarah Harnisch made it from Starter Kit to Diamond in Young Living in two and a half years, with no network marketing background. She is a mum of five that has anchored news in New York and Chicago for over two decades. Sarah was the only female in the top 20 on the Entrepreneur charts for 10 solid months; outpacing Tony Robbins, Donald Trump, Eric Worre, and Dr. Seuss.
Intermediate and Advanced Compensation Plan Training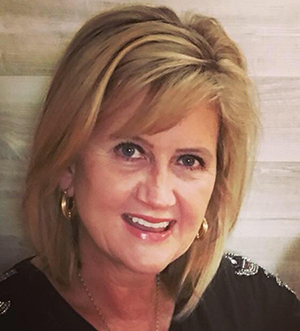 Lynn Biesinger: Young Living Director of Commission Services
Lynn will inspire you to set yourself up for the next level of your business growth and maximise the Young Living Compensation Plan so that you can increase your family's income, travel the world and reap the rewards for your efforts!
Some of the topics Lynn will be covering include:
Intermediate Compensation Plan
Enroler Bonuses
The Rising Star Team Bonus
Advanced Compensation Plan Training
About Lynn
South African born Lynn Biesinger is Director of Commission services. Her journey with Young living began in 2009. Lynn has over 20 years of experience in sales, finance and training. She is committed to service excellence. She is passionate about all things Young Living and embraces the Young Living lifestyle. Frankincense is her favourite oil.
Lynn's favourite pastime is spending time with her children and 4 darling grandkids. She loves to stay active by running and exploring the outdoors. She also enjoys the beach, and travelling to exciting destinations.
This event is especially for you. Why not get your team together, make a plan and do what you need to do to qualify and be there! We can't wait to see you there.