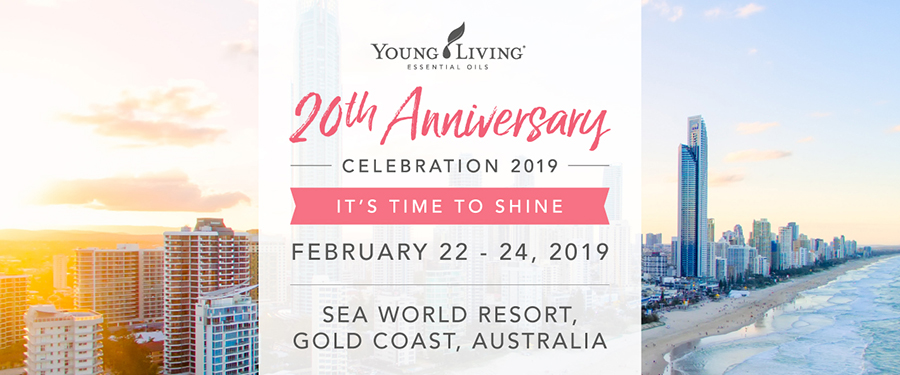 Make 2019 Your Time to Shine!
We're celebrating the 20th anniversary of Young Living in Australia and the 1st anniversary of Young Living in New Zealand with an incredible 3 day event. Our 20th Anniversary Celebration will be an opportunity to be educated, inspired, motivated and transformed - both personally and professionally. Check out the Agenda below.
Please note: tickets are now sold out!
As we get closer to celebrating our 20th Anniversary Celebration, we're excited to bring to you some great opportunities to learn and connect at our workshops held at this special event!
Agenda
10AM-4PM
20th Anniversary Celebration Registration
Sole Hope Workshops
Massages
Yoga Classes
Men's BBQ

6:30PM
VIP Welcome Reception (by invitation only)
7AM
Shark Bay Experience for 75 winners of Early Bird Competition
9AM-9:30AM
Welcome & Corporate Business Update
9:30AM-11AM
Keynote Speaker
11AM-11:15AM
Morning Tea (provided)
11:15AM-1PM
Product & Science
1PM-1:30PM
New Products & Initiatives
1:40PM-2:35PM
Lunch (provided)
2:30PM-3:45PM
Keynote Speaker
3:45PM-4:15PM
Afternoon Tea (provided)
4:15PM-5PM
Keynote Speaker
5PM-6PM
Recognition
6PM-7PM
D. Gary Young Foundation
7PM
End
7PM-8PM
NZ 1st Anniversary Party (by invitation only)
8:30AM-9:30AM
Product & Science
9:30AM-9:50AM
Morning Tea (provided)
10AM-11:30AM
Products & DSA
11:20AM-12:05PM
Lunch (provided)
12:15PM-12:25PM
In Memory of Gary Young
12:25PM-1:10PM
Product
1:20PM-2:30PM
Keynote Speaker
3PM
End
Please note that times and activities are subject to change and will be confirmed closer to the time.
Pricing and Special Offer
Tickets are now sold out! Click
here
to register for the waiting list or to make a payment for tickets already purchased on the payment plan.
Accommodation
Young Living has negotiated discounted rates and booked out the whole of
Sea World Resort and Water Park
so we will have the entire resort to ourselves! This beautiful resort, adjoining
Sea World
, is designed specially to cater for families so bring along the kids and make it a family holiday! There are a range of affordable family-friendly rooms, so book now using the form linked below so that you don't miss out.
Guests staying at the resort can purchase tickets for AU$35 which gives them unlimited entry into Sea World for the duration of their stay (up to 5 days). This is a massive saving on the regular AU$69 price of a single day pass!
*For additional bedding, suites or room enquiries please contact Sea World Resort by Phone (07) 5591 0083, or email
groups_reservations@vrtp.com.au .
YL Kids Club
We're excited to announce your little ones and teens will be in good hands and have just as much fun as you will at our 20th Anniversary Celebration in 2019. Dates available: Friday 22nd February, Saturday 23rd February & Sunday 24th February 2019.

We've catered for kids from babies to teens so please note the different tailored options tailored below:
Infant Care for children aged 0-3:
Only available for Saturday 23rd & Sunday 24th February.
Young Living will fund a Nursing Mothers' Room within SeaWorld Resort Hotel.
This will include live television coverage of the main stage presentations.
Free of charge for 20th Anniversary Celebration attendees and children aged up to 3 years old.
Children under 4 can attend 'Kids Club' if they are accompanied by a guardian that is 18+ years of age. Cost as per below. Guardian is free of charge.
Kids Club for children aged 4-12:
(The kids club on Friday 22nd February is unfortunately cancelled due to insufficient demand. If you require childcare, please contact events@youngliving.com.au for a list of reputable local childcare providers. Kids Club will run as usual on Saturday and Sunday.)
Available for Saturday 23rd & Sunday 24th February.
Children will attend Sea World Resort Kids Club located within the SeaWorld Resort Hotel
Nine hours of Supervised care will be provided daily (8 am – 5 pm).
There will be a range of activities on offer such as fuse ball, games and challenges, making slime, arts & craft, X-Box and more. Note that children do not enter Sea World theme park.
Kids will also have free time to experience SWR facilities such as playgrounds in a supervised environment.
Subsidised cost: $57.50 per child, per day, including all activities and meals.
Note: Children must be toilet trained.
Children under 4 can attend if they are accompanied by a guardian that is 18+ years of age.
Children under 6 must have a couple of change of clothes per day.
Teens Club for children aged 13+:
Available for Friday 22nd, Saturday 23rd & Sunday 24th February.
Children aged 13 and older will spend the day at Sea World theme park, accompanied by Sea World chaperones. Note that this service is only available if there are 10 or more children. Should we not meet this minimum booking, this service will be cancelled and you will be notified by email by 31st January, 2019.
Price per child: $63 per child, per day, which includes entry into Sea World and meals including morning tea, lunch and afternoon tea for an 8 hour day.
Young Living will fund an additional $800 to pay for the chaperones into the Park (based on a minimum of 10 children).
Children aged 14 or older may enter Sea World theme park alone, provided that they are not accompanied by any younger siblings. Cost for entry is AU$35 if staying at Sea World Resort. Note that this is unsupervised and no meals provided.
Children aged 15 or older may attend the 20th Anniversary Celebration with their parents or guardians, however, they will need to pay for a full ticket price due to seat allocation and catering. Please book online for the 20th Anniversary Celebration, not through Kids Club booking links. When booking a ticket for a non-member or child over 15, type "guest" in the "Member Number" field.
If you'd like to go out in the evening, kids over the age of four can attend
Sea World Kids Club
.
Flights
NOTE: Please note when booking your flights for the 20th Anniversary Celebration, that you should aim to arrive on Friday morning February 22nd, and leave Gold Coast or Brisbane airport no earlier than 6pm on Sunday 24th February 2019 as the agenda will finish at 3pm. Unlike previous Symposiums, we have a full day of activities on Friday that you won't want to miss. These include Savvy Minerals makeovers, professional photography portraits, Young Living Foundation Sole Hope workshop, yoga classes and more! Saturday and Sunday will be full days with stage presentations, breakout sessions and Product Expo. Additional details and registration for Friday events will be made available over the next few months.
Also note that there will be New Executive Training with Nicki Keohohou on the Gold Coast from February 19th to 22nd, so if this is something that you are likely to qualify for, then please take these dates into account when booking your flights. Qualification period commences on August 1st, 2018.
Our preferred travel agent is as follows:
We are looking forward to seeing you there!