"If you can dream it, you can achieve it!"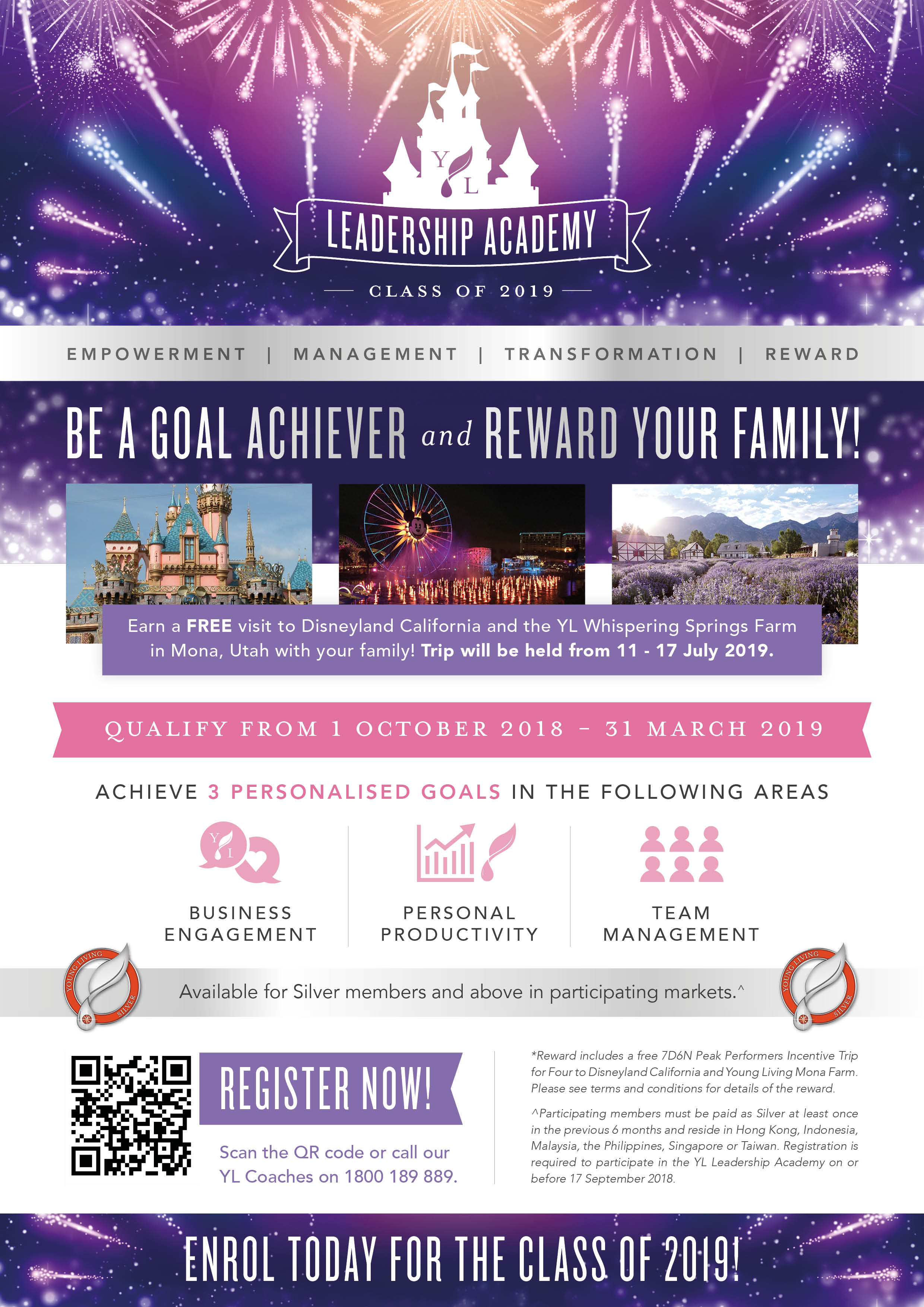 Download the YL Leadership Academy flyer
here
Enroll in the Young Living Leadership Academy (Class of 2019) and bring your family on the Peak Performers Incentive Trip and join our party in Disneyland, California and the enchanting Whispering Springs Farm!
What is YL Leadership Academy?

YL Leadership Academy is a 6-month pilot program that allows business builders to be engaged in the Young Living business, drives towards personal goals and develops leadership skills under the guidance and support of the local Young Living Sales Team. The objective of the program is to support YL business builders who are ready for the next level to develop leadership and team management skills in order to drive business growth towards the next rank.

Participants must be paid as Silver or above at least once in the previous 6 months

Your YL Coach will support you in the areas of:

Goal Setting
Progess Checking
Weekly Goals & Activity Planning
One-on-one Sessions
Follow-up Phone calls/Emails
Coaching & Personal Development
Attending Activities Invitation
To qualify for the Peak Performers Incentive Trip, you must achieve your present:
Engagement Goal
Personal Productivity Goal
Team Management Goal
The Peak Performers Incentive Trip includes a 7-day-6-night trip for 4*:

Return flights from home country to Los Angeles and Salt Lake City
Accommodation for 4 in California and Utah
An exclusive Leadership Training by the world-renowned Disney Institute
2-Day park entrance for 4
A visit to Mona Farm and Spanish Fork Distribution Centre
*A Family Trip of 2 adults & 2 children. For details about the trip, please refer to the Official Rules.

Take this magic carpet ride with us on the way to a more purposeful leadership and thriving business growth!
For more information, please visit our
Official Rules
and
FAQs
or speak with our YL Coach at 1800 189 889 or email
custservmy@youngliving.com