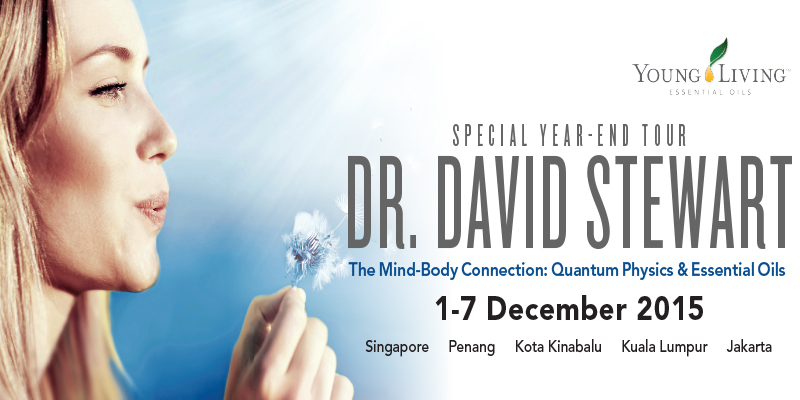 Dr. David Stewart, PhD, DNM Author of 17 books and more than 300 published articles
Topic 1: Quantum Physics, Essential Oils & the Mind-Body Connection
A compound made in a laboratory may have the same chemical formula as one produced in nature but they are not the same and do not have the same effect on your body and mind. A chemical formula is not a complete description of a compound, even though today's chemists and chemistry books will say so. Instead of describing an essential oil as "A Mixture of Chemical Compounds", essential oils are better described as "Vehicles of Living Energy". Both physics and chemistry are necessary to explain the ways essential oils work.
Topic 2: Emotional Release with Essential Oils
This session includes the science, theory, and art of emotional releasing. Dr. David Stewart will be sharing on the oils that may promote and encourage the freedom to release negative emotions together with the use of positive affirmations.
About the Speaker
Dr. David Stewart studied theology, philosophy, and English at Central Methodist College in Fayette, Missouri State, and studied chemistry, biology and social sciences at Central Missouri State University in Warrensburg. He completed a BS degree is Mathematics and Physics at Missouri School of Mines and Metallurgy. His MS and PhD degrees are in geophysics (theoretical seismology) and were earned from the University of Missouri at Rolla. He spent a semester in medical school at the University of North Carolina and has been a Certified Childbirth Educator with the American Academy of Husband-Coached Childbirth since 1975. He has spent some 200 hours in training with D. Gary Young, internationally recognized authority on aromatherapy, essential oil production, and the originator of Raindrop Therapy. Dr. Stewart has also been a Registered Aromatherapist with the nationally recognized Aromatherapy Registration Council. Dr. Stewart is also a Doctor of Natural Medicine recognized and awarded by the World Organization of Natural Medicine Practitioners. He was a professor on the faculty of the University of North Carolina, Chapel Hill, and also held a professorship at Southeast Missouri State University. He has been the Executive Director of the International Association of Parents and Professionals for Safe Alternatives in Childbirth since its founding in 1975. He has authored or coauthored over 300 published works including sixteen books. He has also been appointed to the faculty of the Metropolitan University of Guayaquil, Ecuador, where he will teach courses in Chemistry of Essential Oils Made Simple. His two other aromatherapy books are: Healing Oils of the Bible and A Statistical Validation of Raindrop Technique.
Dr. David Stewart's Tour Dates
| | |
| --- | --- |
| Date: | 1 December 2015 - Tuesday |
| Venue: | Suntec Convention & Exhibition Centre (Room 325 - 326, Level 3)1, Raffles Blvd, Suntec City, Singapore 039593 |
| Time: | 7.00pm - 10.00pm |
| Registration: | Registration starts at 6.30pm. Program starts promptly at 7.00pm. Click HERE to book your seat on MindBodyOnline |
| | |
| --- | --- |
| Date: | 2 December 2015 - Wednesday |
| Venue: | G Hotel Kelawai2, Persiaran Maktab, 10250, Penang, Malaysia |
| Time: | 7.00pm - 9.00pm |
| Ticket: | MYR 50 per-person |
| Registration: | Registration starts at 6.00pm. Program starts promptly at 7.00pm.Register yourself at events.my@youngliving.com with your name, member ID and event venue you would like to attend. Please also indicate your mode of payment of MYR 50 per-attendee; credit card on file OR by cash |
| | |
| --- | --- |
| Date: | 3 December 2015 - Thursday |
| Venue: | Shangri - La's Tanjung Aru20, Jalan Aru, Tanjung Aru, 88100, Kota Kinabalu, Sabah, Malaysia |
| Time: | 7.00pm - 9.00pm |
| Ticket: | MYR 50 per-person |
| Registration: | Registration starts at 6.00pm. Program starts promptly at 7.00pm.Register yourself at events.my@youngliving.com with your name, member ID and event venue you would like to attend. Please also indicate your mode of payment of MYR 50 per-attendee; credit card on file OR by cash |
Date:
5 December 2015 - Saturday
Venue:
Hilton KL Sentral3, Jalan Stesen Sentral, Kuala Lumpur Sentral, 50470, Kuala Lumpur, Malaysia
Time:
10.00am - 1.00pm
Ticket:
MYR 50 per-person
Registration:
Registration starts at 9.00am. Program starts promptly at 10.00am.Register yourself at events.my@youngliving.com with your name, member ID and event venue you would like to attend. Please also indicate your mode of payment of MYR 50 per-attendee; credit card on file OR by cash


* Please be informed, Dr. David Stewart's registration for KL leg is now closed as all seats are fully occupied. To those who have email in to register, please make sure your payment is processed before the event, latest by 25 November, 2015.

If registered attendees do not fulfil their payment by the 25 November 2015, the seats will be open up for attendees under waiting list

Should you have any inquiries, please email to marketing.my@youngliving.com
| | |
| --- | --- |
| Date: | 7 December 2015 - Monday |
| Venue: | The Ritz Carlton Jakarta, Mega Kuningan (Mutiara Ballroom 2, 2nd Level)J1. DR. Ide Anak Agung Gde Agung, Kav. E.1.1 No. 1, Mega Kuningan, Jakarta12950, Indonesia |
| Time: | 7.00pm - 10.00pm |
| Registration: | Registration starts at 6.30pm. Program starts promptly at 7.00pm. Click HERE to book your seat on MindBodyOnline |
| | |
Malaysia Events Registration
HOW TO REGISTER
1. Register yourself at
events.my@youngliving.com
with your name, member ID, number of pax and event venue that you would like to attend. Please also indicate your mode of payment of RM50 per-attendee; credit card on file OR by cash
2. Registration is on first - come first serve basis. It begins from 3 November, 2015
3. This event will be conducted in English
4. Every attendee will received a handy 30 - oils hard case worth RM120