A chance to travel to Kobe, Japan (for 2 pax), a stay on the island paradise of El Nido, a collection of premium Young Living essential oils... get these and more out of your Young Living purchases from 1 August to 31 October 2019 with the Life of Abundance Draw.

For every 100 PV that you purchase per order, you will be entitled to 1 token. Each token will entitle you to 1 draw opportunity. The more tokens you accumulate, the more opportunities you have to draw. And, you can double up your token i.e. 2 tokens for every 100 PV when you purchase on Essential Rewards!

There are 25 amazing prizes worth more than RM120,000 up for grabs. Start collecting your tokens and enjoy a life of abundance!


terms & conditions
Eligibility
1. The "Life of Abundance Draw" ("Abundance Draw" or "the Draw") is organized by Young Living Malaysia Sdn Bhd ("Organizer").
2. This Abundance Draw is only open to Young Living Malaysia members ("Eligible Entrants"). Employees and the immediate families of Young Living Malaysia Sdn Bhd ("the Organizer"), its associated companies, advertising agencies and their employees are ineligible to enter or claim the prize.
3. Minimum requirement to participate in the program is 100 PV. Each 100 PV is equivalent to 1 token; which entitles you to 1 draw opportunity. All token(s) must be in multiplier of 100 PV for each token. Example (refer to Table A for additional information):
- 100 PV or 120 PV or 190 PV purchased are entitled to 1 token only
- 200 PV or 220 PV or 250 PV purchased are entitled to 2 tokens
4. Each 100 PV Standard Order (SO) are entitled to 1 token. The token will double up if you are on the Essential Rewards (ER) program.
5. Tokens will be allocated based on total order value per invoice. Top-up of orders will not be allowed. Tokens will be generated via the system based on order value, therefore there will not be any physical tokens given.
6. DRAW PRIZE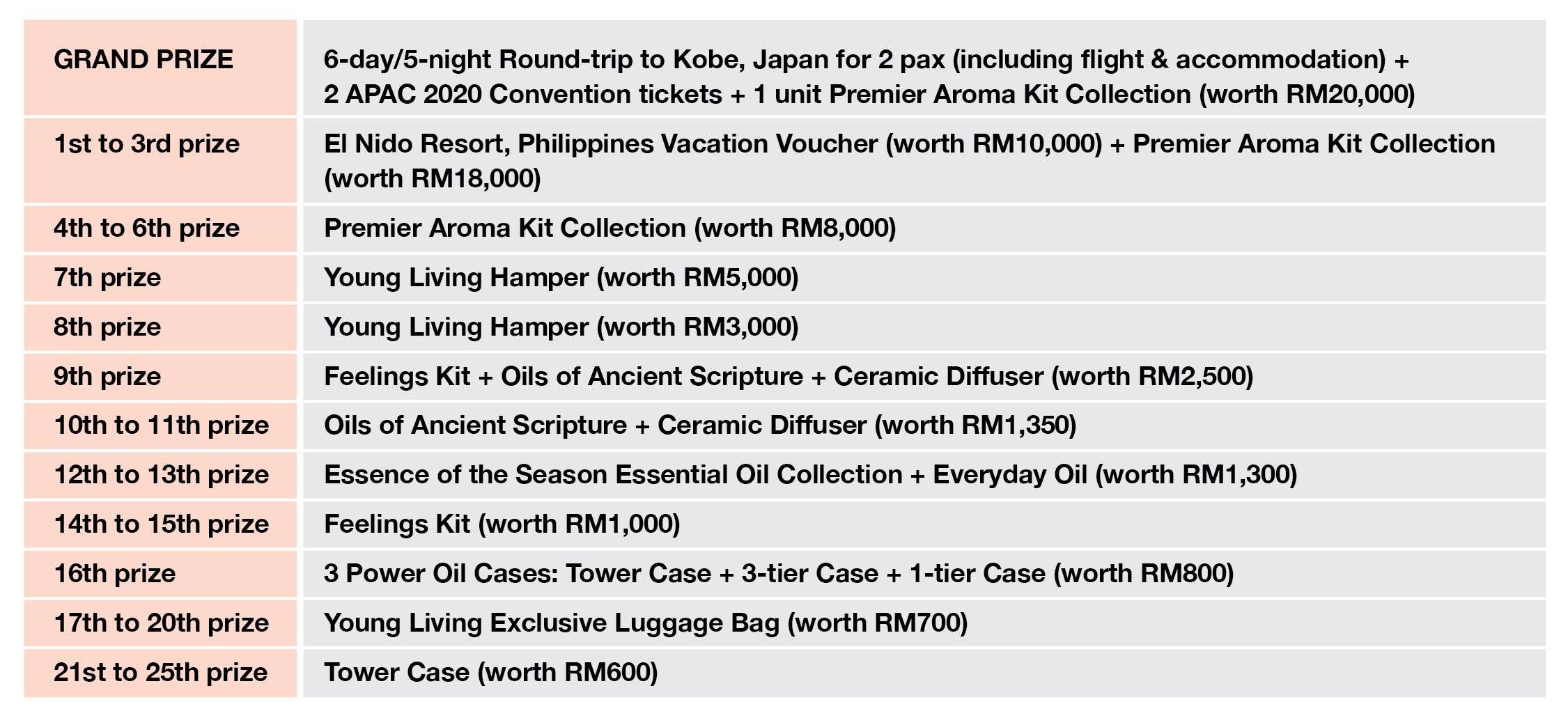 7. The winner of the Grand Prize will receive an all-expense-paid trip to Kobe, Japan. "All-expense-paid trip" consists of a pair of round-trip air tickets (surcharges and taxes included) from Kuala Lumpur, Malaysia to Kobe, Japan, subject to seat availability as well as twin sharing, five (5) nights' hotel accommodation in Kobe from 26 to 31 March 2020. Travel will be on an airline chosen by the Organizer, in Economy Class only and is non-upgradeable. Please note also that special meal requests will not be entertained. Air tickets' validity period is subject to confirmation based on date of issue. No replacement ticket will be issued in the event of cancellation of the winner's travel plan for any reason. No compensation is payable for involuntary transfers or offloads. Specific travel or blackout dates may apply.
8. Winners of El Nido Resort, Philippines Vacation Voucher are subject to the Resort's Policy and the regulations of the government of Philippines. Specific travel or blackout dates may apply. Travel insurance, flights and on ground transportations and transfers are not covered in the voucher. No replacement voucher will be issued in the event of cancellation of the winners' travel plans for any reason.
9. The value of each prize is based on the recommended retail price and is rounded to the nearest value.
10. Young Living Malaysia reserves the rights to substitute any prize with another of similar value at the company's sole discretion.

11. The Abundance Draw will be in conjunction with the 5th year anniversary celebration of Young Living Malaysia. The final date of the Draw will be determined later.
12. Winners will be contacted on the event day through phone or social media. If a winner cannot be contacted, we reserve the right to withdraw the prize from the winner and to select a replacement winner.
13. Winners will be required to answer additional random questions to claim the prize. Therefore, it is important to update your phone number/email address with Young Living Member Services
14. Prizes are non-transferable. Winners are entitled to win more than one (1) prize if their tokens are drawn for the subsequent prizes.
15. In the event that a winner is not available to collect his/her prize on-site, Young Living Malaysia will notify the winner when and where the prize can be collected/will be delivered.
16. For return order, the token(s) will be revoked accordingly.
17. Young Living Malaysia reserves the right to cancel or amend the Abundance Draw or the mechanics of the Draw including the terms and conditions without notice in the event of a catastrophe, war, civil or military disturbance, act of God or any actual or anticipated breach of any applicable law or regulation or any other event outside of Young Living Malaysia's control. Any changes to the Draw will be notified to entrants as soon as possible by Young Living Malaysia.
18. Young Living Malaysia's decision in respect of all matters to do with the Abundance Draw will be final and no correspondence will be entered into.
19. The winner or entrant agrees to the use of his/her name and image in any publicity material. Any personal data relating to the winner or entrant will be used solely in accordance with current Malaysia data protection legislation and will not be disclosed to a third party without the winner or entrant's prior consent.
20. By participating in the Abundance Draw, an entrant is indicating his/her agreement to be bound by these terms and conditions.
21. The English version of this Terms & Conditions shall always prevail in the event of any discrepancy or inconsistency detected in the Chinese and Bahasa Malaysia translations.

Table A: Examples of calculations: