Get ready for Young Living's Regional Convention in February 2018!
Are you ready for our first-ever APAC Convention?
Join us during February 23 - 25 at Malaysia's iconic landmark - Kuala Lumpur Convention Centre (Twin Towers)!

The "2018 Asia-Pacific Convention - My Destiny" gathers like-minded and passionate oil-lovers from all Asia Pacific markets including Hong Kong, Japan, Australia, Indonesia, Malaysia, Singapore and Taiwan!

Following the same look, feel, and experience of Young Living's International Grand Convention held each year in the US, the Asia-Pacific Convention will provide all of the same hand-wrapped and localized experiences specifically tailored for our Asia-Pacific members!
Here are 8 reasons why you shouldn't miss Young Living 2018 APAC regional convention!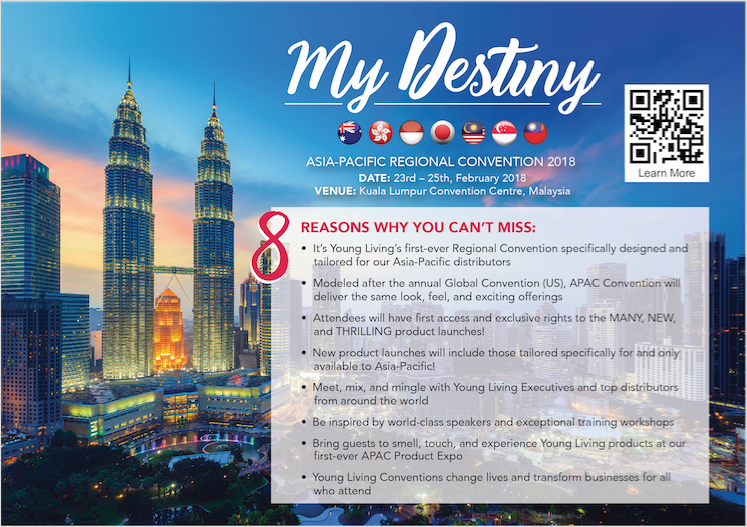 The APAC convention is a wonderful opportunity for you to get to know Young Living, be inspired, make memories, learn about new products and new opportunities for your business that could lead you to new goals and unleash your highest potential!
Keynote Speakers
Ron Lee
Experience The Corporate Ninja live in action!

Ron is a well-known dynamic keynote speaker and coach who will focus on solid leadership principles.

Learn how to be confident, focused and internally powerful! Get everyone in your team to look in the same direction, where politics are reduced and everyone is working towards the same goal.

Ron Lee "The Corporate Ninja", is a renowned business coach and leadership trainer who focuses training on leadership fundamentals.

Acting, comedy, and 30 years of eight forms of martial arts, gives Ron the credentials to speak on personal power. His inspiring seminars deliver interactive and memorable learnings that last.

Keynote address:
Learn how to use "Chi" for self-empowerment.

At the APAC Convention, Ron will share:
Turning negative energy into positive energy by balancing 7 areas of your life
• The secrets to developing inner strength• Dramatically reduce your stress levels with effective techniques• Increase your powers of perception and expression• Be able to effortlessly cope with the unexpected• Know how to tap into your energy reserves

What Ron's conference attendees in the past have said:

"Your ability to make the 280 delegates think, act, react and enjoy was talked about for long after the Conference. You input and knowledge imparted have become part of everyone's daily routine." - Deborah Lanyon, Telstra
Richard Brooke
Learn from a Pioneer in Network Marketing!

Richard is an icon in the world of direct sales and a disruptor of the status quo. As a renowned MLM business coach, he mentored a Young Living Silver member who then achieved Royal Crown Diamond within 4 years!

Richard Bliss Brooke was raised in central California on a large cattle and horse ranch. In 1977, quit a job at a chicken processing plant at the age of 22 to join Networking Marketing and Personal Development professions full time.

In 1979, he created The Four-Year Career concept after struggling the first few years to enroll people into the concept of Network Marketing. In the ensuing four years, he built a team of nearly 30,000 sales leaders around the US and ultimately built his own network marketing company - a journey that lasted 30 years.

At age 37, SUCCESS magazine featured Richard on its front cover - the first time a mainstream business magazine featured a network marketer. This issue outsold every issue in SUCCESS magazine's 100-year history!

Keynote address:
As one of the world's leading network marketers, WHY did Richard Brooke choose Young Living? Hear Richard share his Young Living "why" and why he believes our business is the most rewarding and sustainable business model that will create your LEGACY, benefiting your family for generations.

At the APAC Convention, Richard will share:
• How do you see your world?• Do you feel like a winner?
• Do you feel like a winner?
• Creating energy, confidence & persistence to succeed
• Feel totally invigorated
• Dissolve the barriers that are preventing you from accomplishing what you want to achieve

At the Leadership Retreat, Richard will share:
• Create your leadership Roadmap to Success
• Becoming the leader you aspire to be
• Stay ahead of the game with confidence & persistence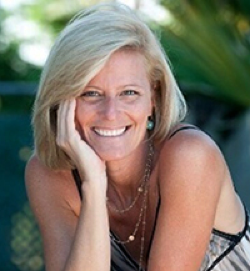 Kimmy Brooke
Build an Empire on your lunch break!

Kimmy Brooke went from struggling single-mom living pay check to pay check, until she found network marketing.

Kimmy Brooke's boldness and vision to see beyond commonly accepted boundaries has been her signature. As a true innovator, she assumed limitations and has created a life of freedom and choice. Kimmy Brooke's commitment to integrity and leadership is recognized throughout the Network Marketing profession.

Kimmy earned a reputation for her heartfelt leadership style and skill building a "team culture" to inspire purpose and passion in others.

She is especially motivated to help other women achieve the financial and lifestyle success she is enjoying, and is an advocate for changing the world by empowering more women through business.

Keynote address:
Are you ready to do more, earn more and share more? A big stumbling block for most is learning to listen more and talk less. Hear Kimmy's advice on how we can all overcome this hurdle.

At the APAC Convention, Kimmy will share:
• Define your success on your own terms
• Setting and achieving your personal goals

At the Leadership Retreat, Kimmy will share:
• How to motivate your husband to get onboard!


With so many great reasons to join, what are you waiting for? See you in KL!