Discover a Slique new you, naturally!
Are you ready to change your life? Do you wish to get your best shape for the coming summer? Then you're in the right place!
Young Living's powerful line of Slique weight-management products can help you see positive results in just 60 days! As you incorporate Slique into your diet and exercise program, you'll be able to maximize your results and discover a slimmer you.
Join today and discover just how far you can go with the added support of the YL community. Plus, you'll get extra rewards just for participating!
What is the Slique in 60 challenge?
The Slique in 60 challenge is designed to help you focus on body transformation using our Slique bundles. The challenge is offered by Young Living Hong Kong Limited. The offer runs from Tuesday, July 3. 2017 at 12:00 am local HK time and ends at 11:59 pm on Friday, August 31, 2017. Finish the challenge with amazing results and you could get some big-time bonuses!
Members who wish to join the challenge will need to make their declarations and set their goals by registering online. Registration for the first 60-day challenge ends at 11:59 p.m July 2, 2017.
Click here
to register for Slique in 60 Challenge now!
Eligibility
The Offer is open to active members who are in good standing with Young Living, are legal residents of Hong Kong and have reached the age of majority of the date of entry. "Active members" are members who have made a purchase of at least fifty (50) Personal Volume (PV) in the last twelve (12) months and have signed the Young Living Member Agreement.
You are required to purchase at least one qualifying Slique kit (Slique Complete, Slique Advanced and Slique Assist) or any Slique products for two consecutive months (June and July).
Three Simple Steps
For a successful experience with your transformation while using qualifying Slique kits, we suggest following these three easy steps:

Step 1: Commit to your weight-management program.
Any effective weight-management program should include a consistent routine of exercise and healthy eating habits. Whether you decide to swim, jog, walk, or play a team sport, take care of your body by getting moving. We also encourage you to create a meal plan; eat wholesome, well-balanced meals; and drink plenty of water. Making sure your body receives all the nutrients it needs is another major component in your efforts!
Step 2: Choose your Slique collection.
Remember that you will need to purchase at least one qualifying Slique kit (Slique Complete, Slique Advanced and Slique Assist) or any Slique products for two consecutive months (June and July) to qualify for the Slique in 60 Challenge. Discover our qualifying Slique kits below to learn more about this revolutionary lineup and decide which one will best suit your goals.
Qualifying Slique in 60 kits: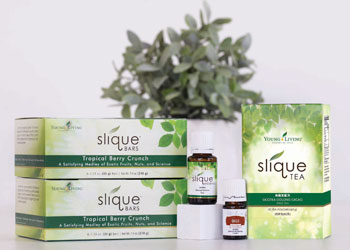 Slique Assist (10% discount included)
Wholesale: $835: Retail $1,099 PV:69.15
Slique Assist is designed to give you a little help shaping into the new you. It helps maintain a healthy body weight and support dietary habit.
Slique Assist includes:
(1) Slique Essence Essential Oil - 15 ml
(1) Slique Tea Ocotea Oolong Cacao - 25 ct
(2) Slique Bar - 6 ct
(1) Ginger Vitality Essential Oil - 5 ml
Slique Advanced (15 Day Supply) (10% discount included)
Wholesale: $1,720 Retail: $2,263 PV: 141.35
Put your weight-management goals on the fast track with Slique® Advanced! This kit will help you experience increased energy with sufficient nutrition throughout your weight management journey.
Slique Advanced includes:
(1) Slique Essence Essential Oil - 15 ml
(1) Slique Tea Ocotea Oolong Cacao - 25 ct
(2) Slique Bar - 6 ct
(2) Slique Shake - 15 pk
(1) Ginger Vitality Essential Oil - 5 ml
Slique Complete (30 Day Supply) (15% discount included)
Wholesale: $3,350 Retail: $4,408 PV: 290.60
The ultimate collection for healthy weight management and optimal nutritional support, Slique® Complete is the best way to meet your weight management goals when combined with a healthy diet and increased exercise! This pack provides you the benefits of the Slique® Shake meal replacement which helps you to start healthy diet at ease!
Slique Complete includes:
(1) Slique Essence Essential Oil - 15 ml
(1) Slique Tea Ocotea Oolong Cacao - 25 ct
(2) Slique Bar - 6 ct
(4) Slique Shake - 15 pk
(1) Ginger Vitality Essential Oil - 5 ml
(1) NingXia Red - 2 pk (750 ml)
(1) ComforTone Capsules - 150 ct
(1)Free Young Living Green Blender Bottle (valued at HKD$61) -LIMITED TO FIRST 100 ONLY
Consult with your health care provider prior to beginning any weight-management program, if you are taking meditations, or if you have any health concerns.
Step 3: Join the Slique in 60 Challenge and see the new you in 60 days!
What are the prizes for the challenge?
Once you complete the challenge, it's time to celebrate!
Participation Prize:
Individuals who complete the challenge and enter their results at the end of the Contest and will get:
-10% off their next purchase of Slique products (in addition to the 10% / 15% discount already offered on Slique collections)
(Purchases made after 31/08/17) through Young Living Hong Kong of any Slique products.)
Goal Achiever Prize:
Individuals who set and achieve their personal goals (target body transformation score) and indicate in their submitted results will get a Young Living Special Edition Yoga Mat (valued at HKD$698).




Inspiring Story Prize:
Top 3 participants with the best essays or stories about how the Challenge changed their life will get HKD$2000 Young Living products . The stories must be compliant; the content will be reviewed by Young Living.




Winner Prize:
8 winners* from each of the age/sex groups listed below with the highest Body Transformation Score based on total inches and pounds lost will be awarded the following:
-Young Living products (estimated valued at HKD$1500)
-One Apple® Watch Series 2 (estimated valued at HKD$2888)
-Enjoy a signature luxury spa experience at a Hong Kong 5 Stars hotel for 1 person (estimated valued at HKD$3000)
Total Estimated Value: HKD$7388
Women ages 18 - 35
Women ages 36 - 50
Women ages 50+
Men ages 18- 35
Men ages 36-50
Men ages 50+
Buddy Team (2 persons per team, regardless of sex/age.)
*For the Contest, one male and one female Winner for each of the three age groups. For Buddy Team, the team (regardless of sex/age) with the highest body transformation score will win.

Awards must be accepted as offered and may not be substituted, transferred or redeemed for cash or otherwise, except at Young Living's sole discretion. Approximate value is an approximation and may differ; Young Living will not be responsible for any difference between stated and actual value. Young Living reserves the right, at its sole discretion, to substitute an award of greater or equivalent monetary value if the award cannot be offered as described for any reason.
How can I make the most of the Slique in 60 challenge?
A key to success with any goal is accountability and tracking—and this challenge is no different. That's why we encourage you to find an accountability partner. It can be your spouse, child, friend, or business coach, but we all know it's easier to be successful when we work on our goals with someone else. Plus, your partner can enter the challenge as well! You can also choose the buddy team.
In addition to having a partner in the challenge, we ask that you track your progress. Keeping a video diary of your progress, ups and downs, and accomplishments is an easy way to see your journey from start to finish. At the end of the challenge, you'll be able to look back and see your full transformation.
To help you keep your own diary, we've created a short how-to video. You'll be surprised just how easy it is, especially if you have a smart phone or computer webcam. See the video
here
!
Limitations of Liability
Young Living and its affiliates, subsidiaries, parent companies, advertising and promotion agencies, printers, and judges involved in this Offer are not responsible for any inaccuracies in information which may be used in the Offer, for any technical or human error which may occur in the processing of entries, including data entered by Participants, any entry miscommunications such as technical failures related to computer, telephone, cable, and unavailable network or server connections, related technical failures, or other failures related to hardware, software, or virus, or incomplete, late, or misdirected entries. Any compromise to the fair and proper conduct of this Offer related to a computer virus or similar type of technical impairment that may affect the proper fairness, security, and administration of the Offer may result in the termination, amendment, or modification of the Offer or portion thereof at the sole discretion of Young Living. Young Living reserves the right, in its sole discretion, to void any entries of Participants Whom Young Living believes has attempted to tamper with or impair the administration, security or fairness of this Offer or who acts in a non-sportsman like manner or with the intent to threaten or harass any other person.
By participating in the Offer, Participants waive all rights to claim punitive, incidental and consequential damages, attorneys' fees, or any damages other than actual out-of-pocket costs or losses that may arise in connection with participation in the Offer or acceptance, possession, and use of any award.
All causes of action arising out of or connected with this Offer or any award shall be resolved individually, without resort to any form of class action. Some jurisdictions may not allow certain limitations on damages or the ability to seek damages through a class action, so some of these restrictions may not apply to you.
License
By accepting a Prize, the respective winner consents to the use of his/her name, address (city and state of residence), voice, and statements relating to the Promotion and Young Living, and photographs or other likeness, without further compensation, notification or permission in any publicity or advertising carried out by Young Living or any related entities in any media without territorial or time limitation, except where prohibited by law.

Other Rules and Regulations
If aspects of the Prizes change that are beyond the control of Young Living, neither Young Living, nor any other promotional partners furnishing Prizes, will be liable or responsible for any such changes and Young Living reserves the right to substitute a prize of equivalent or greater value, at Young Living's sole and absolute discretion, if, for any reason, all or any portion of a Prize, as described herein, are or become unavailable. No transfer of a Prize to a third party is permitted. By accepting a Prize, Prize winners agree that Young Living shall not be liable for any injuries, damages, or losses of any kind resulting from or in connection with the awarding, acceptance, possession, or use of the Prize or any aspects or parts thereof.
Young Living's method of timekeeping is the official time clock for the offer and is final and undisputable. By participating in the offer, each participant agrees to abide by and be bound by the terms and conditions of this challenge. Participants further agree to abide by and be bound by all decisions of Young Living which shall be final and binding, without right of appeal, in all matters relating to this offer and award(s) including without limitation eligibility and/or disqualifications of entries.