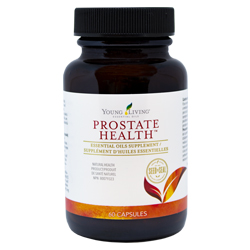 Young Living's Prostate Health is uniquely formulated for men concerned with maintaining healthy, normal prostate function. Prostate Health is an essential oil supplement featuring powerful saw palmetto and pumpkin seed oil. A blend of pure geranium, fennel, myrtle, lavender, and peppermint essential oils provides the body with key components. The benefits of liquid capsules include a targeted release for ideal absorption and minimal aftertaste. For maximum benefit, Prostate Health should be taken consistently over time.
Prostate Health is used in Herbal Medicine to help relieve the urologic symptoms (e.g. weak urine flow, incomplete voiding, frequent daytime and night time urination) associated with mild to moderate benign prostatic hyperplasia.
| | |
| --- | --- |
| Item No. | |
| Item | |
| Wholesale | |
| Retail | |
| PV | |
This item is currently not available for purchase.
How to Use
How to Use
Take 1 liquid capsule two times daily.
Cautions and Warnings: Keep out of reach of children. If you are pregnant, nursing, taking medication, or have a medical condition, consult a health care professional prior to use. Consult a health care practitioner if symptoms persist or worsen. Consult a health care practitioner prior to use to exclude a diagnosis of prostate cancer.
Contra-Indications: Do not use if you are allergic to anethole or plants of the Apiaceae/Carrot family.
Known Adverse Reactions: Hypersensitivity (e.g. allergy) has been known to occur; in which case, discontinue use.
Storage: Keep in a cool, dry place. Do not expose to excessive heat or direct sunlight.
Be sure to follow label instructions.
Ingredients
Ingredients
Medicinal Ingredients (per capsule): Saw palmetto liposterolic extract (Serenoa repens – Fruit, 80% Fatty acids) 235 mg, Pumpkin seed oil (Cucurbita pepo var. pepo – Seed) 175 mg, Geranium essential oil (Pelargonium graveolens – Leaf) 32 mg, Sweet Fennel essential oil (Foeniculum vulgare subsp. vulgare var. dulce – Seed) 31 mg, Lavender essential oil (Lavandula angustifolia – Herb top flowering) 25 mg, Myrtle essential oil (Myrtus communis – Leaf) 9 mg, Peppermint essential oil (Mentha x piperita – Leaf) 3 mg
*100% pure, YLTG essential oil
Non-Medicinal Ingredients: Gelatin, Silicon dioxide