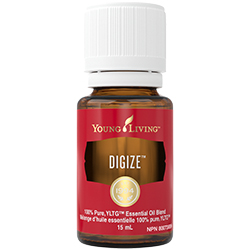 DiGize™ is a blend of pure tarragon, ginger, pepppermint, and other essential oils that may bring about calming feelings.
In Aromatherapy, can be used topically or inhaled:
As a carminative and antispasmodic for symptomatic relief of digestive discomfort
| | |
| --- | --- |
| Item No. | |
| Item | |
| Wholesale | |
| Retail | |
| PV | |
This item is currently not available for purchase.
Product Snapshot

Product Snapshot

FEATURES & BENEFITS
Has an herbaceous, spicy scent
Provides a comforting aromatic experience when applied topically
Has a calming aroma
AROMATIC PROFILE
From the bottle: Rich, spicy, earthy aroma

Ingredients

Ingredients

Ingredients
Medicinal Ingredients:
Ginger essential oil† (Zingiber officinale – Rhizome) 19.864%
Peppermint essential oil† (Mentha x piperita – Twig flowering) 17.381%
Non-Medicinal Ingredients:
Tarragon essential oil†
Juniperus osteosperma essential oil†
Foeniculum vulgare (Fennel) essential oil†
Cymbopogon flexuosus essential oil†
Anise essential oil†
Pogostemon cablin leaf essential oil†
†100% pure, YLTGTM Essential Oil
Suggested Uses

Suggested Uses

APPLICATIONS
Apply it topically after meals to enjoy the crisp, comforting aroma.
Add it to V-6 Vegetable Oil Complex for a soothing abdominal massage.
Use DiGize in a wellness regimen.
Apply a few drops to a handkerchief or tissue and inhale for a refreshing, calming aroma
WHERE TO DIFFUSE
Take off with this grounding blend when heading out on family vacations.
Permeate the family room with this sweet and earthy aroma for a moment of togetherness after dinner.
Hit the road with a USB car diffuser and take advantage of this relaxing scent.
EXPERIENCE
DiGize essential oil blend has a spicy, exotic scent that is great for diffusing before or after large meals or applying topically to the abdomen for a calming aromatic experience.

LABEL DIRECTIONS
Adults: For all use through topical application: Mix 5 drops of DiGizeTM essential oil in 5ml (1 teaspoon) of carrier oil (preferably V-6TM Enhanced Vegetable Oil Complex). If a larger quantity is desired, maintain a ratio of 1 drop to 1 ml carrier oil. Apply to affected area up to 3 times per day. Do not use essential oils undiluted. Not for oral use. Avoid contact with eyes and mucous membranes; if this happens, rinse thoroughly with vegetable oil.

For inhalation: Apply 1-6 drops of undiluted essential oil to a handkerchief/tissue and inhale occasionally. Use up to 3 times per day.


CAUTIONS: Keep out of reach of children. For external use only. Keep away from eyes and mucous membranes. If you are pregnant, nursing, taking medication, or have a medical condition, consult a health professional prior to use. Avoid direct sunlight or UV rays for up to 12 hours after applying product.

Get to Know

Get to Know

PRODUCT BACKGROUND
DiGize is formulated to provide a calming aromatic experience. Tarragon, Ginger, Peppermint, Juniper, Lemongrass, Anise, Patchouli, and Fennel essential oils give this exclusive blend a warm and spicy scent that is both exotic and comforting. The Young Living Whispering Springs Farm in Mona, Utah, has been a long-standing source of Peppermint essential oil, and the Peppermint in DiGize provides a slightly cool fragrance to the otherwise spicy scent. The complex aroma of DiGize comes from the variety of oils in the blend. Tarragon and Ginger provide the herbaceous and spicy undertones, while Juniper and Patchouli combine for a calming aroma.