We believe that by simply deciding to authentically share the natural solutions that have transformed your home, you have the chance to influence others for good. That's why we're empowering you with Help 5! A program designed to support you in focusing on five each month and reward you for two habits YL's most successful business builders practice.

When you make it your goal to help five, you have an opportunity to set aside your personal obstacles and negative self-talk to strategically help someone in your community take the next steps towards enhancing their wellness with healthier alternatives. Plus, you'll earn points toward monthly Help 5 incentives and training to support you in your business.

Take this time to focus on five and join a community of helpers growing teams that are better trained, more empowered and ready to pay it forward to help five in their own Young Living business.

The act of helping five is at the heart of each Young Living business! Make it your business!

Personally enroll new members with a Canadian Premium Starter Kit (PSK): Earn 1 point for each downline member you personally enroll or reactivate* with a qualifying PSK during the promotion period. Points are not earned on any qualifying PSK purchases by members you did not personally enroll during the Promotion Period or who enrolled under Young Living's Sponsor Placement Program. Points will be awarded only for the purchase of one qualifying PSK per personally enrolled downline member during that downline member's first 30 days of enrollment and must be during the promotion period.

Personally enroll downline members in Essential Rewards (ER): Earn 1 point when a downline member of your team—whom you personally enrolled enrolls in ER, or reactivates** on ER after six+ months of ER inactivity, and places an ER order of 50 PV or higher during the promotion period.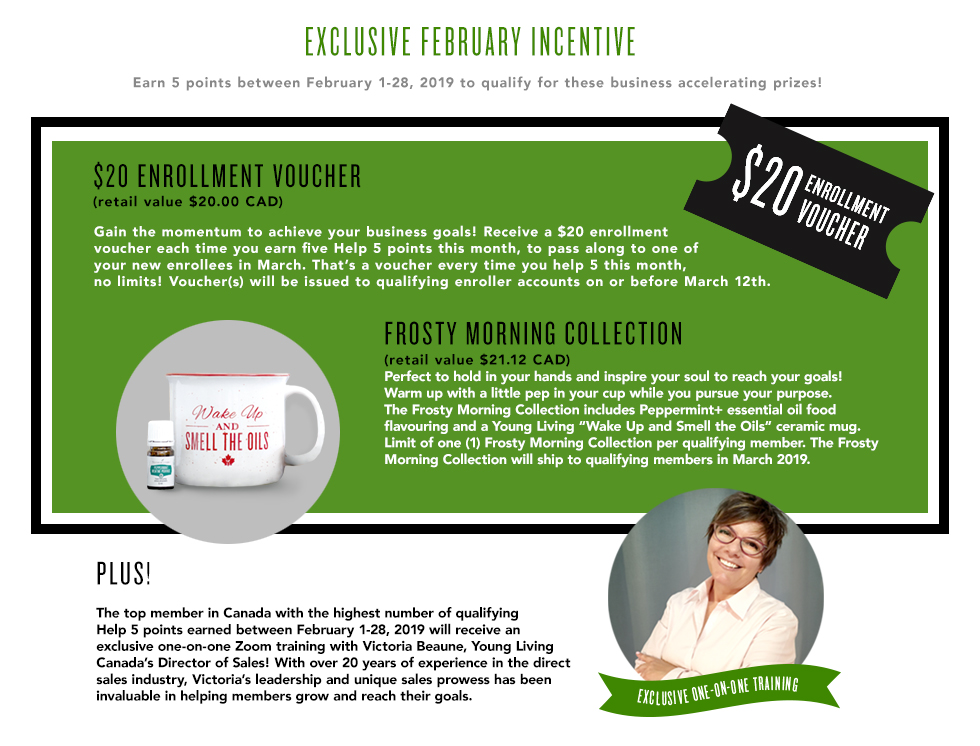 FEBRUARY, 2019 qualifiers***
Keep track of your Help 5 progress this month
and qualify to receive February's reward! Review your current Help 5 point totals*** and be sure set your enrollment and reactivation goals for the remainder of the month!
Set your sights high because beginning January 25, 2019, you can qualify for our East & West Challenge! The Help 5 points you earn this month will count towards your cumulative total until January 31st, 2019!

If you are the top member in your region with the highest number of qualifying Help 5 points this month by January 31st, you will win an all-expenses-paid regional Live Your Passion Rally! A member from Eastern Canada AND a member in Western Canada, will get to enjoy a corporate-supported rally in their region!

Complete with product store support, corporate team members on site and regional event promotion, it's sure to be an epic experience that'll bring your regional Young Living family together for a greater measure of pride in sharing.


Results are in!
Congratulations to Jesselyn Gonesto Singian and Carman Chan -- our top winners from the East and West who earned the highest number of qualifying Help 5 points between January 1-31, 2019!

They've each received an all-expenses paid regional Live Your Passion Rally!

More event details and information to come, and we hope to see you there. Mark your calendar, the next Live Your Passion Rally is April 6, 2019!


See a pdf version of last month's results here.
*A reactivated member is an inactive Young Living member (in a terminated status) who the participant personally enrolls during the promotion period. Points will be awarded only for the purchase of one qualifying Premium Starter Kit per reactivated member during the promotional period.

**For the purposes of this offer, a qualifying ER reactivation is a member who has not placed an ER order in the last six months

***This list is an un-vetted, un-audited static list of enrollments and is meant only to give members an idea of possible attainment of reward under this promotion. In the event of a discrepancy between the rules used to develop this list and the Official Rule, the Official Rules will govern. Members who qualified for monthly prize(s) will be contacted directly with details for claiming their prize(s).

Lists will be updated weekly between February 1-28, 2019. The list was last reviewed and updated Feb 11, 2019 at 3:00 p.m. MT.