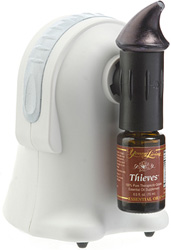 Over the past three months I've been testing Young Living's TheraPro® diffuser for use in conjunction with our protocol for eliminating toxic mold. The tests were conducted in three different environments: a hospital; a closed, mold-infested 9,000-square-foot health club; and a private residence.
I am pleased to report that our tests of the TheraPro diffuser compared favorably with the 6-watt cold-air diffusers we've previously been using.

Features that make the TheraPro Diffuser easier to use:
Eliminates the tubing and glass nebulizer of the other diffusers tested
Has built-in on-and-off timers
Holds a full 15 ml bottle of oil
Has to be filled less often
NOTICE: In order to get the best results using the TheraPro Diffuser for eliminating mold, you need to know the following:
Because the TheraPro utilizes a different mechanism for atomizing essential oils, there are differences in the way the oils are delivered over time. The TheraPro starts off at a higher rate of delivery, which decreases as the oil level in the bottle drops. Because of this the bottle has to be refilled every 10 to 12 hours in order to be effective. This is important because at the declining rate—after 10 to 12 hours—the amount of oil being diffused is insufficient to maintain the concentration needed to kill mold. So to use the TheraPro Diffuser for mold, you will need to have at least two 15 ml bottles of Thieves® essential oil blend on hand to ensure that you can diffuse at the necessary rate for at least 24 hours.
When used in this manner, in conjunction with the Close Protocol*, laboratory analyses showed results comparable to the results we're used to getting using the 6-watt direct-pressure cold-air diffusers. I can, therefore, whole-heartedly recommend the TheraPro Diffuser for use in eliminating mold problems, provided it is used as described above.
A more detailed report of the tests will be made available in the near future.
Dr. Ed Close
*The Close Protocol is outlined in the book "Nature's Mold Rx: The Non-Toxic Solution to Toxic Mold."