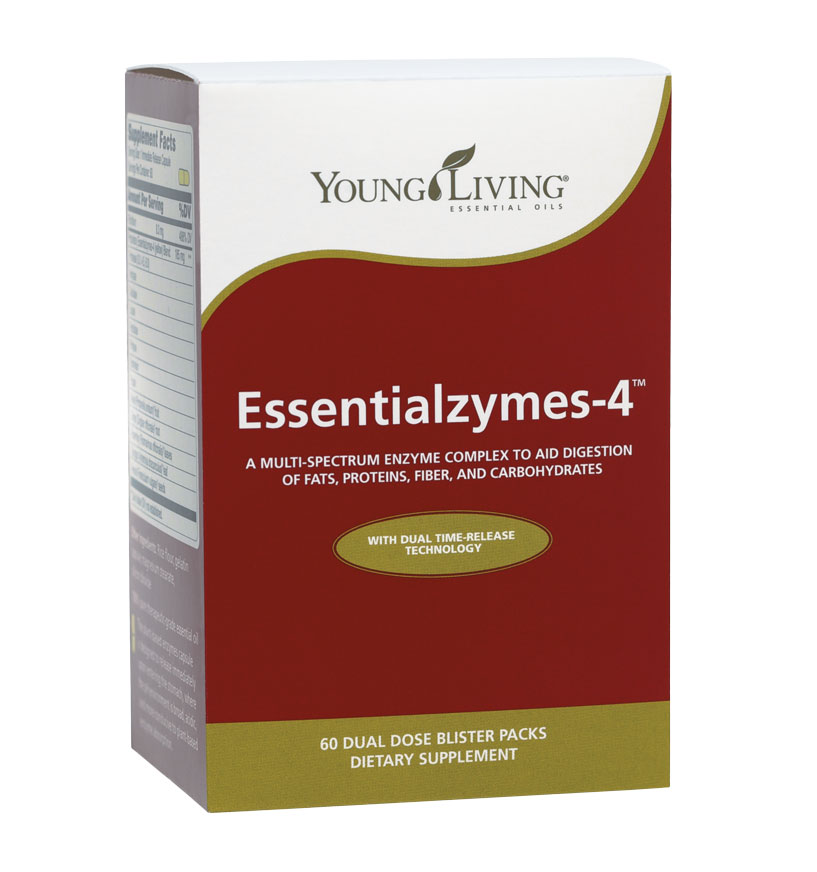 This post is for those of you that may be struggling with uncomfortable stomach concerns—things like bloating, or stagnant, undigested food. It can be difficult to determine which foods contribute to the problem, but fortunately Young Living just launched a handful of new products to help!
D. Gary Young announced two great new enzyme products at last month's Orlando convention, Essentialzymes-4 and the newly formulated Essentialzyme. Each has been specially formulated to support various stages of the digestive process.
Essentialzymes-4 combines all the benefits of Carbozyme, Fiberzyme, Lipozyme, and Polyzyme into 2 convenient dual-time release capsules. The plant-based enzyme releases immediately upon entering the stomach, allowing it to be broken down and absorbed more efficiently. The animal-based enzyme doesn't release until it reaches the lower intestine, where the alkaline environment and pH level offers better absorption. Both enzymes help your body more efficiently break down fats, proteins, fiber, and carbohydrates,.
I especially like the new blister packaging, which makes it easy to drop in my pocket or purse and enjoy the enzyme benefits when I'm away from home.
I've also been using the newly formulated Essentialzyme and have seen great results (I'm told this will be available to everyone by the end of the year). Designed to help with bloating and related issues, it also features delayed release technology to aid both digestive and pancreatic functions.
As a family, we have noticed a dramatic improvement to our overall health with the use of these products. We have been taking them both for 2 weeks and are absolutely delighted with their benefits in assisting healthy digestion. These enzyme products have resulted in greater vitality, energy, and passion.
Peace Be With You,
Kaye Lynne Murphy, LMT
Kaye Lynne Murphy, LMT, is a licensed massage therapist specializing in Raindrop Therapy and emotional release on people of all ages. She is the author of "The 15 minute Feelings Release" CD, a self-help emotional release program following Young Living's Feelings Kit, and a 30 min. Raindrop Therapy DVD. Her practice includes helping adults and children better themselves by using Young Living essential oils. Kaye Lynne uses only Young Living products in her practice. You can register for her free e-News Letter at www.kayelynne.com.