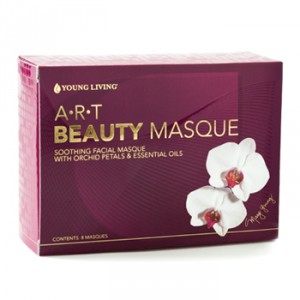 The AŸRŸT ® Beauty Masque and Renewal Serum were two of the ground-breaking products launched at the Young Living International Grand Convention in June. Their most distinctive feature, orchid extract, is currently at the height of research in Taiwan and is hailed for its moisturizing properties.* Traditionally, orchids have been used in perfume by the Chinese and have been associated with purity and longevity.*
The Beauty Masque and Renewal Serum also contain herbs and botanicals commonly used in Chinese medicine for supporting skin health and beauty. They include Eucommia ulmoides extract, Polygonum cuspidatum root (Japanese knotweed), and Tremella fuciformis. Eucommia has been historically used to support the skin's elasticity, to moisturize, and to provide resveratrol (from Polygonum cuspidatum).*
Most importantly, these products are enhanced with the natural benefits of essential oils! Infused with Young Living's Stress Away™ blend, the Beauty Masque encourages you to relax* and enjoy your own home-spa experience. The Renewal Serum contains Sensation™ essential oil blend for a delightfully calming aroma.*
The AŸRŸT Beauty Masque uses a unique cloth mask to effectively deliver moisturizing ingredients to all areas of the face. Little known in the United States, this application process is very popular in Asia. Simply apply and relax as active ingredients continuously dispense while you wear the mask. It is recommended that you leave the mask on for 20 minutes twice weekly for optimal results.
The AŸRŸT Renewal Serum is designed for everyday use, twice daily, morning and night. After cleansing with the AŸRŸT Gentle Foaming Cleanser, apply one pump of serum to the face, neck, décolletage, hands, or other areas requiring application. The serum's low molecular weight ingredients allow faster and deeper penetration into the skin and contain more concentrated active ingredients than creams or lotions. Follow up with the AŸRŸT Day Activator or Night Reconstructor.
Orchid facts:
The orchid extract in the new AŸRŸT products is from the species Phalaenopsis amabilis, also called the Moon Orchid.
Vanilla is a member of the orchid family.
The largest orchid flower is 10 inches long, and the smallest is 0.08 inches long.
An orchid can live indefinitely with proper care. Some orchid plants have been in families for 50+ years, passed down through the generations.
Have you tried the new AŸRŸT products? If so, we would love to hear from you. Please send your comments or questions to beautytips@youngliving.com or write below in the blog box.
—Megan Vance, YL Associate Product Manager
—Luba Vozar, YL Portfolio Manager, Personal Care
* These statements have not been evaluated by the Food and Drug Administration. These products are not intended to diagnose, treat, cure, or prevent any disease.