With spring just around the corner, we sometimes experience both the "lion" and "lamb" weather that is typically associated with March. In some parts of the United States, this phenomenon can happen in a matter of days. These extreme weather conditions can sometimes cause a variety of skin problems, requiring extra care. That is why I have chosen Young Living's Orange Blossom Facial Wash™ as the focus of this blog post. It is the perfect way to start and end your day (especially during this crazy time of year).
With an abundance of phytonutrients, Orange Blossom Facial Wash gently removes the impurities of daily living and any remaining makeup. The following list includes a few active ingredients and their benefits: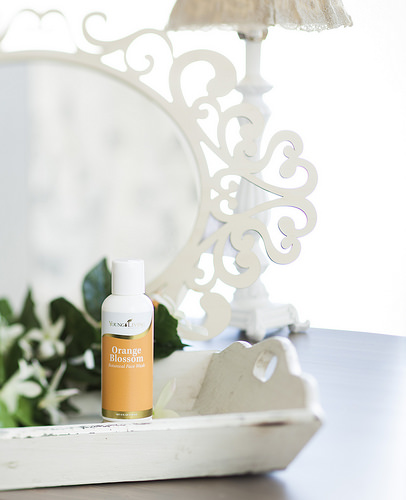 ESSENTIAL OILS
Lavender Oil
Patchouli Oil
Supports a younger-looking you
Lemon Oil
Rosemary Oil
Promotes toned and firm skin[i]
BOTANICALS
Orange Blossom Extract         
Optimal skin emollient
Helps maintain moisture
Methylsulfonylmethane (MSM):  Inert compound that naturally occurs in a variety of fruits, vegetables, and grains
Supports normal skin functions
Promotes a decrease of oxidative stress
Calendula Extract
Excellent skin conditioner
Contains high amounts of carotenoids

Wolfberry Seed Oil
Promotes hydration
Helps even out skin tone
The special blend of essential oils and natural ingredients in Orange Blossom Facial Wash support the structural integrity of your skin, leaving your just-washed face clean and healthy. Other benefits include:
A soap-free, mild formula that is suitable for all skin types
Powerful antioxidants that promote a younger-looking appearance
Nourishing botanicals that gently support the skin's natural protective barrier
I have loved hearing from you, and to motivate you to share your experience, I will be giving away ten bottles of Orange Blossom Facial Wash to randomly chosen commenters, as well as posting your testimonials. Leave your comment on this blog or send it directly to me at grusso@youngliving.com. I will happily respond and send ten lucky people an Orange Blossom Facial Wash.
Good Luck!
—Gloria Russo, YL International and Portfolio Brand Manager