Schedule: 2/1 9:30~2/15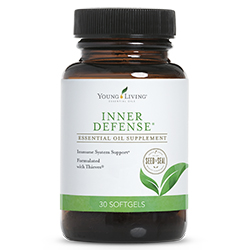 Inner Defense 60 Softgels
ITEM NO.: 329505D
PV: 30.00
Sharing Membership Price: 4,671 yen
Shopping Membership Price:6,156 yen
【Notes】
・To apply the campaign price, be sure to select and use the number with "D" after the product number.
・Please note that the products in the promotion are subject to change in schedule or out of stock without notice if high quality materials are not available due to weather conditions, growth conditions, or other factors.
・No limit per member.
・Regular PV applies to Otoku-bin Point redemption orders.
・PV reduced by 10% as well as price discount.
If you have any further questions, please email us:
E-Mail:younglivingjapan@youngliving.com