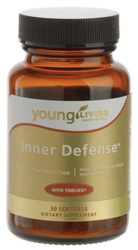 As a father of three, I need all the help I can get. I had no idea how many colds and sniffles my kids would bring home from school and playing with friends! Thankfully Inner Defense™ has rescued me on a number of occasions.
Inner Defense offers the crucial support needed when you're body is stressed and features the immune-boosting power of Thieves® essential oil blend. The Thieves blend has been university tested for its effects against unwanted microorganisms, is highly effective in supporting the immune system and good health, and is a key contributor to the efficacy of Inner Defense.
At times it can be difficult to maintain healthy immune function. We're constantly exposed to poor eating habits, lack of sleep, and everyday stress. All this can have a negative impact on our health. Inner Defense supports your body's natural defenses and serves as a potent antioxidant as well. Inner Defense strengthens your body's defensive systems by creating an unfriendly environment for yeast and fungus while supporting digestion and the respiratory system to enhance your health.
Inner Defense is a premium, purely essential oil supplement that also contains Young Living Therapeutic Grade™ oregano, thyme, and cinnamon essential oils. Oregano essential oil is rich in phenolic of carvacrol, which is known to support the body's defenses when it is stressed; as a dietary supplement, thyme it is one of the strongest antioxidants known; and cinnamon essential oil is high in cinnamaldehyde, a powerful cleansing compound. This potent combination of essential oils provides systemic protection year round and can only be found at Young Living. Make Inner Defense part of your order today!
—Jason Dewey
Essential Nutrition Product Manager