Jump to recipe
Some of the most precious childhood memories come from baking with loved ones, giggling as you lick chocolatey batter from a wooden spoon. While you may be grown up now, your love of delicious delicacies has only grown deeper. Indulge your inner child and whip up an elevated version of the brownies you loved as a kid with our fudgy peppermint brownie recipe! Free of refined sugars and other unhealthy ingredients, these indulgent brownies are made from honey, coconut oil, and Peppermint Vitality™. It's an experience worth savoring, but don't take our word for it! Give this peppermint brownie recipe a whirl and impress your loved ones with a healthy dessert that will leave their tummies happy.
Peppermint Vitality Brownies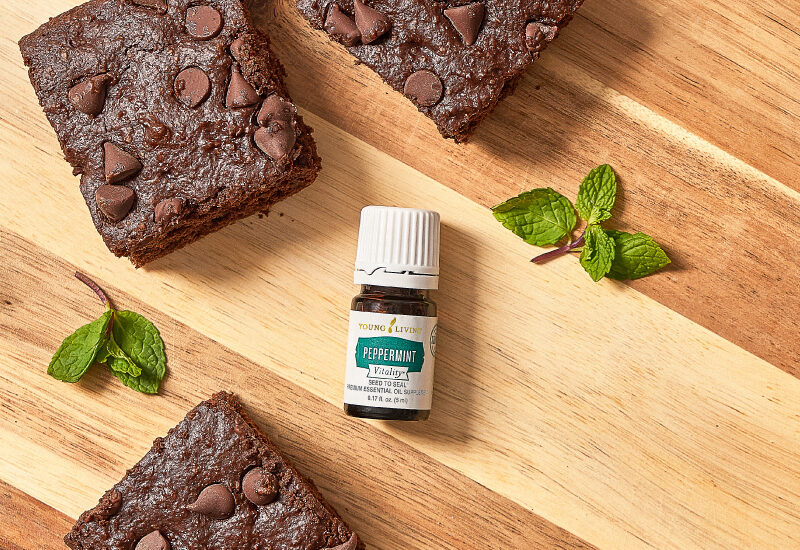 Ingredients
• 1 cup oats
• ⅓ cup cacao powder
• ½ teaspoon baking soda
• ¼ teaspoon salt
• ¼ cup honey
• 2 large eggs, room temperature
• 3 tablespoons coconut oil, melted
• 1 teaspoon vanilla extract
• 2 drops Peppermint Vitality
• ¼ cup plus 2 tablespoons dark chocolate chips for mixing and topping
Instructions
1. Place eggs on the counter and allow them to reach room temperature. Preheat oven to 350° F.
2. Line an 8×8-inch baking dish with parchment paper. If you are having troubles getting the paper to stick in place, lightly grease the pan and set the parchment on top.
3. In a food processor or blender, add oats, cacao powder, baking soda, and salt. Blend until the oats turn into a fine flour-like texture.
4. In a separate dish, melt coconut oil in the microwave or on the stove. Allow to cool but not harden.
5. Add room-temperature eggs, honey, coconut oil, vanilla extract, and Peppermint Vitality to the food processor and process until everything is well combined. Use a rubber spatula to scrape down the edges in between pulsing, if needed. You will be left with a thick batter.
6. Once all of the ingredients are fully incorporated, add ¼ cup chocolate chips or more if you enjoy a stronger chocolate flavor. Stir into the batter.
7. Pour the batter into the prepared dish, then use the spatula to smooth the batter evenly into the pan. Top with extra chocolate chips.
8. Bake for 20-25 minutes or until the edges of the brownies look cooked through and a toothpick comes out clean when inserted in the center.
9. Let the brownies cool, then cut and serve.
YL tip: Experiment with other Vitality oils. Cinnamon Bark, Nutmeg, or Orange would all be tasty flavor options!
New to Vitality oils? Take this quiz to discover which Vitality oils you need for your kitchen, then try our pumpkin cookies recipe!
What's your favorite way to get a sweet fix without going overboard?
Tell us in the comments!