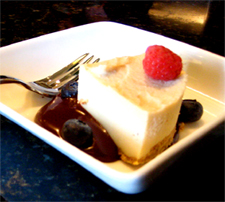 Cheesecake is the ideal dessert to demonstrate how delicious raw cuisine can be. In order to replicate the richness, texture, and full flavor of dairy, we take a variety of soft nuts—cashews, macadamia, and pine nuts—and culture them with a probiotic: Life 5™. Young Living lemon essential oil enhances the flavor of this unique nut cheese. For the crust, ground almonds with Young Living nutmeg essential oil replaces the traditional graham cracker crust. Finally, the chocolate topping is made from raw cacao, which contains a natural supply of antioxidants and is known to be one of the highest dietary sources of magnesium. Young Living lavender essential oil releases a peaceful, loving mood to make this a rich, healthful, and romantic dessert.
This Valentine's Day, show your loved ones how special they are by treating them to a healthful alternative for cheese and chocolate. May good assimilation and digestion be yours as you indulge in this guilt-free delight filled with quality Young Living products. Love your family and friends to health this month.
Until next post: Basil Pecan Stuffed Cremini
Happy Eating!
Chef Mandy
Nutmeg Almond Crust
1 cup almonds, soaked and dehydrated
1 tablespoon yacon or lacuma powder
1/4 teaspoon Himalayan salt
1/2 tablespoon raw virgin coconut oil
2 drops Young Living nutmeg essential oil
Grind the first three ingredients into a meal texture using a food processor. Add remaining ingredients and process until crumbly. Press mixture into the bottom of a spring-form pan. Set aside to make the cheesecake filling.
Live Lemon Cheesecake Filling
1 cup raw cashews
3/4 cup raw macadamia nuts
1/4 cup raw pine nuts
1/2 cup diced young coconut meat, water reserved for blending
1/4 cup raw solid honey
3 tablespoons raw virgin coconut oil
3 tablespoons lemon juice
1 teaspoon vanilla flavoring
4 capsules Young Living Life 5 probiotic, powder only
8 drops Young Living lemon essential oil, plus extra for plating
Combine first three ingredients and soak in filtered water for two to four hours. Drain and rinse nuts. Blend all ingredients in a Vita Mix blender. Mixture will be very thick. Add coconut water if needed for blending, but not more than three tablespoonfuls or the end result may be icy. Pour into the spring-form pan. Cover and freeze. When firm and ready to serve, remove from the freezer and immediately slice and garnish with Lavender Chocolate Sauce, fresh berries, mint, and extra drops of Young Living lemon essential oil (three to five drops per slice).
Lavender Chocolate Sauce
1/2 cup cacao powder
1/4 cup shaved cacao butter
2/3 cup grade B pure maple syrup
2 tablespoons virgin coconut oil
1 drop Young Living lavender essential oil
Pinch Himalayan salt
Blend ingredients in a Vita Mix until creamy. Serve as a garnish for cheesecake, along with fresh berries and mint leaves.