You have heard of almond and rye flour, but did you know that the oldest form of wheat is called einkorn and you can easily cook with it? In fact, a 14,000-year-old piece of einkorn bread was just found in Jordan around an ancient fireplace—people have known about the benefits of einkorn for thousands of years! Einkorn is a healthier, more natural choice that hasn't been processed or modified. There is a lot of versatility when it comes to Einkorn Flour (the likes of which we will demonstrate below), and it has fewer quirks than other wheat options.
Einkorn's natural genetic code and low gluten levels make it compatible for more sensitive stomachs compared to current versions of hybridized wheat. Because it is easier to digest, your body can absorb the nutrients in einkorn at higher levels.
Here are some ways to use einkorn and the products that will make the transition as easy as pie—with an einkorn crust, of course.
---
Cookies, Crepes, and More
Popular diets would have you believe that any food item containing flour is an absolute no, all the time, unless it's treat-yourself-Tuesday. At Young Living, however, we are all about living a balanced life with the best ingredients possible.
Gary's True Grit™ Einkorn Flour can be substituted easily for all-purpose or whole-wheat flours at a 1:1 ratio. Below are some delicious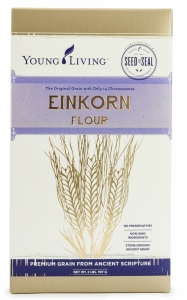 treats that work wonderfully with Einkorn Flour:
---
Granola Bars, Smoothies, and More
Sometimes you just need something that is a little more on the go. Too often, though, food that is easy to take with you is filled with refined sugar and high-fructose corn syrup disguised as high-energy snacks.
To avoid all that sugar, try Gary's True Grit Einkorn Granola. With only 6 grams of sugar, this delicious alternative is filled with wolfberries, cranberries, and cacao nibs to ramp up the flavor. Here are some easy ways to incorporate Einkorn Granola into your daily diet:
Add it to your morning yogurt.
Make granola bars by melting Blue Agave natural sweetener and natural peanut butter and combining it with Gary's True Grit Einkorn Granola. Mix until the granola and liquids stick together, transfer the mixture to an 8×8-inch pan, and freeze for 15 minutes. Cut into bars or squares and enjoy!
Roll bananas in granola and freeze them for a late-night treat.
Use granola to top smoothie bowls.
Crumple it on top of divided muffin batter before baking.
Eat it on the go right from the resealable bag.
---
Rotini, Spaghetti, and More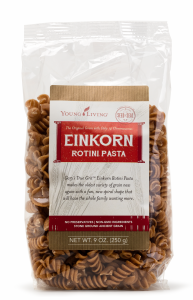 New cooking blogs are raving about substituting spiralized vegetables for spaghetti noodles, but nothing beats Mom's homemade pasta dishes. However, even simple spaghetti can be full of modified wheat and simple carbs.
With just two healthful ingredients—Einkorn Flour and water—Einkorn Rotini Pasta and Gary's True Grit Einkorn Spaghetti can be used to experiment with new sauces in the kitchen while blasting Pavarotti in the background.
YL Tip: Add Basil Vitality™, Oregano Vitality™, or Lemon Vitality™ to really punch up your sauce flavors.
---
Tips for a Natural and Healthy Kitchen
Trying new products and food items in the kitchen can be tricky, especially if you aren't familiar with Einkorn Flour. We want to make the process as easy as possible, so you can enjoy—not stress over—mealtime with your family.
The From Our Fields to Your Table Cookbook is the ultimate guide for cooking with Young Living products, with recipes ranging from desserts to beverages and main dishes to gluten-free options. These recipes use Einkorn Flour, essential oils, and many other natural ingredients. We also included member-created recipes that are an appetizing addition.
---
For recipes to try today, take a look at the winners of the YL Einkorn Cook-Off and the amazing creations they made. The Einkorn Breakfast Cookies by Kimberly Swedberg are particularly delightful.
Have you cooked with Einkorn Flour or Einkorn pasta? Share your experiences and recipes in the comments below!