Think you don't have time for makeup? Think again! Learn hot to apply makeup even between meetings, errands, play dates and more. Savvy Minerals by Young Living™ makes it possible for you to fit in a little me-time with five products in just five minutes. With this basic makeup tutorial and our makeup brush set, you can get a finished and natural look even when you sleep through the alarm on the day of that big work presentation or lunch date. Check out the video below to learn how to apply makeup today!
Savvy Minerals Foundation by Young Living
Use this versatile foundation for the base of your flawless look. Its buildable formula makes it easy to use as a sheer- or full-coverage foundation and its mineral-based ingredients blend beautifully into every skin tone.
How to apply foundation
Grab your brush—the best foundation brush for this formula is our very own foundation brush—and pop open the foundation container. Sprinkle a small amount of powder into the lid. Swirl the brush in the foundation, tap to remove any excess and apply the powder in circular motions. For even more control and coverage, spray your brush 2–3 times with Savvy Minerals by Young Living Misting Spray before picking up the minerals.
Fun fact
Savvy Minerals Foundation is categorised by skin undertones—warm and cool for lighter shades and neutral for darker shades. Curious about your undertone? Those with warm undertones have a greenish tinge to the veins under the forearm, while those with cool undertones have a bluish hue. You can also consider what jewellery looks great on you: Silver flatters cool tones and warm tones look good in gold.
Savvy Minerals Eyeshadow by Young Living
Add definition and drama with our Savvy Minerals eyeshadows! With rich shades and versatile colours, you can create any look, natural or bold.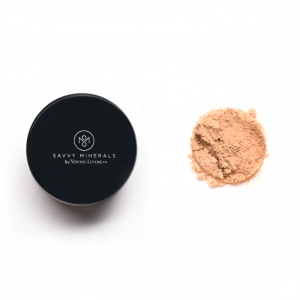 How to apply eyeshadow
Using our eyeshadow brush, dip the brush in the powder, tapping to remove any excess. Apply to the lids and build and blend until you get the look you like!
Fun fact
You can use your skin tone for more than just Savvy Minerals by Young Living Foundation! Warm undertones look great in gold and peachy colours such as Spoiled and Unscripted, while cool undertones shine in grey and blue hues such as Determined or Wanderlust.
Savvy Minerals Mascara by Young Living
Create a dramatic lash look with Savvy Minerals Mascara! The Savvy Minerals by Young Living Mascara glides on smoothly for subtle drama and adds a polished complement to your natural beauty!
How to apply mascara
If needed, start by curling your lashes to gently lift. After wiping excess mascara from the wand on the lip of the tube, position wand horizontally and wiggle from side to side, from base to tip. Let the first coat dry completely; repeat for a second coat, if desired.
Fun fact
Our mascara is infused with Lavender oil and is safe to use on sensitive eyes!
Savvy Minerals Lip Gloss by Young Living  
The best lip gloss when you're in a rush? Something simple yet fabulous! Our naturally derived Savvy Minerals by Young Living Lip Gloss adds colour and shine with just a few glides.
How to apply lip gloss
Use this gorgeous gloss on its own for a natural look or apply it over Savvy Minerals by Young Living Lipstick for more drama.
Fun fact
Savvy Minerals Lip Gloss comes infused with pure Peppermint essential oil for a tingling sensation and a minty fresh flavour.
Savvy Minerals Eyeliner by Young Living  
The powder formula of Savvy Minerals by Young Living Eyeliner glides on smoothly and offers buildable colour, making it versatile enough for any look and giving it the staying power for any lifestyle!
How to apply eyeliner
Use our eyeliner brush to create any look, dramatic or natural. Spritz your eyeliner brush with Savvy Minerals Misting Spray for a liquid eyeliner effect or keep your look soft and simple with a dry brush. Whichever approach you choose, do your best to keep the liner as close to the lashes as possible.
Fun fact
Like all Savvy Minerals by Young Living products, this eyeliner is made without cheap fillers such as talc and bismuth. Instead, it's made with a high-quality mica mineral base for a fine, smooth application.
Savvy Minerals Blush by Young Living  
Give your skin a luminous finish and natural colour with Savvy Minerals by Young Living Blush. This long-lasting blush keeps you looking beautifully flushed all day.
How to apply blush
After applying Savvy Minerals by Young Living Foundation, sprinkle Savvy Minerals by Young Living Blush into the jar lid and swirl your blush brush in the powder. Not sure where to apply blush? A great place to start is at the apples of your cheeks and blend outward toward your cheekbones and temples.
Fun fact
There's a Savvy Minerals by Young Living Blush to complement every skin tone and create a natural, radiant flush. Visit our website to see our colour range.
What Savvy Minerals product are you most excited to try? Tell us in the comments below!