Jump to recipe
March Madness means basketball, brackets, and spending time with your favorite crew. But let's get real: It's also about the finger foods.
These yummy Thai-style lettuce wraps will keep you fueled throughout the game. The best part? They'll take only 20 minutes to make, leaving plenty of time on the clock to don a jersey and face paint. Try these out for your March Madness party or for any casual get-together!
Thai-Style Lettuce Wraps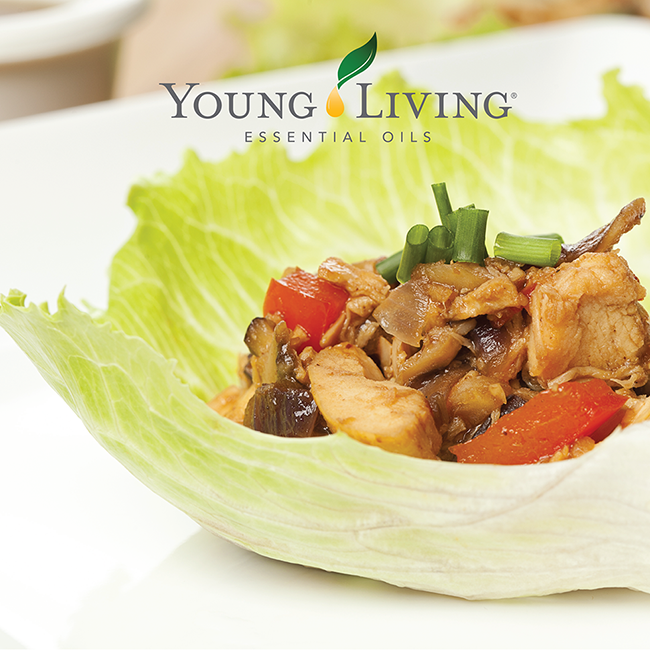 Ingredients
1 tablespoon olive oil
1 pound ground chicken, turkey, or chopped mushrooms for a vegetarian option
2 tablespoons red curry paste
4 cloves garlic, finely chopped
1 red bell pepper, diced
1 cup cabbage, chopped
8 ounces water chestnuts, drained and diced
1/4 cup hoisin sauce
4 green onions, chopped
2 drops Ginger Vitality™ essential oil
Salt and pepper to taste
1/2 head iceberg lettuce
Instructions
Spritz cabbage, red pepper, green onions, and lettuce with Thieves Fruit & Veggie Spray, rinse, and cut.
Heat olive oil in a large skillet until very hot. Add ground chicken or turkey and cook about 3 minutes on medium-high heat until it begins to brown.
Add red curry paste, garlic, diced peppers, cabbage, and water chestnuts and stir-fry for another 3 minutes.
Add hoisin sauce and green onions and toss.
Stir in Ginger Vitality and Basil Vitality essential oils.
Add salt and pepper to taste.
Transfer cooked chicken to a bowl.
To serve, place spoonfuls of filling into pieces of lettuce.
What are your go-to party snacks?
Tell us about your game day faves in the comments.