Pure Protein Complete
Pure Protein Complete™ is the perfect anytime protein boost. High in bioactive whey protein, low in carbs, fat, and calories, each serving of Pure Protein Complete provides 20 grams of a proprietary whey protein blend supported by a specialized enzyme blend, a low-glycemic carbohydrate matrix, and generous amounts of complementary vitamins and minerals. Pure Protein Complete mixes in liquids easily and tastes delicious.
How to Use
Add 2 level scoops to 8 oz. of water or the milk of your choice and shake, stir, or blend until smooth. For variety, mix with fruit or essential oils.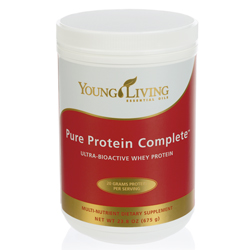 Available Items
23.8 oz - $65.46