Thieves Essential Oil
Thieves® was created based on research about four thieves in France who covered themselves with cloves, rosemary, and other aromatics while robbing plague victims. This proprietary essential oil blend was university tested for its cleansing abilities. It is highly effective in supporting the immune system and good health.*
Thieves® oil blend is an integral ingredient in Thieves® Household Cleaner, Thieves® Spray, Thieves® Wipes, Thieves® Lozenges, Thieves® Dentarome Plus™ and Thieves® Dentarome Ultra™ toothpastes, and Thieves® Fresh Essence Plus™ Mouthwash.
EarthKosher Certified
How to Use
For dietary, aromatic, or topical use. When using as a supplement, dilute one drop in 4 fl. oz. of liquid such as goat's or rice milk. Diffuse for short periods of time (1/2 hour or less) in the work or home environment. Possible skin sensitivity. If pregnant or under a doctor's care, consult your physician. Always dilute before applying to the skin or taking internally. Keep out of reach of children.
Product Tips
Put a few drops of Thieves essential oil blend in a capsule and swallow with water to support your immune system
Put in a few drops of Thieves essential oil blend in your dishwater or dishwasher to thoroughly clean dishes and eliminate odor
Diffuse Thieves essential oil blend for 15–30 minutes in your home or office to help eliminate airborne bacteria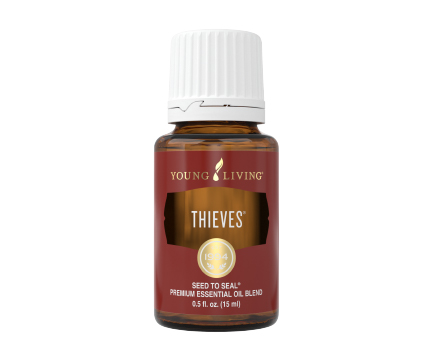 Aromatic  |  Topical
Available Items
15 ml - $44.41
---
Use For:
Immune Support
Purifying