Wintergreen Essential Oil
Wintergreen (Gaultheria procumbens) has a sweet, minty scent. The oil is distilled from the small evergreen herb's leaves. The refreshing, clean taste of wintergreen has made it a favorite in flavoring numerous products. Wintergreen contains the same active ingredient (methyl salicylate) as birch and is beneficial in massage for soothing head tension and muscles after exercising. Wintergreen has an approximate ORAC of 1,018,439 (TE/L). TE/L is expressed as micromole Trolox equivalent per liter.
Wintergreen's stimulating fragrance may be attractive to children so always keep the child-resistant cap in place.
EarthKosher Certified
Ingredients
Young Living Therapeutic Grade™ wintergreen essential oil
(Gaultheria procumbens)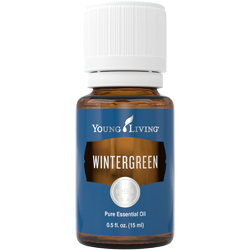 Aromatic  |  Topical
Available Items
15 ml - $23.36