Tarragon Essential Oil
Tarragon (Artemisia dracunculus) has a spicy scent with undertones of anise. It is supportive to the digestive system and used topically in Europe as a digestive aid.* Tarragon adds a special touch when used as a spice in recipes. Tarragon has an approximate ORAC of 378,664 (TE/L). TE/L is expressed as micromole Trolox equivalent per liter.
EarthKosher Certified
How to Use
For dietary or topical use. When using as a supplement, dilute one drop in 4 fl. oz. of liquid such as soy or rice milk.
Possible skin sensitivity. If pregnant or under a doctor's care, consult your physician.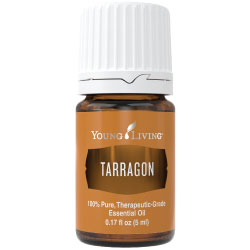 Aromatic  |  Topical
Available Items
5 ml - $25.66
---
Use For:
Digestive Support