Melaleuca (Ericifolia) Essential Oil
Melaleuca ericifolia is a variety of melaleuca oil that is exceptionally gentle and non-irritating to the skin. It also has calming properties. Melaleuca Ericifolia has an approximate ORAC of 610,865 (TE/L). TE/L is expressed as micromole Trolox equivalent per liter.
EarthKosher Certified
How to Use
For aromatic use.
Possible skin sensitivity. If pregnant or under a doctor's care, consult your physician.
Ingredients
Young Living Therapeutic Grade™ Melaleuca (ericifolia) essential oil
(Melaleuca ericifolia)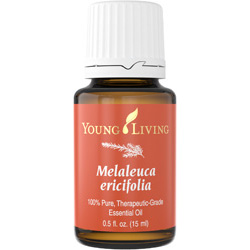 Aromatic  |  Topical
Available Items
15 ml - $48.03