Celery Seed Essential Oil
Steam distilled from the dried seeds, celery seed (Apium graveolens) essential oil was historically used to soothe physical discomforts.
How to Use
Dietary: Dilute two drops with V-6™ Enhanced Vegetable Oil Complex or other vegetable oil (e.g., virgin coconut, olive, almond). Put in a capsule and take up to three times daily. Topical: Dilute one drop V-6 or other vegetable oil; apply to desired area. Aromatic: Diffuse up to one hour three times daily. Keep out of reach of children. If you are pregnant, nursing, taking medication, or have a medical condition, consult a health-care practitioner prior to use.
Ingredients
100% pure therapeutic grade celery seed (Apium graveolens) essential oil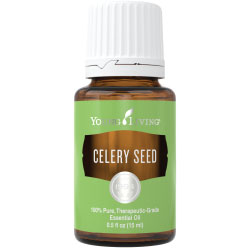 Aromatic  |  Topical  |  Dietary
Available Items
15 ml - $34.21
---
Use For:
Liver Support
Digestive Support
Physical Discomfort