M-Grain Essential Oil
M-Grain™ is calming while promoting a sense of well-being, particularly in the head and neck areas when applied topically.
EarthKosher Certified
How to Use
For aromatic use. Place two drops in the palms of the hands, cup over nose, and breathe deeply. Apply on temples, forehead, and back of neck. Possible skin sensitivity. If pregnant or under a doctor's care, consult your physician. Dilution recommended for both topical and internal use. Dilute before using on sensitive areas such as the face, neck, genital area, etc. Keep out of reach of children. Avoid using on infants and very small children. Keep away from eyes.
Ingredients
Basil (Ocimum basilicum), marjoram (Origanum majorana), lavender (Lavandula angustifolia), peppermint (Mentha piperita), Roman chamomile (Chamaemelum nobile) and helichrysum (Helichrysum italicum).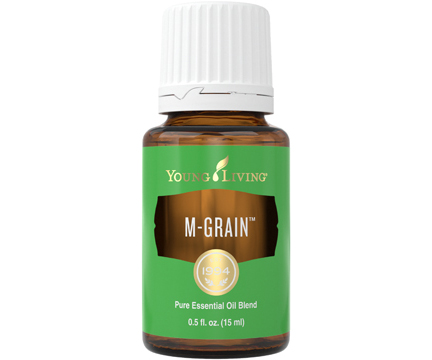 Available Items
15 ml - $54.93