Highest Potential Essential Oil
Highest Potential™ is an exotic blend designed to increase your capacity to achieve your highest potential. It combines the uplifting and inspirational qualities of Australian Blue with the power of Gathering to help bring greater unity of purpose. Jasmine is added to enhance self-confidence, while ylang ylang calms, soothes, and harmonizes.
EarthKosher Certified
Ingredients
Australain Blue™ [a blend of blue cypress (Callitrus intratropica), ylang ylang (Cananga odorata), cedarwood (Cedrus atlantica), blue tansy (Tanacetum annuum), and white fir (Abies concolor)], Gathering™ essential oil blend [galbanum (Ferula gummosa), frankincense (Boswellia carteri), sandalwood (Santalum album), lavender (Lavandula angustifolia), cinnamon (Cinnamomum verum), rose (Rosa damascena), spruce (Picea mariana), geranium (Pelargonium graveolens) and jasmine (jasminum officinale).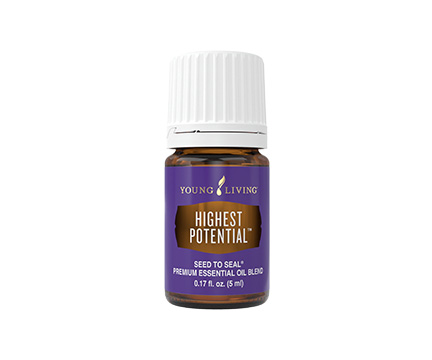 Aromatic  |  Topical  |  Dietary
Available Items
5 ml - $41.12
---
Use For:
Confidence
Emotional Balance